About Me:

I knew at an early age that I wanted to make a career out of writing about games, and now I have. You'll find most of my stuff right here on HonestGamers, of course, but don't be surprised if my name pops up elsewhere. Living out my dream keeps me very busy, and I wouldn't have it any other way!
---
50 NES Games That Ought to Come to Virtual Console
January 23, 2015
Far too many great games from the classic 8-bit system's library still aren't playable on Wii U...
Below, I'm posting a list of the top 50 NES games that I would like to see come to Virtual Console during the next 50 weeks or thereabouts.

With any list of this size, drawn from a list as large as the NES library, there are going to be some exclusions. You might notice a title missing and wonder why it's not here. There are a few possible reasons:

1) The game is already available on Virtual Console (this is the case more often than you might suppose, despite how many great titles are also still missing).
2) The game was developed by Rare, which is owned by Microsoft now, and it doesn't seem realistic to suppose that Microsoft will allow those retro titles to arrive on its competitor's platform.
---
Top 30 PSone Games Missing From the PlayStation Network
January 16, 2015
There are a lot of great games already available, but some terrific ones are still missing.
If you check here, you can view a list of the PSone Classics available for purchase in North America. You can head to the PlayStation Network and download the titles, often for $5.99 but sometimes for $9.99 in the case of games the publisher figures you'll willingly pay more to play.

Until rather recently, I was mostly oblivious to the offerings on the store. Sony might have done a good job of publicizing the variety of titles available, or maybe it didn't. Either way, I overlooked the bounty.

---
My Top 10 Games of 2014
January 11, 2015
It's probably not the best list, but it's a list. My list.
As years go, 2014 was a major bummer for me. I spent most of the first half playing obscure games that released during previous years, and by the time I started catching up in the second half, there were a bunch of great titles I didn't have time to experience. Then during the holiday season, I was busy with a lot of indie stuff.

This list, then, is merely a reflection of the 10 games released in 2014 that I personally enjoyed the most. It's not any sort of effort to tell you what games released during the period most other people would enjoy. I didn't play a number of major games that would probably otherwise rank on this list, such as Bayonetta 2, Middle-earth: Shadow of Morodor, Assassin's Creed Unity (I'm a sucker for that series), Drive Club, or-- you get the idea.

---
The HonestGamers Blogs Open House
January 10, 2015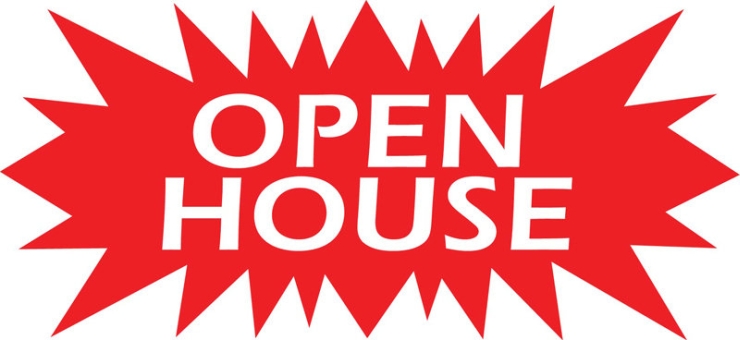 Do you love writing about games? Let's have fun blogging together at HonestGamers!
I really don't like spending all of my free time coding, but that's precisely what I did over the course of this grueling past week. I was determined to ensure that HonestGamers can serve as a terrific platform for game bloggers, and I'm happy to say that I've done precisely that. If you have an account, you also have a blog where you can start posting immediately… if you haven't done so already.

---
Welcome to Blogs 3.0
January 08, 2015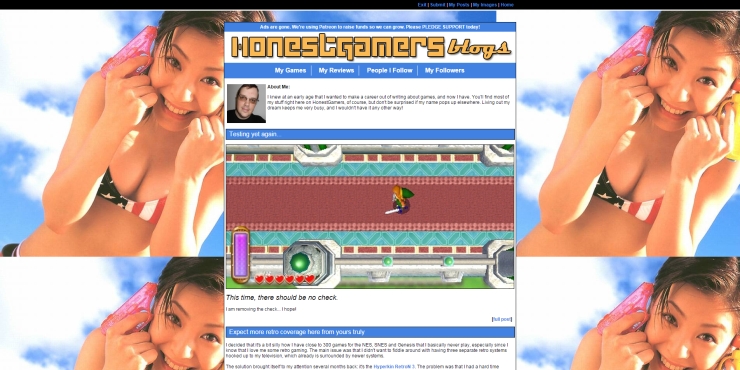 They say the third time is the charm. Here is the revision some of you have been asking for!
Blogs are back, they're better than ever, and they'll likely continue to improve incrementally for the next few days, weeks, or months. That's the short version of this post.

When I disabled blogs in late 2012, they were a bit of a mess and they weren't being utilized properly. Spammers were posting dozens of posts advertising handbags, which was penalizing the site's placement in search results and cluttering things horribly. There were also a number of persistent glitches, and posts from active community members were getting lost amid the noise.

---
Expect more retro coverage here from yours truly
June 27, 2012
I decided that it's a bit silly how I have close to 300 games for the NES, SNES and Genesis that I basically never play, especially since I know that I love me some retro gaming. The main issue was that I didn't want to fiddle around with having three separate retro systems hooked up to my television, which already is surrounded by newer systems.

---
Site Changes
May 06, 2012
There's a new landing page for the site, which I know is always a surprise but I hope that you'll all find the new layout useful. It should more effectively highlight a variety of new content for people who visit the site for the first time, while the content that more regular users tend to enjoy most is right near the top of the page (or requires less scrolling to reach).

I've posted in more detail on the forums. You can view that topic right here.

---
Additional Articles:
[01] [02] [03] [04] [05] [06] [07] [08] [09] [10] [11] [12] [13] [14] [15] [16] [17] [18] [19] [20] [21] [22] [23] [24] [25] [26] [27] [28] [29] [30] [31] [32] [33] [34] [35] [36] [37] [38] [39] [40] [41] [42] [43] [44] [45] [46] [47] [48] [49] [50] [51] [52] [53] [54] [55] [56] [57] [58] [59] [60] [61]