About Me:

I knew at an early age that I wanted to make a career out of writing about games, and now I have. You'll find most of my stuff right here on HonestGamers, of course, but don't be surprised if my name pops up elsewhere. Living out my dream keeps me very busy, and I wouldn't have it any other way!
---
Welcome to Blogs 3.0
January 08, 2015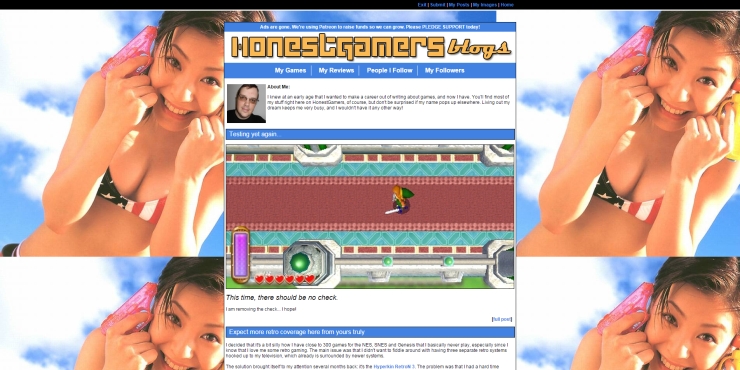 They say the third time is the charm. Here is the revision some of you have been asking for!
Blogs are back, they're better than ever, and they'll likely continue to improve incrementally for the next few days, weeks, or months. That's the short version of this post.

When I disabled blogs in late 2012, they were a bit of a mess and they weren't being utilized properly. Spammers were posting dozens of posts advertising handbags, which was penalizing the site's placement in search results and cluttering things horribly. There were also a number of persistent glitches, and posts from active community members were getting lost amid the noise.

---
Expect more retro coverage here from yours truly
June 27, 2012
I decided that it's a bit silly how I have close to 300 games for the NES, SNES and Genesis that I basically never play, especially since I know that I love me some retro gaming. The main issue was that I didn't want to fiddle around with having three separate retro systems hooked up to my television, which already is surrounded by newer systems.

---
Site Changes
May 06, 2012
There's a new landing page for the site, which I know is always a surprise but I hope that you'll all find the new layout useful. It should more effectively highlight a variety of new content for people who visit the site for the first time, while the content that more regular users tend to enjoy most is right near the top of the page (or requires less scrolling to reach).

I've posted in more detail on the forums. You can view that topic right here.

---
Another slight blog tweak
March 02, 2012
I discovered that the links to posts from the Friends page were not always working as should (specifically, when people would try to click to read the original post that prompted any replies that now appear in the feed), so I fixed those links. It's just a minor tweak, all for the best because previously the page was not working as intended and now it is.
---
Main site change
February 12, 2012
You have likely noticed by now that the left and right columns on the main site were swapped. There's a simple reason for that. I've been reading for a long time about the natural path a person's eyes follow when viewing a site. I've also been reading within Google's help pages that it's important to switch up design elements (such as the orientation of columns) to determine which layouts get the desired response.

---
Slight blog tweak
February 07, 2012
Obviously, I haven't been making huge tweaks to the blogs after the recent change of some enormity, but today I did add one tweak that's been on my mind for a bit: a bar along the top of the page so that it's easy to return to your own profile if you visit a friend's blog. It's something some of you had asked about, as well.

Another change I may implement today is a change to add replies to the "Friends" page, so that it's easier to see discussions friends might be having that you aren't necessarily aware exist. It's likely I'll put that change in place today, perhaps even in the next few minutes. It'll make it easier for more people to join interesting discussions.

---
Blog revision progress report
January 02, 2012
As you can see, the blogs are sort of working now. I thought I'd take a moment to update you on what's changed before I retire for the evening.

* Old content that was previously accessible through blogs can no longer be accessed in that manner, as I noted some time ago would eventually be the case. Now you'll be able to use your blog to access only content that is actually live on the site: reviews, previews, interviews and news articles.

---
Additional Articles:
[01] [02] [03] [04] [05] [06] [07] [08] [09] [10] [11] [12] [13] [14] [15] [16] [17] [18] [19] [20] [21] [22] [23] [24] [25] [26] [27] [28] [29] [30] [31] [32] [33] [34] [35] [36] [37] [38] [39] [40] [41] [42] [43] [44] [45] [46] [47] [48] [49] [50] [51] [52] [53] [54] [55] [56] [57] [58] [59] [60] [61] [62]