About Me:

I knew at an early age that I wanted to make a career out of writing about games, and now I have. You'll find most of my stuff right here on HonestGamers, of course, but don't be surprised if my name pops up elsewhere. Living out my dream keeps me very busy, and I wouldn't have it any other way!
---
Weekend Site Enhancements and Tweaks
May 03, 2015
HG Mail now has an outbox, and other glad tidings.
This weekend, I've thoroughly surprised myself. In addition to implementing the 5-star rating system (which I posted about here once it was done), I spent most of yesterday and today working on additional site features, as well as updating features that already existed.

---
5-Star Ratings Are Here
May 01, 2015
I hope the new system will work well for all of us.
Thank you for your feedback, questions, and comments in the previous thread where I proposed that the site adopt a new 5-star rating system, to replace the 10-point scale. There was no consensus on any of it, but I was able to get a good sense of what everyone wants.

As of this evening, the site uses a 5-star rating system. Most of you were either in favor of a change to a 5-star system, or neutral. One of you wanted a 4-point scale instead.

---
Today I Learned That My Wife Has Cancer
April 29, 2015
It's the 'low-grade' variety, and we plan to beat the stuffing out of it together.
Today, my wife had an appointment with the ear, nose and throat specialist she has been seeing for some time, and we got some bad news we weren't expecting.

In 2014, my wife found that a lump had formed behind her ear, and it wasn't going away with casual treatment. We figured it made sense to see a doctor about it, and he referred us to the local specialist, who decided it was worth performing a biopsy on the lump. That didn't determine anything useful, so she prescribed a CT scan.

---
What do you all think of a review scoring system change?
April 25, 2015
It's something I'm considering.
I'm thinking it might be time to adjust how we rate games. We have had the 1-10 scale since the site's inception. Initially, it allowed for decimals. So you would see scores like 7.3 or whatever. A number of years ago, we did away with the decimals and only allowed whole numbers.Now, I'm thinking we would go to a five-star system, so you would see a little image of five stars next to one another, with a one-word description to the right, like so:***** = Terrible***** = Poor***** = Unremarkable***** = Good***** = AwesomeIt would look a bit prettier than that, maybe, but you get the idea.
---
Here's a fascinating Gurumin Q&A with Nihon Falcom's president, Toshihiro Kondo
April 23, 2015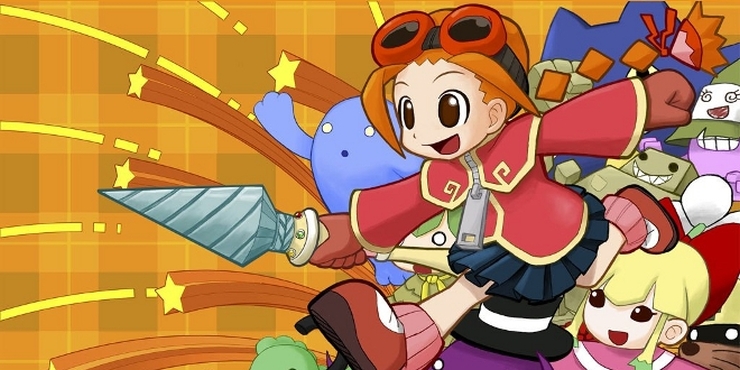 Plus find out how you can win a hint book signed by Parin's voice, the famous Tara Strong!
Gurmin is another terrific action-RPG from Nihon Falcom, the studio known for its work on Ys and Legend of Heroes, among other classics. In North America, you can enjoy it on PSP and now on Steam, as well.

When we learned that Gurumin was finally coming to Steam, we reached out to see about obtaining a review key. That initial contact led to the opportunity to send some questions along to Toshihiro Kondo, president at Nihon Falcom. I had some questions ready to go, but I knew how closely zigfried has followed the company for years and I figured he was the perfect guy to come up with a bunch of others besides... which he did!

---
My wife had surgery yesterday
April 17, 2015
It went well. But what a tiring day!
My wife had surgery yesterday, to remove a tumor just below and behind her right earlobe. We paid previously to have a cat scan done, which didn't tell the doctors whether or not the tumor is benign or cancerous. So it had to come out.

There wasn't a doctor here in town who felt up to the task, so we had to drive to Albany. Yesterday was our second trip because of the surgery, with the first visit being a consultation with the surgeon. We showed up an hour early, because we weren't sure we would find the hospital without issue... but we did thanks to the Google Maps app in my phone. They were happy that we showed up early and wheeled my wife right in for prep. Then, several hours later, they finally operated.

---
NES Reviews: A Couple of To-Do Lists
March 29, 2015
No, I haven't completely given up on putting together a lot of great NES review coverage on the site...
So, I'm still thinking about working to ensure that additional NES game reviews are posted on the site. You may remember that a few years back, I was paying freelancers and staff for NES game reviews. That project resulted in something like 100 new game reviews being added to the site for (mostly) standout NES titles that were released in North America. However, there are most of 600 games still remaining that staff/freelancers haven't reviewed.

---
Additional Articles:
[01] [02] [03] [04] [05] [06] [07] [08] [09] [10] [11] [12] [13] [14] [15] [16] [17] [18] [19] [20] [21] [22] [23] [24] [25] [26] [27] [28] [29] [30] [31] [32] [33] [34] [35] [36] [37] [38] [39] [40] [41] [42] [43] [44] [45] [46] [47] [48] [49] [50] [51] [52] [53] [54] [55] [56] [57] [58] [59] [60] [61] [62]