About Me:

Sorry, but I haven't yet shared the information about myself that would typically display here. Check back later to see if that changes, or if I instead choose to remain an enigma.
---
Yume Nikki
March 31, 2009
Just discovered Yume Nikki, a remarkably weird Japanese freeware game from a while back.

Impressed to find someone's already added it to the database!

With these freeware things, you can usually pick them up and have a quick bash, and immediately understand the concept and core mechanics of the whole thing. So I decided to launch this at midnight.

Fifteen minutes later, it's clear it's going to take a lot of time and thought to even scratch the surface of this bizarro adventure-RPG-artwork.

More to follow, doubtlessly.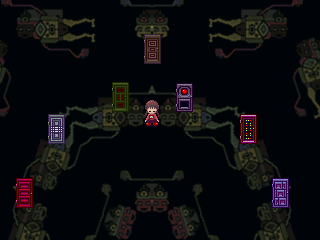 ---
I am concerned.

I have just been over to the forums of an indie developer I very much respect, and see that a thread criticising their game has mysteriously vanished.

This is not what I like to see. At all.
---
Cross-blog plugging
March 31, 2009
A lot of you will read his blog as well, but for those of you who don't, Zipp's been doing a fantastic column for The Examiner over the past few weeks about nudity in film.

Browse through his recent articles here and give them a read. It's seriously interesting stuff.

Good work, Jonny-boy.
---
Resolution Issue 5!
March 30, 2009
It's here.

The issue in a nutshell:

The Special Report
Is The Path really a disgusting rape sim?

16-Bit Boy: Psycho Gaming
Do certain multiplayer games turn us into angry souls?

Dwarf Fortress Diary
The first in a multi-part series documenting the madness of Dwarf Fortress.

The Hero
Can inferior games sometimes provide the most lasting memories?

First Impressions: Quake Live
Should we be quaking in our boots?

Reviews
Resident Evil 5 - 82%
Empire: Total War - 89%
Street Fighter IV - 90%
Killzone 2 - 91%
Halo Wars - 87%
Warhammer 40,000: Dawn of War II - 90%
Flower - 87%
Men of War - 80%
Tom Clancy's HAWX - 70%
Ceville - 57%
Shifter's Box - 70%

---
Not A Review: Cryostasis
March 29, 2009
Very much Not A Review for this one. I'm only a few hours in and, tasked with writing about it for another site, I don't want to divulge too much information elsewhere just yet. It's also a game I'm still fairly undecided about, and the coming hours are going to very much dictate which direction I'm going to go with this.

One thing's for sure: Eastern Europe churns out some fucking weird games. Cryostasis is one of the less ambitious examples, but it's still unlike anything we're ever likely to see coming out of the major studios in the UK, North America or Japan. It flies around and chops back and forth through time as frequently as Lost. It might even be just as bizarre and confusing.

---
The Resolution Podcast
March 27, 2009
...has been recorded, edited, and is now uploading.

This month's show sees myself and J.D. Richardson getting a bit silly-drunk, arguing about a lot of games, and not recognising the names of incredibly influential and well-respected game designers.

Online for your listening pleasure soon, kids.

EDIT: Here it is!
---
Does anyone else think that...
March 26, 2009
...Still Alive is actually a really fucking good song?
---
Additional Articles:
[01] [02] [03] [04] [05] [06] [07] [08] [09] [10] [11] [12] [13] [14] [15] [16] [17] [18] [19] [20] [21] [22] [23] [24] [25] [26] [27] [28] [29] [30] [31]