Here, you'll find up to 20 of the most recent posts from the people who have the good taste to follow my blog. Only public results gleaned from the last 200 overall posts to HG Blogs will be displayed. If you see no results below, that means not a lot of people are following me, or my followers haven't been active in a long while, or they simply aren't sharing their posts.
---
Cpt. Retro Blue's 13 Days of Halloween
Posted October 16, 2019 by CptRetroBlue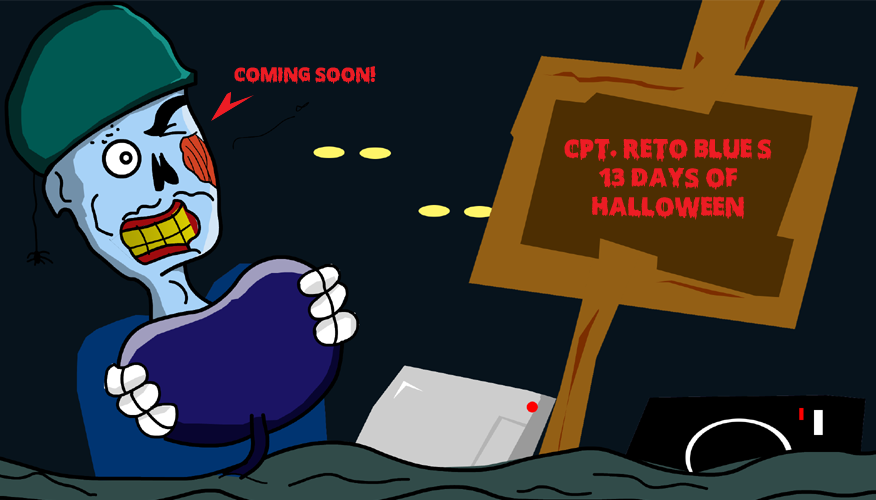 | | |
| --- | --- |
| | Ghouling News for October 2019 |
I've decided to make some sort of countdown to Halloween every year starting with this one. Beginning on October 19 to the 31st, I'll be uploading a horror-themed gaming upload at my youtube channel, all the way till Halloween. If everything goes right then I will be on a new hobby every time this holiday comes about.

While things in my life aren't that better, I am still not wallowing in self pity to the point of not being productive. I still have my love for gaming.

And yes, that image you see is of my own design. It will also be used to introduce each game on each designated day.

You all have a great day.

PS: lol I mispelled my name on the pic. Oh well.
---
People who take advantage of the less fortunate make me sick.
Posted October 08, 2019 by CptRetroBlue
| | |
| --- | --- |
| | Why does anyone think they are doing any good? |
It has been the worst 4 days of my life this month and I seriously hope tomorrow doesn't give me so much crap as that time. Everything from money problems, that damn appeal about my benefits, and unreliable relatives has made me just take a jump off a cliff to get rid of it all.

Its been made it even worse with the fact that I am currently using a crappy ass phone of which are offered to low cost families with a free lifeline. I didn't expect it to be state of the art, but the fact that it refuses to even let me make normal ass phone calls at times and I have to urn it off and back on JUST to make said phone calls is really getting in my nerves.

---
Some Rambo: Last Blood Thoughts
Posted September 29, 2019 by pickhut
| | |
| --- | --- |
| | I tried keeping an open mind. |
After hearing and reading a bunch of mixed reactions about the movie, I just decided to set some time aside last night to see it in theaters myself.

It's not good.

*spoilers, I guess*

---
Console ports better than the Arcade
Posted September 25, 2019 by CptRetroBlue
| | |
| --- | --- |
| | And you get to keep your quarters while at it. |
As much as I love Arcade games, I cannot help but to feel like their console versions never truly gave me that feeling that would not only be comparable from its original version, but also surpass it in some way. Well here are some of my picks on which I feel such had been established and was happy to experience in my lifetime, while also acknowledging that they pretty much are better than the Arcade originals as well.

STRIDER- SEGA GENESIS:
---
StarFox the Comic
Posted September 19, 2019 by CptRetroBlue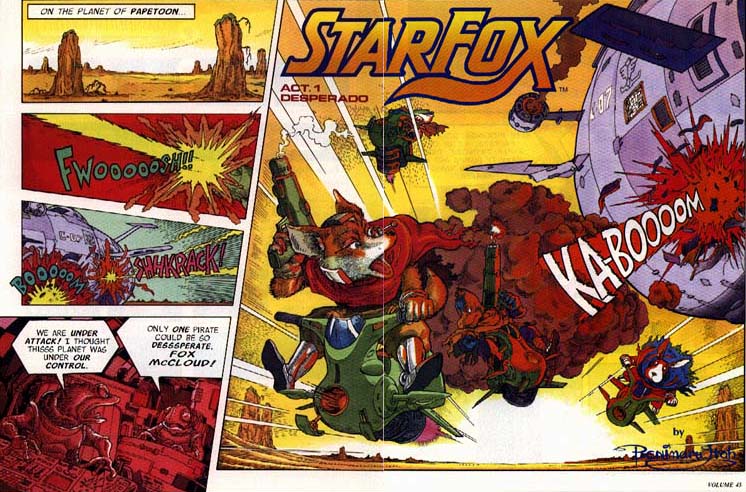 | | |
| --- | --- |
| | The comic you weren't asking for but one you deserve. |
When StarFox hit the SNES system a comic by Nintendo was published in the pages of Nintendo Power. The comic would take a few liberties like including original characters like Fara Phoneix who has yet to ever appear in a game adaptation at all, and the relation between Fox and his crew of mercenary space animals who fight for the good of Lylat system. I have found a site where you may experience some of these comics albeit seeing them in a low resolution, but at least preserving a section of gaming history. Hope you enjoy them as much as I.

StarFox Comics
---
Game Progress 9/19
Posted September 19, 2019 by JoeTheDestroyer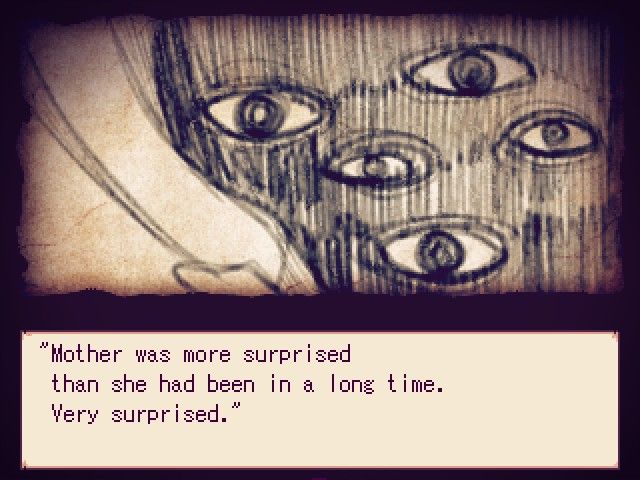 | | |
| --- | --- |
| | Lots o' finished stuff |
Phantasy Star IV (GEN)
Done. Man, this was a great game. Its combat system popped, it featured a really cool story, and its difficulty rating was very well balanced. I did kind of feel that the last few challenges, especially the final boss, weren't really that tough, though. Like, I walked all over the Profound Darkness.


Alicemare (PC)
I played through this one pretty much in a single sitting. It's a pretty decent adventure game that uses (if I'm not mistaken) RPG Maker. I have a review for this one, but you won't see it until October... Mwahahaha...


Doorways: Prelude (PC)
---
Tried the Contra Rogue Corps Demo
Posted September 15, 2019 by pickhut
| | |
| --- | --- |
| | Oof. |
Contra Rogue Corps turned off a lot of people with its wacky visual presentation and top-down viewpoint from its trailer. Not surprising, considering Contra games usually have a SIDE-scrolling perspective and, more times than not, a more "serious" tone. But as the game crept closer and closer to its release date, I tried keeping an open mind; the game is being directed by the same guy who did past Contra titles, such as Contra 3 and Hard Corps. On top of that, my favorite "recent" Contra game is Neo Contra, which also has an oddball presentation and top-down perspective.

Then, a few days ago, I caught wind that a demo dropped for the game, so I downloaded it on my PS4 and gave it a go...

---
StarFox 2
Posted September 11, 2019 by CptRetroBlue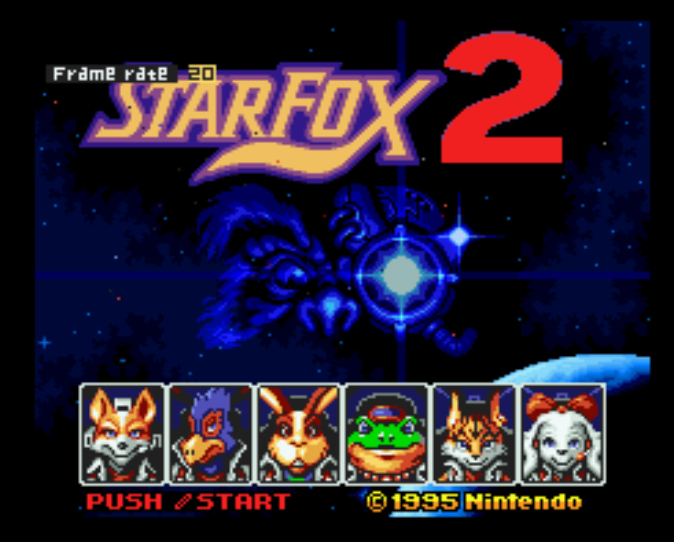 | | |
| --- | --- |
| | Gibberish in SNES gabble about not letting Fox do that. |
Now that gamers can experience StarFox 2 as intended on that SNES mini, I am able to experience it myself in all its protoype glory, mainly on that ROM that was done and intended for the Super Famicom and subsequently on the SNES back in '95. Its pretty good! I can see all its gaming designs that were put in later titles such as the Arwing walker and the introduction of the bad blood StarWolf, who would appear pilot by pilot to annoy you between missions.

Unlike its predecessor you do not go from stage to stage, you actually select where to go and in instances, intercept enemies and enemy fire on the spacemap. The gibberish animals are back and I am so in love with them.

---
Steam Games I've Played: Section A Conclusion
Posted September 08, 2019 by JoeTheDestroyer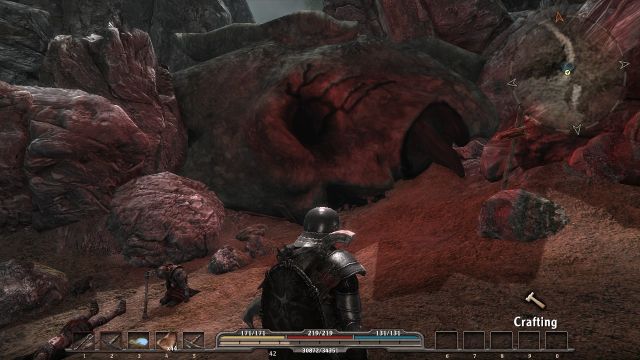 | | |
| --- | --- |
| | Moving onto the B section |
A Section Concluded:

Anodyne
A Zelda clone that's actually quite fun. There really isn't much more to it than that, and some added comedy. It's also a little more linear than your average Zelda game.
Will keep playing.


Another World: 20th Anniversary Edition
An enhanced edition of the PC classic, now with improved visuals. You can also toggle between the new presentation and the old in-game, so that's awesome.
Completed.


Antihorror
A walking simulator that parodies cheap European horror games. I think. I don't know. It's such a confusing, surreal mishmash of ideas that it feels like a fever dream. I... guess I don't hate it?
Completed.


Apotheon
---
Comic Sans skin now a part of Smash Bros. roster
Posted September 04, 2019 by CptRetroBlue
| | |
| --- | --- |
| | Its all downhill from here. |
You know I haven't played one of those smash bros. games since its Gamecube iteration which I still believe to be one of the best in spite of all the ones that came after it. Not that I don't like the game, but I never really owned a Nintendo console since the SNES and I quite been on other games besides that over hyped toy match tourney everyone seems to obsess over. I am not saying its bad either, I am just saying to each their own.

Over the years that game series has been adding characters from many other franchises besides Nintendo, making it for more of a curiosity than anything else. That would be part of why I have stopped caring really. It seems too much for me to bother with it but still, no harm done.

---
Karnov
Posted September 01, 2019 by CptRetroBlue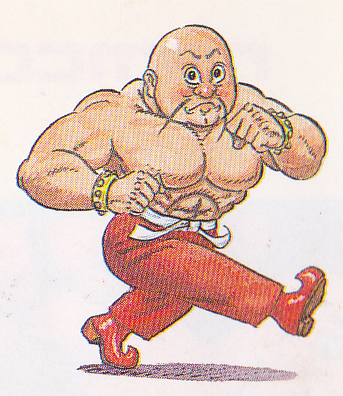 | | |
| --- | --- |
| | The story you never knew |
You may had heard of Karnov from his NES game back in the day and the first time you ever seen him anywhere else. He would also appear on another NES title called Bad Dudes as an enemy boss this time, leaving you scratching your head as to how he just decided to turn sides from one game to the next or quite possibly being an impostor. Then he would be heard of once more in Karnov's Revenge, a fighting game on which he was not only the last character you would face off but also a bad guy as well. After his heroic adventure on NES you would ponder just why he would turn out to be a bad guy anywhere else. Surely something must have happen between one game and the other, having him change his mind on being on the righteous side of things. Well...
He never was a good guy to begin with.

---
Meanwhile in my life...
Posted August 29, 2019 by CptRetroBlue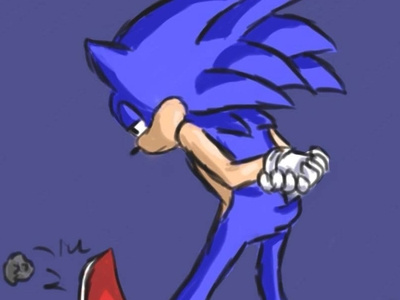 | | |
| --- | --- |
| | That's not all folks... |
You may be wondering what has been going on after my blog on about my disability benefits being cut. Well, they still are. The only difference is that I am currently being given the pension amount that I was getting for now while the appeal still goes on. This does not mean that I am getting any sort of benefits whatsoever as the money they agreed to continue sending is just *borrowed* money and not much else. They have established an agreement that if my appeal fails then those months that they have the right to ask to pay the amount of money I have been received so far which of course I WON'T do, because its utter bullshit.

As much BS as it is that they went on deciding I am "fit" to work which is not the case. At all.

---
Game Progress 8/21 + Thoughts on Jet Force Gemini
Posted August 21, 2019 by JoeTheDestroyer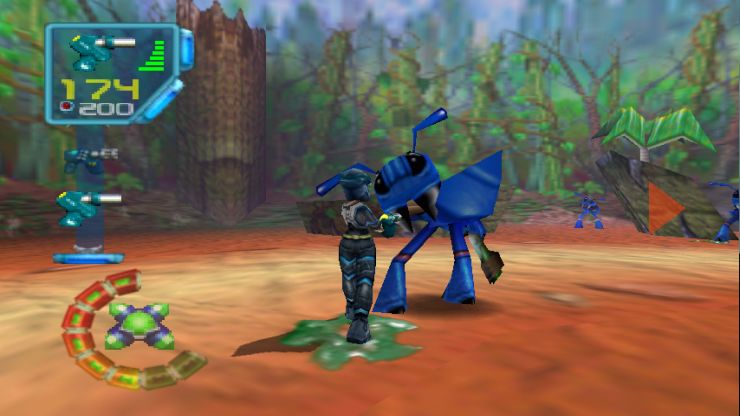 | | |
| --- | --- |
| | I got about halfway through JFG before calling it quits |
What have I been doing since completing 12 is Better than 6? Well...


Jet Force Gemini (N64)
I was playing this game legit--as in, on the actual console, non-emulated and not via Rare Replay. I kind of regret that... As with previous "thoughts" posts, I'd like to use a bullet point structure:

---
Detective Pikachu
Posted August 10, 2019 by CptRetroBlue
| | |
| --- | --- |
| | This is the Pikachu you've been looking for. |
I remember watching that very first Pokemon movie in theaters. It left me with a sour taste in my mouth. What a turd. I never wanted to even watch the Anime itself much less one of the MILLIONS of movies that appeared thereof. I hated it. I really didn't cared for it. Years later we had this Detective Pikachu and when watching scenes and trailers of the new movie my expectations went even south a lot more than they were about the entire thing. Just look at some of these characters designed while blending it in with live action. My God, why nowadays everything has to be in the "real world" when it comes to old cartoons and videogame films? This sort of thought was along with that Sonic Movie which I shared my utmost bitterness when seeing its trailer months ago, while laughing at h
---
Game Progress 8/6
Posted August 06, 2019 by JoeTheDestroyer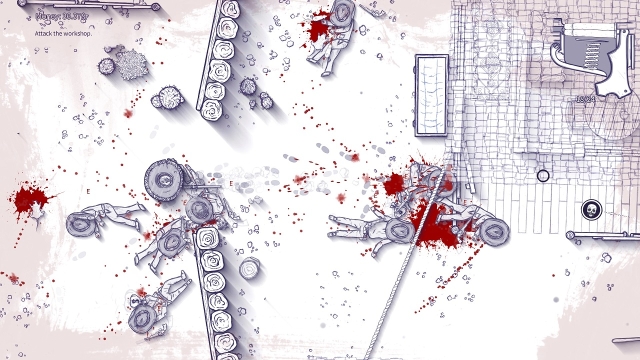 | | |
| --- | --- |
| | From Software has come a long way... |
Before I jump into this, I figured I should describe my Steam project flow.

I have up to eight games downloaded at a time, with their icons sitting in a "pool" on my desktop. I go for the next game alphabetically, playing at least one session. I settle then and there upon one of a few choices:

1. Uninstall and play later. Longer projects like RPGs tend to fall into this category. I'm mainly looking for short stuff to pick off.

2. Play the game through in one or two sittings. Walking simulators and short horror games are perfect for this.

3. Put the icon off to the side and play it now and then.

---
donald trump re-awakening the whole
Posted August 05, 2019 by CptRetroBlue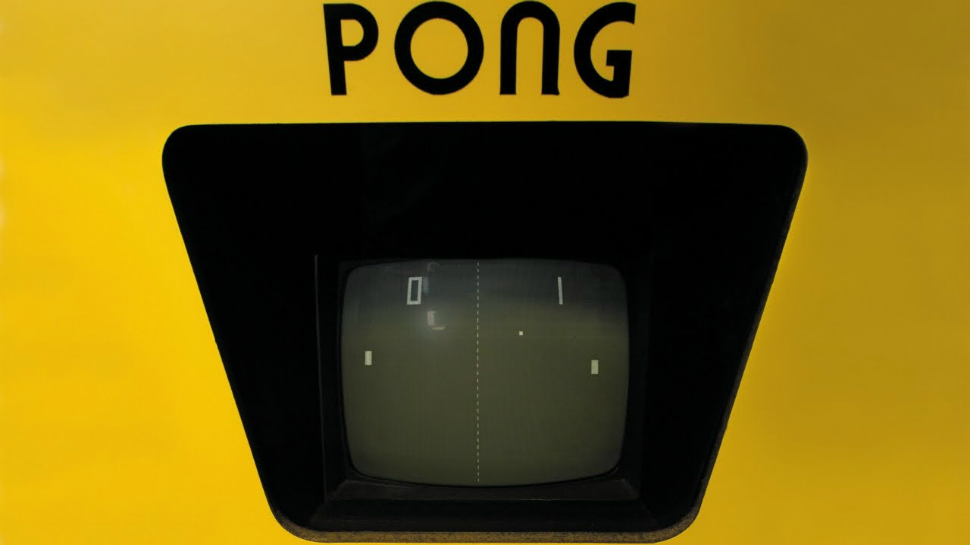 | | |
| --- | --- |
| | What decade is this again? |
So today I am hearing about that man in the White House blaming videogames in part for the horrific shootings that this country has suffered recently. You know, instead of actually taking responsibility for his influence that he has on certain people that love to take his words for granted to commit such atrocious crimes.

Really, this is the most hilarious tidbit he has come out with. I feel like we are reliving the 90s with angry men in Congress urging the Government to do something about the likes of Mortal Kombat and others "poisoning" the minds of young gamers.

This man is not fooling anybody. I hope he grows a pair and begins doing something about these events instead of playing the blame game.
---
Unveiling some of the horror games I'm reviewing in October
Posted August 04, 2019 by JoeTheDestroyer
| | |
| --- | --- |
| | You can tell I've been playing all of my Steam A section |
Yeah, Halloween isn't for about two months, but I'm excited to reveal what I've been working on. Of course, you won't be getting 31 reviews like in the old days. Who has time for that anymore? I'm not guaranteeing these reviews will be out, but I at very least have rough drafts ready for them (final drafts for others).

What will you be getting, then?

Castlevania: Circle of the Moon (GBA)
The long-awaited follow-up to Symphony of the Night that doesn't quite measure up.

Castlevania: Order of Ecclesia (3DS)
The last good Metroid-style CV game, with new systems and mechanics that we'll sadly never see again.

Cold Fear (Xbox)
---
Another damn shooting.
Posted August 03, 2019 by CptRetroBlue
| | |
| --- | --- |
| | This is tiring me out. |
I don't know about any of you here but I am tired of this. 239 shootouts this year alone and we still got months away from finishing said year. This covers almost an ENTIRE damn year that such horrible incidents keep happening and that orange asshole feels confident that tweeting about it to victims is more than enough for him to care about it. I am angry. I am VERY angry. I am also afraid. Two shootouts had happened here in Dallas alone, one of such this year NOT too long ago either, at downtown. I am now scared for my safety and that of my family and relatives, as well as friends who live in Texas. What's to stop any lunatic in getting me and those I love killed now that this is becoming commonplace? Why is this idiot who has STOLEN the Presidency not caring enough to do anythi
---
Mastodon Social is not what it allures to be so it seems
Posted August 03, 2019 by CptRetroBlue
| | |
| --- | --- |
| | The mastodon could become extinct |
Finding out the dark side of Mastodon Social and it is discerning. A place claiming to be twitter's answer to its toxic environment seems to be just as toxic in some instances. I have read Mastodon's feed on its twitter account, bashing that sit'es CEO JACK personally, mentioning his account and even with a sense of threat that implying Mastodon's creator trying hard and intimidating him for shock value and the premise of goading more to join his own platform. That is bullying. I don't like twitter and especially its CEO, but sort of approach by using a PROFESSIONAL account is sub-par and illogical. It just adds to the sudden realization that this place might not be what anyone would want when replacing something as toxic as twitter.

---
That mysterious Blue Spell
Posted August 02, 2019 by CptRetroBlue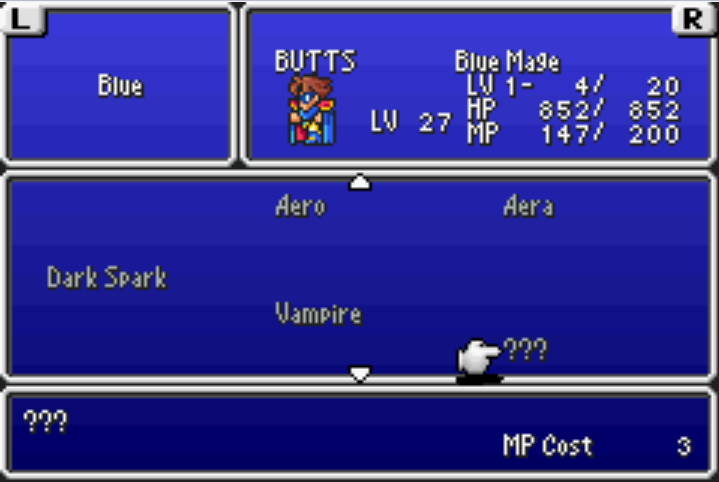 | | |
| --- | --- |
| | Riddle me this |
On my play through of Final Fantasy V Advance I encountered something mysterious, mainly a spell only marked as ??? when confronted against a Bone Dragon when rescuing a Moogle on Galuf's World. After defeating it my Blue Mage learned it and it costs 3 MP to use, dealing only minimal or no damage at all to any foe, plus the fact that it won't work if you invoke it against the same enemy within a battle. I am not sure if this is a glitch or was put there intentionally. So far my search about this mysterious spell has come up negative. Quite frankly after having it around I was wary that if I used it it would do something to my save file or glitch the game. Good thing it hasn't.