About Me:

Sorry, but I haven't yet shared the information about myself that would typically display here. Check back later to see if that changes, or if I instead choose to remain an enigma.
---
Okay, lost the first round of the TT. No way to debut. I'm cool, I'm cool.

!BUT!

Mark my words: I shall not lose again! I will construct a review by Wendesday, maybe Tuesday, that will rock! It will be new. It will good. It will not be Jaws: Unleashed, because I don't feel like it now.

AND IT WILL WIN!

Ashy, YOU'RE NEXT!

Um..., I mean, FIRST!

---
Dragon Quest VIII - Day 5
July 08, 2006
Okay, I'll admit: Dragon Quest 8 has, progressively, been getting better. I dig Angelo's smooth ways and the way he kind of looks like Dante. I find Jessica's fiery wit to be a refreshing change from the usual sappy female protagonist. When Yangus yells 'COR BLIMEY', I admit, I laugh. I can't always understand what people are saying because of the accents, but I generally get the gist. And the combat system, while very basic, puts in enough interesting enemies and has a cool thing going with the point system.

Just one problem: WHERE THE HELL IS THE DAMN MOUNTAIN?

---
Dead Man's Chest and the Naruto Review
July 07, 2006
Naruto: Ultimate Ninja

I can feel your stares.

This one came out of nowhere; I picked it up expecting a laugh and some bash review fodder (bash reviews are my weak spot, it seems, so I'm going to try and hone them in the future) but instead got a solid Super Smash Bros. styled fighter.

---
Lazy One Day Reviews
July 05, 2006
The two games I picked up for my birthday...

Jaws Unleashed: Eh, not bad. Not bad. Eating people is fun, eating dolphins is REAL fun, eating Shamu is funny, but accomplishing stupid mission objectives like sinking an oil barge and destroying a refinery are kind of dumb. Since when did Jaws become an eco-terrorist? I feel like Captain Planet with big teeth or something. Probably start working on review for this, have it done next week. Maybe.

Dragon Quest VIII: Not bad, but I really do not see what the big deal is...then again, I'm only five hours in, so I'll give it time...

That's all folks...for now.


---
Happy Birthday, Genj!
July 02, 2006
I'd give you, like, a present or something, but I already gave my EB giftcard to an extremely unappreciative brat. Anyway.

Happy Birthday, man!
---
Sort of new review...
July 02, 2006
Radiata Stories

Yes, I did this before, but I ironed it out quite nice for the tourney. I was stuck between either using this or DMC: Special Edition for the TT, but I think this was the better choice. And I'm curious to see how it fares, besides.
---
Wolverine...die...[SPOILER, MAYBE]
June 30, 2006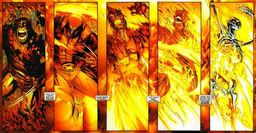 And he still regenerated.

Starting to see where a lot of the Wolverine hate comes from...
---
Additional Articles:
[01] [02] [03] [04] [05] [06] [07] [08] [09] [10] [11] [12] [13] [14]