About Me:

Sorry, but I haven't yet shared the information about myself that would typically display here. Check back later to see if that changes, or if I instead choose to remain an enigma.
---
Okay, the Grandia Xtreme review is bugging me, and the second best way to take my mind off something's that's bugging me is to focus on something else that bugs me.

All right. Normally, I'm not a very opinionated person; I just sort of flow with what everyone's saying at the moment. That's...actually a bad mindset for a reviewer, but I digress. Despite that, I do try and keep up with events and form some sort of view for myself. My favorite part: The forums.

Now, small little anecdote before I go on: Recently, where I live, there was this man. This man was a father, had two little girls. One day, this man went and stabbed his two little girls to death. He'd had the urge for the longest time, and he finally caved. End of anecdote.

---
Grandia Xtreme
August 01, 2006
Last post for the day, promise.

Grandia Xtreme

I'd say I liked how this came out, but it seems like how much people hate your review is inversely proportional to how much you like it...so...um...I hate it, yeah.

Many thanks to Overdrive and Genj for proofreading and making my crap considerably less crappy. Special thanks to Overdrive for being extremely...I mean, xtremely thorough, and special thanks to Genj for a comment he made to me during AIM a few nights ago that gave me the idea to talk about how Grandia Xtreme's specials are more brief than Grandia II's, a point I would have never thought to make otherwise.


---
MY music list.
August 01, 2006
Stolen from Khris, who stole it from Genj, who stole it from Sportsman...yeah.

A-Aerosmith
B-Black Sabbath
C-Chuck Berry
D-Danger Doom
E-Elvis (seriously)
F-Fisherspooner
G-Gorillaz
H-Heart
I-The Isley Brothers
J-Johnny Cash
K-Kovas
L-Lady Sovereign
M-Midicronia
N-NERD
O-Origa
P-Prince
Q-Queen
R-Ram Jam
S-Stevie Wonder
T-The Temptations
U-Utada
V-Vaugh, Stevie Ray (yeah, cheap, I know)
W-Wyclef Jean
X-
Y-
Z-ZZ Top

Okay, there. You may begin telling me how bad my taste in music is...now.
---
...where'd all of Leroux's reviews go?
---
(Untitled Post)
July 31, 2006
EmP vs. OD
DoI vs. Vorty
VM vs. LH

Curses! Damn you, Margaritaville!

-_-

Oh, the awkwardness...
---
This post comes to you live from my Family Reunion in Washington D.C. I'll be back on Monday, but a quick post before I get back to festivities...

To Pup: Mad props on the win.

To Vorty: It's not your fault, at all. If anything it's mine for choosing crappy reviews the first two weeks. I underestimated my opponent and overestimated my ability, and I will not make that mistake next TT (if I get a team, of course) Mark my words...again.

---
MARVEL ZOMBIES
July 25, 2006
Alright, enough of this funk. I don't know and won't know how I'll fair against Usurper, but I'm not going to let it bug me. And what's the best way to get something off your mind?

That's right: Zombies. But not just any zombies. MARVEL ZOMBIES!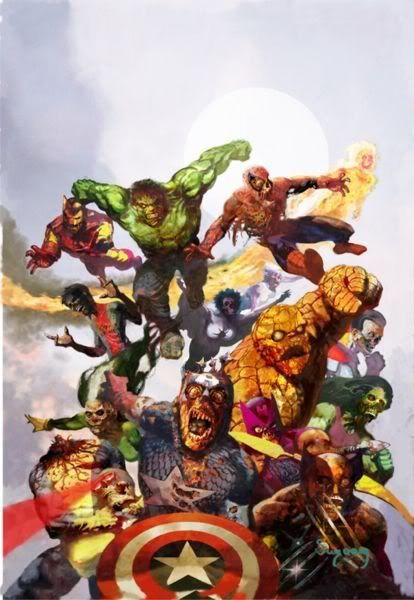 Some explanation, of course, is in order.

---
Additional Articles:
[01] [02] [03] [04] [05] [06] [07] [08] [09] [10] [11] [12] [13] [14]