Nintendo Announces SNES Classic Is On the Way This September
June 26, 2017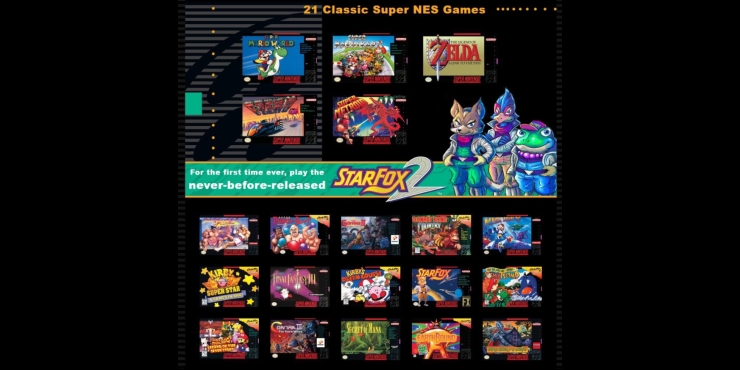 | | |
| --- | --- |
| | The lineup of 21 games includes the never-before-released Star Fox 2. |
A follow-up to the impossible-to-find NES classic is on its way from Nintendo, due to launch later this year. Called the Super Nintendo Classic Edition, the new hardware comes with 21 games, including one that has never previously been released.

Scheduled to arrive on September 27, 2017 with an MSRP of $79.99, the mini console ships with two classic controllers, which are compatible with the Classic Controller and Classic Controller Pro accessories you may already be using on your Wii U. Nintendo is emphasizing (as it has with the Switch console) multiplayer gaming, and the Super Nintendo library had no shortage of classics along those lines.

Here is the list of the 21 titles included:


Contra III: The Alien Wars


Donkey Kong Country


EarthBound


Final Fantasy III


F-ZERO


Kirby Super Star


Kirby's Dream Course


The Legend of Zelda: A Link to the Past


Mega Man X


Secret of Mana


Star Fox


Star Fox 2


Street Fighter II Turbo: Hyper Fighting


Super Castlevania IV


Super Ghouls 'n Ghosts


Super Mario Kart


Super Mario RPG: Legend of the Seven Stars


Super Mario World


Super Metroid


Super Punch-Out!!


Yoshi's Island
To play
Star Fox 2
, you'll first have to unlock it by completing the first stage of the original
Star Fox
, which is an odd requirement but not necessarily unfair. Why bother with the sequel, after all, if you haven't at least played and enjoyed some of the first installment?
You can get the full scoop straight from Nintendo on the hardware's
official site
, complete with spiffy pictures that I haven't included here.
Personally, I'm excited about the Super Nintendo Classic Edition, because of
Star Fox 2
and for the sake of convenience. I have more reasons to pick it up than I did the NES Classic Edition, even though that previous hardware had more games that appealed to my nostalgic nature. I do wish
ActRaiser
and
The Legend of the Mystical Ninja
could have been included, and I saw someone else mentioning
Chrono Trigger
, but even so... this is a great lineup of games that should be perfect for families around the holidays.
Now let's just hope Nintendo actually produces enough of these to avoid the ridiculous shortages we saw for the NES Classic. I expect the demand this second time around to be even higher, and Nintendo executives would have to be just plain stupid not to expect the same...