I Got to Meet Terry Brooks at a Book Signing
June 24, 2017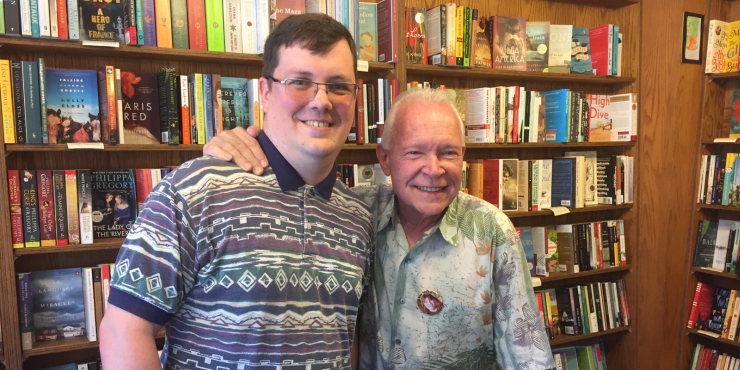 | | |
| --- | --- |
| | As such experiences go, it comes highly recommended. |
I finally have met my favorite author, Terry Brooks, after more than twenty years of wishing I could meet my favorite author, so I feel like that warrants at least a messy blog post.

It especially warrants a blog post because the meeting went very well through no fault of my own. It took place in Cannon Beach, Oregon, where at the time the temperature was expected to hover somewhere between 58 and 81. The people who predict the weather on the Oregon Coast don't seem to have as much luck as those who ply their profession in locations further removed from the sea, so what we got instead was weather closer to 90... which doesn't sound terribly hot to people who live in places like Texas, but which can still make folks irritable and miserable.

I showed up in Cannon Beach about 45 minutes ahead of time, and finding parking took a long while because the city had seen an influx of tourists from inland. I think Portland had even worse temperatures than the coast did today, plus the town was having some sort of festival to entice potential visitors. I had to circle the public parking area four or five times before finally finding a place to park as a vehicle slowly backed out. Then it was a short walk to the shop to wait for Terry's arrival.

When Terry finally entered, a couple of minutes before the event was to begin, I already had several of his books purchased and ready for a signature. There was a circular table set up near the front of the store, and there were signs in the windows to let people know Terry would be there signing. Not a lot of the traffic through the store seemed to care, at least during the first half-hour or so of the event, when I was around. Though Terry proved long ago there is a market for fantasy fiction--a market he helped to greatly expand with "The Sword of Shannara," which established in a lot of minds that Tolkien and his "Lord of the Rings" success was no fluke--that market didn't seem to exist today in Cannon Beach.

That was okay with me, if I'm being honest. I know Terry has no trouble topping bestseller lists, and if people were ready to pass up the opportunity to get his signature, that was just dandy because it meant I had the opportunity to talk to him for a bit. That's just what I wanted.

Since I was actually first in line, ahead of around seven other people or couples that came in for signatures, I didn't talk much at first but just got the essentials out of the way and also snagged signatures on the three books I bought. Terry was in town specifically to promote "The Fall of Shannara: The Black Elfstone," which is the first of four books that will tell the story of how Shannara concludes. It officially went on sale on June 13, 2017, so it's a pretty new affair and I was happy to get a signature personalized to me. I also picked up my second hardbound copy of "The Sword of Shannara Trilogy," which gathers his three first books. And since it was there, I added the volume 1 omnibus that collects the first three books from his "Magic Kingdom of Landover" series, which I've read and enjoyed in the past but didn't yet own (aside from a book club edition of "The Black Unicorn").

Once I had my signatures, I waited while Terry greeted other people and listened to their brief stories of why they came and what his work meant to them. In one case, a woman confessed that "I've actually never read any of your books," which caused another woman standing near me to accurately remark "That's not what you want to say to a writer." Terry laughed it off, though. Another couple were on their honeymoon from Canada, and were delighted to have lucked their way into a meeting with one of their favorite writers. And another woman was having Terry sign her book so that her not-yet-born daughter could have a book signed by the author. There was some concern, because the final name for the impending bundle of joy hasn't yet been decided, so Terry suggested personalizing it for either/or, which would give them a story to tell their daughter or daughters, and which nicely solved the temporary dilemma.

Most people who came to see Terry were clearly content to meet him, have that moment of interaction and then leave without saying much more, but I was greedy because Terry Brook has had such significant impact on my life. I started reading his books when I was in my early teens, and they set my imagination on fire in a way that made me decide I definitely wanted to be a fantasy novelist as an adult (which may not be obvious now, but which prompted me to pay enough attention to the craft that I at least know my way around the field). That initial interest radiated out to many other authors in the genre, a lot of them also published by Del Rey Books, and also helped introduce me to the Del Rey Online Writing Workshop, where I have met many other aspiring writers and got to know a few who now occupy bestseller lists. I owe a lot to Terry, and to Shannara.

So I talked to him, gave him a very rough idea of the impact he has had on me, and he seemed happy to hear I was a writer. He wanted to know if my labors had come to anything, and I said I wasn't published except a self-published book. "That's one way to go," he said, without the tone of voice one might use when trying to slip in a sly dig on the approach. I was happy to be able to thank him for writing Shannara, in precisely those words, even though I didn't bother to go into a whole spiel about the myriad of ways in which his work--and even to an extent the decisions he has made about how to work as a writing professional--have affected my life. He's probably heard a lot of similar stories before, anyway, since he tours the world.

Terry also shared some insight into the series of books he was there to promote, noting that he is outliving a lot of his peers and he was anxious to be able to tell the story of Shannara's conclusion himself. "I didn't want Brandon Sanderson finishing my story for me," he said, in reference to that other writer's work on the "Wheel of Time" books, "and I've told him that."

He also mentioned that he likes exploring the cyclical nature of life, in the real world and in Shannara. In Shannara, that also means an examination of how science and magic interact, which is something his books have become known for over time. That was my window to ask if it's a theme he always had in mind, or if it was something that came together more around the time of his "Heritage" series (which marked my personal introduction to the series, though I didn't mention that). He agreed that it was around that point, that it was most obvious then, and said he hadn't had it in mind from the beginning. "I was just trying to get the novel published," he said, of "The Sword of Shannara."

The conversation quickly segued to talk of "The Shannara Chronicles," which is a show based on his books that airs on MTV. Or at least, it did air on MTV. It has moved now to Spike TV for an upcoming second season. Terry said it is the most beautiful show on television, with obvious pride, and noted that it also makes very obvious the world of Shannara's ties to Earth in the rather near future, which I believe his fiction has explored starting with "The Knight and the Word" and moving into "Armageddon's Children." I've read the first of those sets, but not the second. I need to catch up on my reading!

I didn't know quite what I should expect from Terry's personality, since there's not a lot of obvious humor in his fiction (or rather, not a whole lot of it in Shannara), but he's honestly a down-to-earth and charming guy. He had a humorous outlook that didn't come across as a guy standing around making jokes all day, which is how some almost funny people come off, and I immediately liked him even more than I had before he walked into the store in his shorts and casual shirt. He has charisma, and seems like the kind of guy who could be friends with almost anyone, if they struck up a conversation. That's in sharp contrast to my more reclusive personality. He assured me that most writers are very congenial and don't mind talking to fans at signings around any lines, or even after the signing. When I told him I had wanted to make one of his signings for more than 20 years, he wanted to know what took me so long. I told him my excuse, that he had lived in Illinois. He said "I've lived here for three decades," and encouraged me to use the Internet, though he admitted that his place of residence hasn't been widely publicized.

Terry wasn't alone, so I got to meet Judine, who until now I knew only as a name that has been mentioned in some of Terry's book dedications, and in the bio in a lot of his books over the past few decades. She is, he has said elsewhere, his muse. She is also his wife. When another customer asked if she reads his stuff, he said that the first time she tried to read it, she fell asleep within 10 minutes. But she reads it now, because she kind of has to. Clearly, she is very involved in Terry's life. Like her husband, she seemed more youthful than I would have expected. Terry is presently 73, but you could have told me he was 10 years younger and I would have believed it if I didn't know any better. I hope very much that he won't have trouble writing for many years to come, especially since it's clear he enjoys it so much (in a video Q&A that I've seen with him, he remarked that he would probably be one of those writers who drops dead over his keyboard).

Judine actually took the photo that I'm attaching to the top of this blog post, so all credit goes to her for that (I've cropped it a bit, though). She had to tell me to look like I'm happy, which tells you how nicely I come off when I'm in the presence of someone I find so thoroughly impressive. And it tells you a lot about how gracious Terry can be, in that sort of setting or probably a lot of others. Since Cannon Beach is apparently a bit of a second home for him, I hope he will return there for signings for the next three volumes in his current project, and that I will be able to get signatures in each of them and perhaps talk to him some more about Shannara and writing and listen to the stories he might have to tell other folks who attend.

If you can make it to a book signing held by your favorite author, I recommend that you make that effort and have that experience... especially if that author is Terry Brooks.