Battle Chasers: Nightwar Has a Release Date
June 02, 2017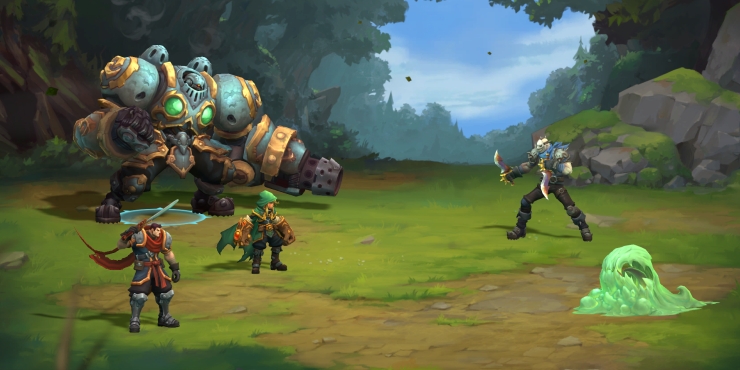 | | |
| --- | --- |
| | The intriguing RPG is coming to Switch, PS4, Xbox One and PC this October. |
Battle Chasers: Nightwar is coming to Switch, PS4, Xbox One and PC this October, and it looks like quite the intriguing RPG. Now that I've thoroughly repeated myself, though, is there anything left to say? Yes. Yes, there is.

The first thing I might add is that the game first was announced on Kickstarter, way back in September of 2015. I thought it looked quite snazzy even at the time, so I backed it. The game was then expected to arrive by December of 2016, but things happen. Now it finally has a launch date of October 3, 2017, and it is also coming to Switch. That wasn't part of the original campaign promise, but it's good news.

Naturally, I started looking around to see if I could pre-order the Switch version of the game, which retails for $30 on PlayStation 4, Xbox One and PC. But alas, there was no listing on Amazon. I admit it: I grew suspicious that a physical release might not be planned for my favorite new platform. So I asked the PR person about it yesterday, and today I got my response:

I've got confirmation that it will be releasing on Switch in physical form.

That's just the response I was hoping for. Now I can get my digital copy of the game on PlayStation 4 that I paid for when I first pledged as a backer, and I can pay extra money to secure a physical edition on Switch. Then if the game somehow winds up sucking, I have the privilege of looking twice as stupid.

I don't think it will suck, though. Just take a look at this enticing description from the original campaign page:

Battle Chasers: Nightwar is an RPG inspired by the classic console greats, featuring deep dungeon diving, turn-based combat presented in a classic JRPG format, and tons of secrets, story and randomly-generated replay goodness.

The game's development is being handled by ex-Vigil staff (they created the Darksiders games), and the visuals definitely have a sweet vibe going for them. If you ask me, this is still one to watch, and now it's very close to finally releasing. Are you interested in Battle Chasers: Nightwar?