Brief thoughts on SMT: Persona PSP's SEBEC storyline
June 10, 2016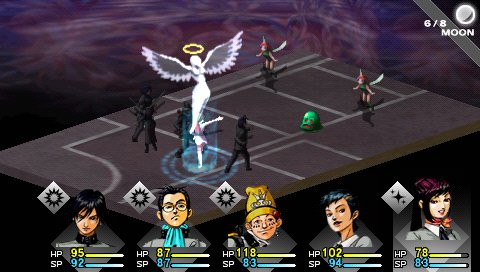 | | |
| --- | --- |
| | Ugh... ***SPOILERS*** |
I just finished Persona's main quest line, which involves battling the SEBEC company. Honestly, it was a bit of a slog.

1) I never really felt the level of wonder I should have. I mean, the entourage voyages into an alternate universe and somehow that's not interesting. Maybe it's the translation, but the characters seemed nonplussed about their intedimensional travel.

2) The story didn't pick up until it was nearly halfway through, when it revealed the truth about Maki. Then it kind of got interesting, plus you felt a little more for her as a character. It also explains why the story up to this point was so mundane. All Maki wanted was a simple life outside of her hospital room.

3) All of the other supporting cast got the shaft. Mainly, I wanted to know more about Mark and Nanjo. I can understand Brown (the recruitable character I settled on) no receiving much elaboration, but I think there should've been segments involving Mark and Nanjo. I had hoped such subplots would emerge, and I was disappointed to find out they weren't there.

4) The final boss, Pandora, was mostly a pushover. Her first form was a glorified enemy, for one thing. Her second form seemed to be holding back. There were a couple of times she hit me with butterfly cloud or whatever it's called twice in a row and nearly wiped me out, but I was able to easily recover (Maki had a spell that fully heals the entire group for a mere 20 SP) and lay the smack down. Not really what I would call a worthwhile final boss.

I restarted the game and am attempting the Snow Queen campaign. Hopefully this pans out to something better.