Paprium Developer Q&A
March 31, 2017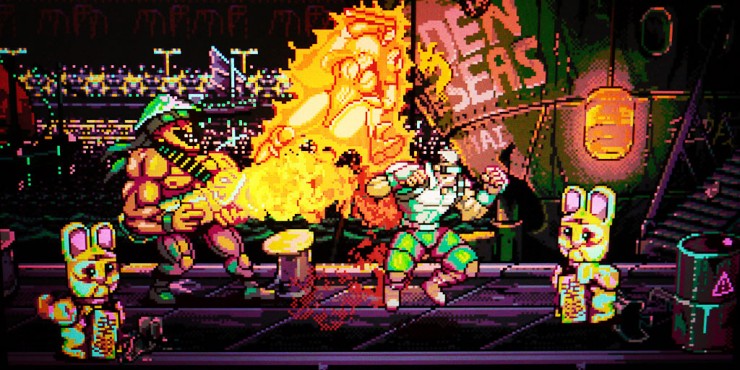 | | |
| --- | --- |
| | The next game from Watermelon Developments is headed to Genesis later this year. Learn all about it! |
If you remember Watermelon Development, it's probably because of that developer's work on Pier Solar and the Great Architects. That title debuted on Genesis in 2010, before finally arriving on numerous other platforms a few years later. Now, the team is prepping its next potential hit, a brawler known as Paprium. The game is set to arrive later this year, and it's already looking very promising.

When the developer got in touch to see if I was interested in providing coverage for the game, I said "Sure, I'm interested!" We have a healthy community of retro lovers here at HonestGamers, after all. So a quick exchange on social media (I knew there was a reason I hadn't closed my Twitter account yet) soon turned into an email Q&A, facilitated by Camille Rougelot. I'm including the Q&A as it was written, with only slight edits for clarity. Enjoy!

---

Q: How did Watermelon Developments find the money to put together an ambitious project like Paprium? Did a lot of that come from sales of your previous titles, or did others pitch in to make the dream a reality?

Part of the project was funded at WM's Magical Game Factory. We had a system in which hardcore fans could invest GEMS (virtual money) into the project, and they could vote to shape what the game would become. When the project completes, they can convert their investment into games, so it's a win-win situation. It was also quite difficult to pull-off, as many don't see the need for developers to have too much funds. Such projects are extremely expensive to develop (much more expensive than a mobile phone game of equivalent size, for example). Team members also invested their personal money to fill in the gaps.

Q: How many people were on the Paprium development team, and how long did it take to develop?

The team working on the game is mostly composed of contractors and hardcore fans. The project lead worked full-time on the project from start to finish, but many worked only for a limited period of time. Quite a few people worked as volunteer, or for very symbolic rewards. Over the four years of development, over 20 people participated actively into the project, be it graphics, audio, packaging, hardware, etc.

Q: Was Paprium developed using a common game engine, such as Unity or GameMaker, or did the team take a more custom approach?

Haha! Of course not! If we were to use Unity or GameMaker, the frame rate would probably drop down to 1 frame per minute and wouldn't fit memory at all. The game runs at 60fps. This requires 100% proprietary tools and code. Every single tool has been developed and optimized for the game, down to the data compression techniques and memory layout. That's the only way to reach good performance. It was a massive, but exciting task.

Q: Your previous project, Pier Solar and the Great Architects, was an RPG. Why did you follow that up with a brawler instead of another RPG?

It was decided by the investors at WM's Magical Game Factory. Some people wanted a dating text adventure! It ended up being a brawler, pfewww! Lot of fun!

Q: There were a lot of classic 16-bit brawlers. Was there one series or another that especially inspired the creation of Paprium?

A lot of influence came from the Streets of Rage and Golden Axe series. I should also note Cadillac & Dinosaurs, a game that the Character Designer & Art Director is fond of. We tried to come with unique gameplay mechanics. It's not a direct copy of existing game, of course.

Q: How difficult is Paprium for newcomers? Did you design the game with genre veterans in mind, or was your aim to produce an experience that is accessible to a wider audience?

It has difficulty settings. There is the same difficulty range as a Streets of Rage game, so a bit easier than Final Fight on default difficulty settings. Our fans are hardcore gamers. We ensured they have a good amount of difficulty. This time we also don't need to lower difficulty on purpose, because it's a Mega Drive exclusive!

Q: What made you settle on Genesis as the platform of choice for Paprium, rather than Super Nintendo? Did you need the blast processing?

It's long time ago, but it was also decided by our Investors. That's cheating a bit, because most of our fans are Mega Drive fans :) The actual game cannot run on SNES. We are pushing the 68K CPU to the limit, and it would be impossible to reach such performance on the Nintendo system without some programming magic. Also, SNES has lower resolution, so the visuals would have been made differently.

Q: Paprium comes on an 80-meg cartridge, and offers 60fps gameplay even with 2-player simultaneous play. Those are departures from the standard 16-bit experience, though players will likely welcome the improvements. How did the team decide when to work within established limits and when to break through them?

Most beat them all back then were two players. Like many of today's games, some games back then actually ran at half framerate (30fps), or had a lot of slowdown. We tried to minimize this for the ultimate 16-bit experience. A lot of work went into the color choices and amount of animation and sprites simultaneously moving on-screen. The game looks closer to an arcade game than a stock Mega Drive game. But that's not the most important part; brawler fans are very picky about the gameplay, so we worked quite hard to provide them with new elements. I can't spoil everything here, but I'm quite sure we found something they will like.

Q: A game like Paprium practically begs to be played with an arcade stick. What would you recommend to Genesis and Mega Man fans who have the console but no arcade stick or 6-button controller? Is a 3-button controller sufficient?

The game can be played with a 3-button controller. However, some moves are more difficult to input and it makes things proceed a bit more slowly. The game is best played with a 6-button controller (the X, Y and Z buttons are used as shortcuts for extra features, and to simplify things). The mode button is also used for something special! Lot of fun! We also make an Arcade stick available, because we really want the game to have that arcade system feel. We like the idea of having the Mega Drive pushing closer to a NeoGeo or arcade system. *shivers* :D

Q: Paprium sounds huge, with 24 levels and 5 selectable characters. Did the team leave anything on the cutting room floor?

It also has the biggest and most advanced soundtrack ever made for any 16-bit game! Hours of music, live played in real time.

Q: Paprium is available in multiple editions and will run on SEGA Genesis or Mega Drive systems. How did you put the cartridges and packaging together that make that possible in 2017?

We have our own production process. We made and own the plastic injection moulds, and we hire our own assembly staff. Everything is manufactured under direct supervision of the WM staff, for the best quality possible. We had no choice for Pier Solar, as nobody released a Mega Drive game before that (there were some earlier attempts, but they were all outsourced to pirate factories in China, with the quality that goes with that). It's still quite difficult process because each time the quantity produced is very low (compared to mass-produced things), and any issue can generate huge delays. Each Mega Drive game is composed of over 100 unique parts.

Q: Pier Solar and the Great Architects was eventually released on a wide variety of platforms, including Xbox One and PlayStation 4. What can you tell us about any plans to bring Paprium to current hardware, such as the Nintendo Switch or Vita?

I think this was a mistake. The game then lost many of its specifics, and had to be tuned so it could fit all the platforms at same time. In the end, the experience was not optimal for players. However, the Dreamcast version of the game is quite nice, as we added some more features (VMU support, etc). PAPRIUM is tailor-made for the Mega Drive / SEGA Genesis, and we included so many features connected to the system. It will be a hell of a challenge to port it to any modern system!

Q: What other projects does Watermelon Development currently have in the works that we should look forward to hearing more about in the near future?

Currently, we have another project for the SNES and few things we can't disclose. At the moment, we focus on pushing PAPRIUM to the release, in September!

Q: Where should I purchase Paprium if I live in North America or Europe? Are you selling it directly, or through retail partners, or both?

You can purchase it on WM's Magical Game Factory. We ship worldwide. We have shipping centers based in USA and Europe, to minimize issues. Of course, we are also improving our retail network, but as you may imagine, it's quite unlikely you can find the game at Wal-Mart. But who knows! :D

---

Thanks for taking the time to answer my questions, Camille, and here's hoping Paprium lives up to its potential. As for you, dear readers, are there other indie developers you'd like to see interviewed on this blog in the future? Let me know, and maybe something will come of it!