Snake Pass Slithers to Consoles and PC This March
February 23, 2017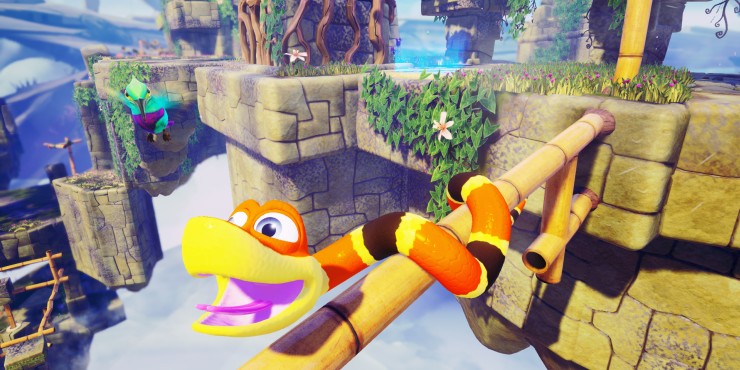 | | |
| --- | --- |
| | The developers at Sumo Digital decided it was time for something a little different. |
If you recognize the name Sumo Digital, congratulations: that means you've either been playing or reading about some great games. The rather large independent studio has partnered with numerous publishers over the years, and the typically memorable results include the likes of LittleBigPlanet 3 and Sonic & All-Stars Racing: Transformed. Now, the studio is publishing its own upcoming effort, the slithery platformer known as Snake Pass.

Snake Pass stars Noodle the Snake and his friend Doodle the Hummingbird. They are facing off against a mysterious intruder who is threatening their home and way of life, which requires them to slither, curl and climb through 15 stages that take place within 4 themed worlds. Sumo Digital says the game will be intuitive and fun to learn, but also talks glowingly of increasing difficulty.

Though it was first revealed some time back, Snake Pass has come a long way since its announcement. The title will be shown at the Game Developer Conference 2017, and will be included as part of the Xbox One Loft Press Event. The team also has a video developer diary available, for those who can't wait for more details.


"Sharing the first developer diary is great because it shows how quickly the game evolved. That original prototype already had the feel we wanted, but it was building an actual game around it that became the challenge," said the creator of Snake Pass, Seb Liese. "Seeing that rudimentary green snake is quite comical now. We worked so hard to turn him into something charming and ended up with the Noodle you see today, a character I hope will resonate with people of all ages!"
Snake Pass will launch for $19.99 (and roughly equivalent figures, in other regions) on March 28 in North America and on March 29 in Europe. It will be available for PlayStation 4, Xbox One, Nintendo Switch and PC, so make sure you have the required hardware in place in time to play it.