Yoku's Island Express Will Bring Adventure and Pinball to Consoles and PC
February 20, 2017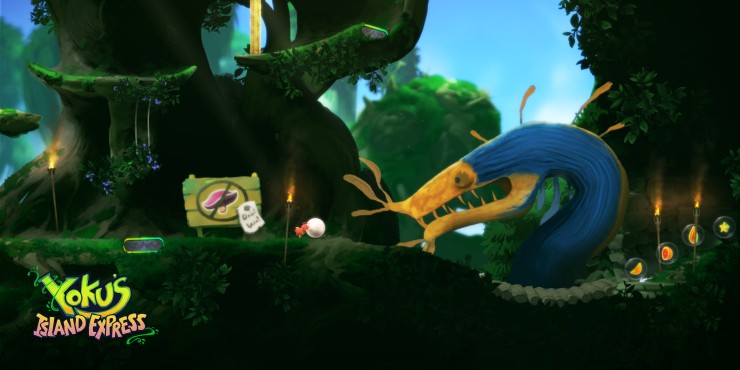 | | |
| --- | --- |
| | A brave dung beetle embarks on a journey through an open world full of action and adventure... |
Lots of game developers have thrown around descriptions like "open world" and "metroidvania," but it's rare to see them attached to "pinball mechanics." And yet, that's exactly what you'll see if you read a description of Villa Gorilla's upcoming adventure, Yoku's Island Express.

There are some other unlikely references, as well. It turns out that the game blends all sorts of interesting ideas.

"Yoku's Island Express is inspired by the joy of exploration of a young child, having just found the entrance to a secret garden, or unlocked the door to an attic full of wonderful and interesting things to discover," notes the developer. "It takes some of its direction from Studio Ghibli films, where nature is infused with spirit and life, but combined with a strong focus on painterly, hand-made visuals where all the locations are unique and hand-made."


In the game, players assume the role of a dung beetle named Yoku. He is the new postman in the region, which doesn't immediately sound exciting. However, he can look forward to doing a variety of things on his journey. He'll "soar through the air, vacuum explosive snails, fight a Screetch, feed starving lemurs, discover the mystery of the Fruit Altar, wake an old god" and more besides. The player character seems to be the pinball itself, which looks like it won't spend a second separated from its odor-tolerant little postal carrier.
Villa Gorilla is a young company that was built by industry veterans. Jens Andersson and Mattias Snygg are the founders, and the team has remained very small since its inception. Having just four people work on a game at once apparently makes it easier to do some things in a hurry and, judging by what the developer has shown so far, to produce amazing results.
Yoku's Island Express is still a ways off, with release planned in late 2017 or early 2018. It will be coming to a variety of platforms, including Xbox One, Nintendo Switch, PlayStation 4 and Steam. If you're into pinball adventure games, it could be one to watch...