Just how realistic is a complete collection of Wii U physical releases, anyway?
February 16, 2017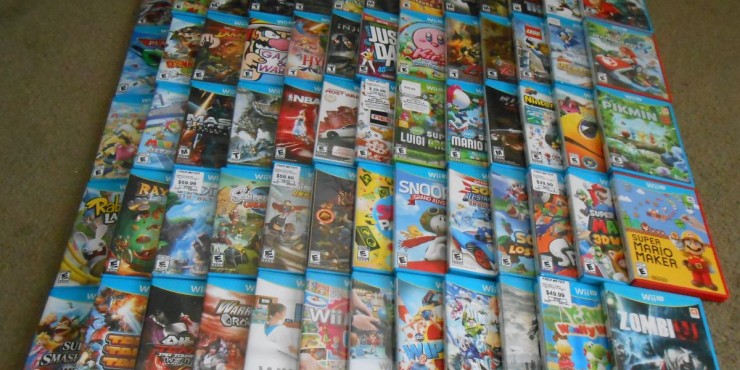 | | |
| --- | --- |
| | There are more games on the list than you might realize. |
Not terribly long ago, a friend made the observation that it would actually be fairly easy to collect physical editions of every Wii U game released to North American retail. Since I already have a fairly large collection of games for that system (91 physical titles, to be precise), I thought I would take a look to see how right my friend is or isn't.

Accordingly, here is a list of the current physical Wii U games I don't yet own:

007 Legends
Adventure Time: Explore the Dungeon Because I DON'T KNOW!
Angry Birds Trilogy
Assassin's Creed IV: Black Flag
Barbie and Her Sisters: Puppy Rescue
Barbie Dreamhouse Party
Ben 10: Omniverse
Ben 10: Omniverse 2
The Book of Unwritten Tales 2
Brunswick Pro Bowling
Cabela's Big Game Hunter: Pro Hunts
Cabela's Dangerous Hunts 2013
The Croods: Prehistoric Party!
Disney Infinity 2.0 Edition
Disney Infinity 3.0 Edition
Family Party: 30 Great Games Obstacle Arcade
Fast & Furious: Showdown
FIFA Soccer 13
Funky Barn
Game Party Champions
Guitar Hero Live
Hello Kitty Kruisers
Hot Wheels: World's Best Driver
How to Train Your Dragon 2
Jeopardy!
Just Dance Kids 2014
Legend of Kay Anniversary
The Legend of Zelda: Breath of the Wild
LEGO Batman 2: DC Super Heroes
LEGO Dimensions
LEGO Marvel Super Heroes
LEGO Marvel's Avengers
The LEGO Movie Videogame
Madden NFL 13
Marvel Avengers: Battle for Earth
Minecraft: Wii U Edition
Monster High: 13 Wishes
Monster High: New Ghoul in School
New Super Mario Bros. U + New Super Luigi U
Pac-Man and the Ghostly Adventures 2
Penguins of Madagascar
Phineas and Ferb: Quest for Cool Stuff
Rapala Pro Bass Fishing
Rise of the Guardians
Skylanders Giants
Skylanders Imaginators
Skylanders Swap Force
Skylanders Trap Team
The Smurfs 2
Sniper Elite V2
Sonic Boom: Rise of Lyric
SpongeBob SquarePants: Plankton's Robotic Revenge
SteamWorld Collection
Terraria
Tom Clancy's Splinter Cell: Blacklist
Transformers Prime: The Game
Transformers: Rise of the Dark Spark
Tumblestone
The Voice: I Want You
The Walking Dead: Survival Instinct
Watch Dogs
Wheel of Fortune
Wipeout: Create & Crash
Your Shape: Fitness Evolved 2013

The above list includes 66 titles, which means that even though I have a much larger collection of Wii U games than most gamers will ever bother to gather, I still barely own even half of them. Picking up the rest of the lot probably wouldn't cost an obscene amount of money, but I already own a number of them (all of the Skylanders titles, for instance) on other hardware. I could probably point to 20 or so games on the list that I still wouldn't mind purchasing, outside of that, but then I'd basically be done. Wii U doesn't have a huge number of shovelware titles, but it's also not immune.

When Wii U was announced, I promised myself that I would support it as aggressively as I reasonably could, and I have kept that promise. There have been a lot of great games released for the hardware, and I now own most of them. I don't figure I'm done buying titles for the platform, but I also don't see myself going for a "complete" collection unless I stumble across a briefcase full of money. There are too many great games I still hope to pick up for other systems, and the Switch launch is less than a month away. Who has time and money for games he wouldn't even care to play? Not this guy!