Koei Tecmo Outlines Atelier Firis: Alchemist and the Mysterious Journey Combat
February 15, 2017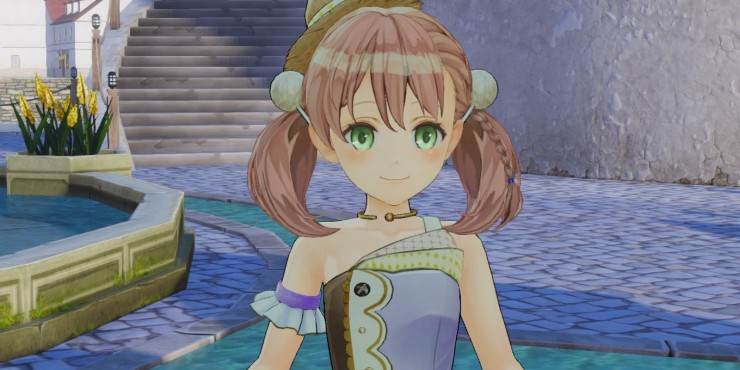 | | |
| --- | --- |
| | Atelier Firis: The Alchemist and the Mysterious Journey is getting into fighting shape for its March debut. |
Koei Tecmo today shared details regarding the battle system that is featured in its upcoming release, Atelier Firis: Alchemist and the Mysterious Journey. Scheduled to arrive on PlayStation 4, Vita and Steam on March 7, 2017, the game is the latest in a long-running series of RPGs that dates back to the original PlayStation.

Firis, the game's heroine, is working to become a certified alchemist. Her journey enables her to meet all sorts of interesting characters, including some that returning players will recognize from previous games in the series. Among them are Logy, a young blacksmith, and his friend Escha, as well as a various other individuals.

During that journey, Firis and her friends will sometimes find themselves doing battle with the less pleasant creatures that populate their otherwise bright and cheery world.

"In battle, each character has the ability to use unique standard and special attacks, as well as supporting items," noted the press release. "By carefully combining their skills, Firis and friends can defeat enemies more swiftly! Chaining abilities fills the Linkage Gauge which ultimately leads to powerful Chain Burst attacks, where all party members get to interlink their moves to deal devastating attacks to their foes."

Atelier Firis also introduces sub-weapons to combat, which is a franchise first. Characters can equip multiple sub-weapons, each with its own skills and damage type.

One final note of interest: the game's world, towns, environments and other locations are quite expansive, around ten times as large as those featured in the previous game in the series, Atelier Sophie: The Alchemist of the Mysterious Book. If you've been holding off on trying out one of the more popular JRPG franchises in existence, this could be the perfect time to jump in and see what the excitement is all about.