Senran Kagura: Estival Versus Is Headed to PC
February 13, 2017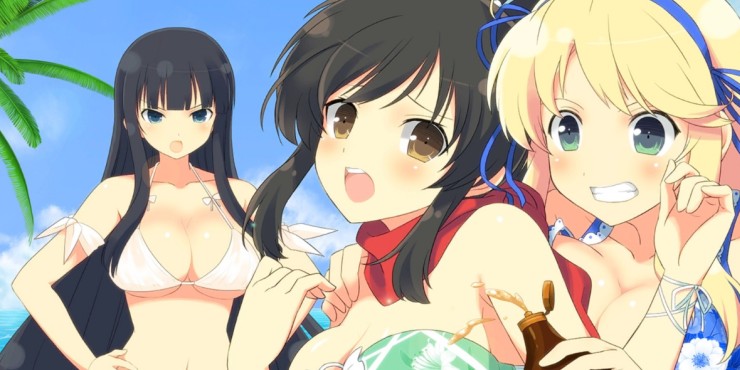 | | |
| --- | --- |
| | Soon, you won't need a console or handheld to get your buxom brawl started. |
XSEED Games today announced it will release Senran Kagura: Estival Versus on PC next month, alongside Ikki Tousen premium DLC for not only the new PC version of the game, but the existing PlayStation 4 and Vita editions.

According to a press release, the Ikki Tousen DLC will let players participate in the action as Sun Ce, Lu Bu, and Guan Yu. It's part of the apparent 1-year celebration of the game's initial console launch in North America.

Senran Kagura: Estival Versus isn't the first Senran Kagura game to hit the PC (both Estival Versus and Bon Appetit! - Full Course preceded it), but the upcoming launch is noteworthy for continuing the recent trend that sees Japanese developers porting console hits to the PC platform.

Senran Kagura: Estival Versus "transports the nubile ninjas of the titular series to a parallel dimension to face off against their rivals in a new kind of battle. In this strange world--which resembles a sunny, sandy island paradise--the girls are thrown for another loop as they encounter departed loved ones and ultimately have to decide if they can bear to part from them a second time."

It's heavy thematic stuff, made easier to swallow by attractive character models with an aversion to sensible attire, along with the cheery tropical environments.

"All of the series' previous Shinobi girls return with a host of upgraded moves to master," promises the press release, "and new playable characters offer more challenges to conquer, along with a story that's equal parts sexy and shocking, serious and scandalous, busty and bouncy."

The PC port will include support for Steam Achievements and leaderboards, cloud saves, and trading cards. Marvelous Inc. and Tamsoft are handling the process, which should ensure that the new version of the game falls in line with the original versions. There's no ESRB rating yet assigned, but an "M for Mature" designation seems likely.

Not everyone is into the sort of experience that the Senran Kagura games offer, but the franchise certainly has a following and the arrival of another game on PC is good news for those who want to play the game but don't have the funds to pick up a PlayStation 4 or Vita.