Nintendo Schedules Splatoon 2 Event in Late March
February 12, 2017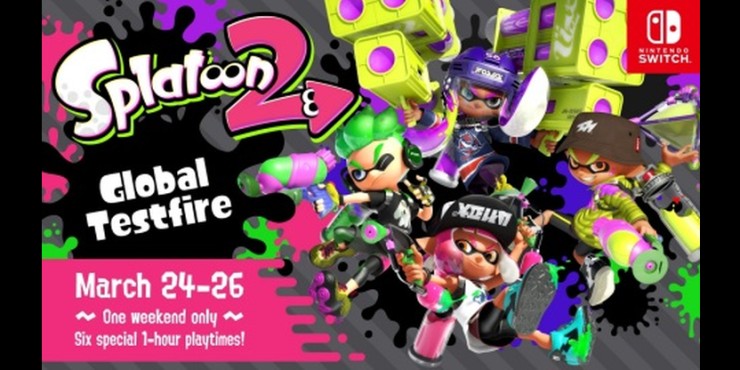 | | |
| --- | --- |
| | Anxious Switch owners will have 6 chances to play Splatoon 2 ahead of its launch later this year. |
Splatoon wound up being an unexpectedly big deal for Nintendo, and the company is certainly treating like one, in the wake of such strong performance. A sequel has already been announced for the upcoming game console, the Nintendo Switch, and now there's word that early adopters will be able to spend as much as 6 hours playing the game before it arrives in stores this summer.

According to a press release Nintendo issued earlier today, the Splatoon 2 Global Testfire event will allow players to download a demo and battle against players around the world. There will be 6 events scheduled, lasting one hour apiece, and they take place over a 3-day period: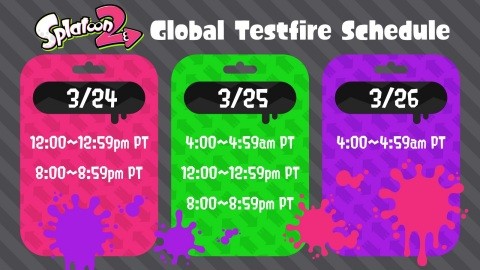 During the event, players will get to test four different main weapons. These included the Splat Dualies, which is new, as well as remixed versions of the Splat Roller and Splat Charger.
The press release also outlined a new mode, called Private Battle Spectator View. Using separate Switch consoles, as many as two non-players can watch battles and view the action from different angles. Nintendo also announced a LAN Play feature, wherein as many as 10 docked systems (comprised of 8 players and 2 spectators) can join up via wired LAN. It should be perfect for organizing local tournaments with serious Splatoon players.
"Two years have passed in this universe since the original Splatoon, and since then, the weapons, maps and characters have evolved," said Hisashi Nogami, the game's producer. "Through the Splatoon 2 Global Testfire event this March, players will be able to get a taste of that. There will be more new features to experience in Splatoon 2, so please look forward to more reveals in the future."
Near the end of the press release, Nintendo also spared a moment to quickly outline still more features. Splatoon 2 will support Splatoon series amiibo, and will also allow players to use a smartphone app for matchmaking and more.
"This app will connect to the game and allow players to set play appointments with friends and teammates who have been added to their Nintendo Switch friend list or via their social media accounts," explained the press release. "It also allows players to match up with those friends directly in the game or voice chat with them via their smart device. For example, during a Private Battle, players can voice chat with all of their connected friends when they divide into teams, but once teams are set, voice chat is switched to communication only between teammates on the same team."
If you plan to use the app, you must link your Nintendo Account to your Nintendo Switch system. Naturally, your smart device must also be capable of in-game chat. And you will need to have a paid subscription to Nintendo's services, and be ready for any resulting data fees. It sounds like you'll probably want to limit your chatting to areas where your phone is working from a wireless Internet connection, rather than eating up any costly monthly data plan.
When Nintendo revealed the Switch in a first trailer, it showed an arena of enthused Splatoon 2 fans watching gamers competing on stage, in a massive eSports event. People scoffed at the time and said Nintendo will never make that happen, but it looks like Nintendo rejects that criticism and is going to give it a shot, despite what naysayers have to say on the matter. Are you looking forward to Splatoon 2?