Conan Exiles Enjoys Tremendous Early Access Success
February 10, 2017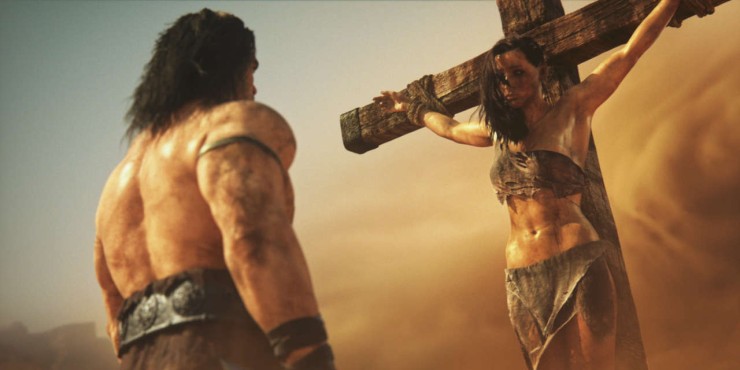 | | |
| --- | --- |
| | Funcom's troubles may soon be history, if the company's new online game continues to perform as it has recently. |
There's a pretty good chance that you've heard of Conan Exiles, the new Early Access title from Funcom that was pretty much all some PC gamers could talk about earlier this week. The hook? Lots of penis. It turns out that while plenty of people are happy to see artists lovingly render bosoms, some of them feel robbed when there's little or no representation for other members of the anatomy.

So anyway, Conan Exiles has been doing very well for itself by catering to those people (and probably also by appealing to other people who like Conan games in general, regardless of the number and variety of genitalia depicted). According to an email sent to press earlier today, the game managed to sell an impressive 320,000 copies on Steam in just its first week, which isn't bad at all.

"We are deeply humbled and very grateful for the initial success of Conan Exiles," said Funcom's CEO, Rui Casais. "Funcom has gone through some challenging times in recent years and seeing the game we have poured so much time and effort into gain this amount of traction so quickly is very invigorating for everyone who works here. This is just the start of the Early Access adventure and we will do whatever it takes to make sure Conan Exiles turns into a fully-fledged game that has something to offer new and old fans of both Conan and survival games."

Funcom has also made it possible for creative players to produce mods for the game. In the past, a lot of amateur developers have used those capabilities to present favorite characters without their clothes, but since that already happens in Conan Exiles all on its own, they might instead focus on "quality of life improvements." Or, if they prefer, they can get more ambitious still and add their own characters and worlds. To get started, they'll need to download the dev kit from UnrealEngine.com.

The Funcom team is also working on new content and features, which it will be showing to press at this year's Game Developer Conference in San Francisco. The company also plans to have a presence at PAX East, in Boston, where interested parties can play Conan Exiles and chat with the developers. Some might even pick up exclusive print copies of the Conan Exiles comic book, which is produced by Dark Horse Comics.

Funcom also noted that the game's unexpected early success has produced issues that it is working to resolve. The official servers were offline for a bit while the company worked out service provider issues, but now they're back and ready to let you explore the world of Conan Exiles. Over 12,000 privately run servers are also online, so you shouldn't have trouble finding somewhere to play, if you purchase the game.

From the sound of things, Funcom is taking continued development seriously. There currently are two teams working on the game and related content. The first team is devoted to making sure that current players are able to enjoy themselves when they purchase the title, and the second team is working on new content that will hopefully keep Conan Exiles relevant and exciting for a long while to come.