Tokyo Xanadu Coming to North America and Europe in 2017
January 18, 2017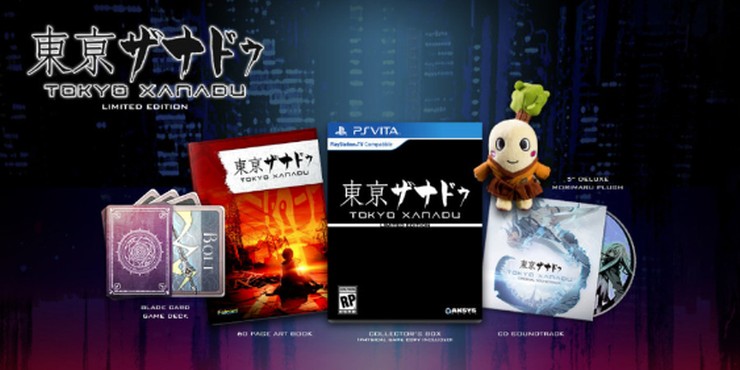 | | |
| --- | --- |
| | We can all use a little more Nihon Falcom in our lives. |
The people at Aksys Games have recently begun to suspect that North American and European gamers might like to play a localized and conveniently available version of Tokyo Xanadu, and to test that theory, they're releasing two versions of the games in those regions: Tokyo Xanadu, for PlayStation Vita, and Tokyo Xanadu eX+ for Steam and PlayStation 4.

In case you're not aware, Tokyo Xanadu is a "massive" action-RPG, and Tokyo Xanadu eX+ is an enhanced version of that base game. They're both due this fall, and both were developed by Nihon Falcom (also known for its work on The Legend of Heroes and the beloved Ys series).

"10 years ago, a colossal earthquake devastated Tokyo and changed the lives of its inhabitants forever," notes a press release, which is actually talking about the game's setup and not life here in the real world. "The city has since been rebuilt and life has slowly returned to a semblance of normalcy. However, behind the veil of this newly rebuilt metropolis lies another world, one with a sinister secret. The earthquake that originally destroyed Tokyo was actually caused by the emergence of a mysterious and lethal shadow world known as Eclipse. Now, action must be taken to thwart the legions of Eclipse and ensure the protection of peace!"

In other words, these are exactly the sort of bad times that could make for an epic gameplay experience. You should expect to encounter more than 40 hours of action-RPG gameplay as you explore Mormiya City. You'll "talk to other characters, build relationships and forge alliances as you navigate the expansive cityscape." Also, you can upgrade equipment and play mini-games, or train in dungeons. It's typical genre stuff. You either love it or hate it.

As noted above, the eX+ version of the game (for PlayStation 4 and PC) earns the "eX+" part of its name, with a variety of new features. Those include new scenarios, a new playable character (the mysterious knight, White Shroud), Time Attack and Boss Rush modes, and "tons" of new monsters, dungeons and bosses. So if you want to play the definitive version of the game, that sounds like the way to go, but being able to play the game on the go also has a certain appeal. Either way, Aksys Games has you covered.

By the way, Aksys Games is planning limited edition releases for both PlayStation SKUs. You can get the PS4 version with a 9" deluxe white shroud statue, a blade card game deck, a 60-page art book, a CD soundtrack and a collector's box in which to store it all. The PlayStation Vita edition (pictured above) includes a 5" deluxe Morimaru plush, and the other great stuff outlined above.

There's no official word yet on pricing, but just word that these potentially great games are headed to other regions is enough to warm the soul. Right?