Halo Wars 2 Physical Edition Coming from THQ Nordic
January 10, 2017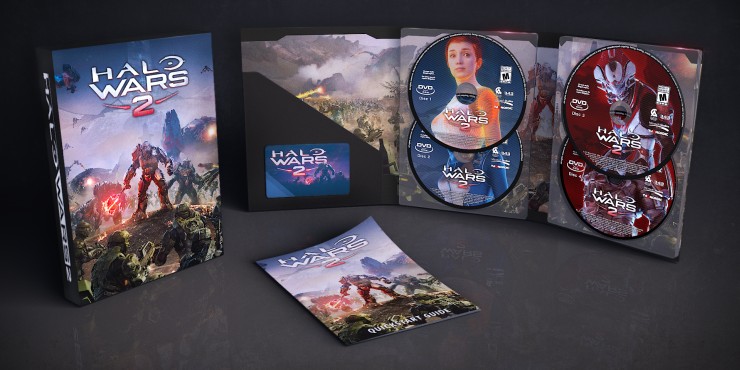 | | |
| --- | --- |
| | If you like your games in a format you can hold in your hands, THQ Nordic has you covered. |
THQ Nordic today announced that it has partnered with Microsoft Studios and 343 Industries to produce a physical edition of the upcoming RTS title, Halo Wars 2. Interested players can purchase the game in a physical format at their favorite retailer, then play it on PC and on Xbox One, thanks to the Xbox Play Anywhere cross-buy feature that Microsoft has lately been pushing.

Halo Wars 2 will come in two editions: Standard and Ultimate. They will cost $59.99 and $79.99, respectively. Purchasing the Ultimate edition will grant you access to the game four days earlier, and also includes a season pass and Halo Wars: Definitive Edition, the first game in the series (with enhancements).

"After working on so many titles together with Microsoft in 2016," said Lars Wingefors, founder and Group CEO of THQ Nordic, "we are stoked to start the year with another partnership. Being able to deliver such a big franchise to RTS and Halo fans alike, the opportunity to buy and own this game in a beautiful physical shape is something we appreciate a lot."

Though the Halo Wars games aren't nearly as popular as their first-person shooter brethren, the first installment was a modest success for Microsoft, and the sequel is eagerly anticipated by some.

"For fans who love to own the box, we're excited to partner with THQ Nordic and bring Halo Wars 2 to physical release on Windows 10," stated 343 Industries Studio Head of Strategy Games Development Dan Ayoub. "THQ Nordic has been great to work with and we look forward to the game's release on Feb. 21, 2017."

Just why Microsoft isn't publishing the game itself is unclear, but this move is still good news for those people who appreciate tangible objects, rather than just digital codes. There's definitely room for niche publishers to continue making physical editions of great games available in 2017 and beyond, as the industry as a whole embraces its digital future, and hopefully there will be many similar announcements in the years to come.