Duke Nukem 3D Celebrates 20 Years with Special Anniversary Edition
September 03, 2016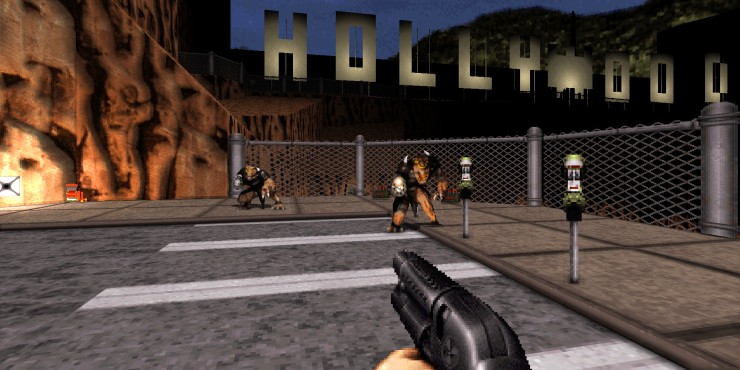 | | |
| --- | --- |
| | The classic shooter is back with new content from its original creators. |
It's hard to believe, but Duke Nukem 3D is already twenty years old. Gearbox Software, which currently owns the IP, was hardly likely to let such an important anniversary pass without comment, and there's no better comment than a fresh new release with new extras.

Headed to gamers on October 11, 2016, Duke Nukem 3D: 20th Anniversary Edition World Tour will carry an MSRP of $19.99. It is headed for both Xbox One and Windows PC, and will include the following "all-new" content:



"Hail to the King, Baby!" - Complete all-new episode containing eight original levels created by the original designers of Duke Nukem 3D, Allen Blum III and Richard "Levelord" Gray


"Come Get Some!" - All-new original music composed by Lee Jackson, original author of Duke Nukem's iconic theme "Grabbag" and sound designer for Duke Nukem 3D, along with new one-liners from the voice of Duke himself, Jon St. John


"I've got Balls of Steel!" – All-new behind-the-scenes original development team commentary accessible in-game


"I'm Lookin' Good!" – Play the game using the original 1996 graphics engine or toggle in real time to play with the original content rendered at high fidelity and blistering frame rate using Gearbox's all-new "True3D Rendering" mode


You probably already have a good idea whether that sort of content is up your alley. Clearly, there's a lot of nostalgia at work, which is as it should be.
"When I first moved out to Texas to join the Duke Nukem 3D development team in the mid-nineties, I could not possibly predict that we were all going to be part of the emergence of the 3D First Person videogame genre that would ultimately impact the entire videogame industry," said Randy Pitchford, President of Gearbox Software. "Making it possible for Allen, Richard, Lee and Jon to all come back together 20 years later to bring a whole new episode to the classic game is just one of those rare and incredible things that I hope will bring joy and happiness to hardcore videogame fans new and old."
There's no specific mention of a physical edition in the press release, and it looks like Gearbox Software is publishing the release itself rather than working with 2K Software, so I'm mentally placing this one in the digital-only category. Also, not surprisingly, it has been rated "M for Mature" by the ESRB.
If you would like to find out more about Duke Nukem 3D: 20th Anniversary Edition World Tour, check out the
official site
.