I Now Have My Associate's Degree
June 11, 2016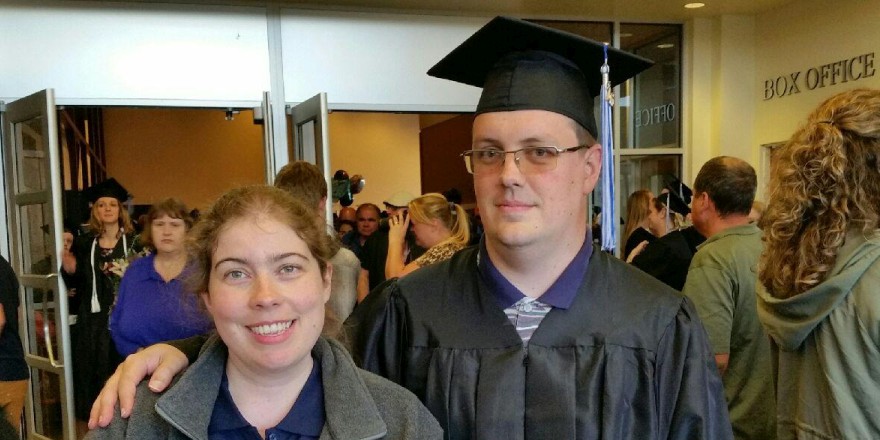 | | |
| --- | --- |
| | That's one more milestone out of the way. Oh, and I made another tweak to the blogs, too! |
The picture accompanying this post tells the story: I just graduated from the local community college with my Associate of Arts Oregon Transfer degree, which means I'm now cleared to continue my education at any four-year college in the state. I'll actually be attending an out-of-state college online, to get my Bachelor of Arts degree in Education. So that means plenty more studying and complaining, but yesterday was still a big deal.

When I graduated from high school in 1998, I knew that my next step was an Associate's degree. I wanted to teach high school English, and I still do. But then I got married a year later (to the lovely lass pictured in the photograph), and finances were very tight indeed. They still are, for that matter. I also started obsessing over building a web site now known as HonestGamers, and for years that's all I did with any time I had that wasn't spent working a variety of crappy jobs.

So yes, it took me 18 years to earn a 2-year degree. With any luck, it won't take me another 18 years to finally snag my 4-year degree. I'm hopeful that it will only take another 2 or 3.

Anyway, my parents are in the area to celebrate. We had a nice meal out at a local restaurant called Georgie's last night, and today we will hopefully get together and maybe do some walking on the beach. I don't see my parents nearly as often as I would like, since we live across the state from each other, so this is an especially awesome weekend for me.

But don't think that I have forgotten about the site. Today, we just saw our first post go live from a PR representative, which is a new feature I introduced a week or so ago that I would really like to see take off in a big way. And when that individual asked me how to update the blog avatar, I realized that the process was needlessly complicated for newcomers. So I've made it simpler. Now, you can head to your Settings page on your blog and submit any avatar you like from right there. It should be 100x100, of course, and it will be stored on the site so you don't have to worry about hosting it elsewhere and seeing broken image links.

By default, your avatar image will show whatever you are using on the main site. That way, older blogs from users who don't come around these days will still display the image they selected when last they visited, rather than the bowl of Cheetos. I'm not sure how many people will care to use this new feature, but the time felt right to implement it.

And... that's all I have to say about that.