The Nice Guys review
May 20, 2016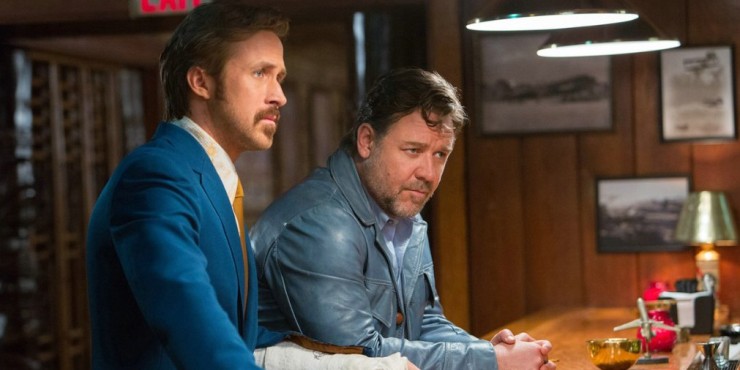 | | |
| --- | --- |
| | If you can see this one in a theater, do that. It's the perfect blockbuster to kick off your summer. |
"The Nice Guys" is well aware of the decade in which its story belongs. The filmmakers could have gone with the 80s, or the 90s, and the combination of sex, drugs, cars and violence would still have worked, but in the 70s it all feels just about perfect. Technology, politics and social norms tie everything together beautifully, and the result is thoroughly entertaining.

Jackson Healy (Russell Crowe) is what you might call an enforcer. He lacks a private investigator's license, but that doesn't prevent him from getting results for his clients as he unofficially sends a "message" (courtesy of his brass knuckles) to anyone who steps out of line.

Holland March (Ryan Gosling) is a single father, raising an independent young teenage girl named Holly (Angourie Rice) who is doing a better job of coping with the absence of her mother than her alcoholic father is.

The two men meet under unexpected circumstances: Holland is investigating the disappearance of a young woman named Amelia, and Jackson comes to his house to deliver the message that he should stop that search. One broken arm later, Holland seems to have agreed to the advice, but then the two men come together again when Jackson learns that his role in the whole ordeal could be harmful to his health. Together, the two men undertake a more intensive investigation, one that might bring out the best in each of them, if they don't kill themselves first.

Co-written by Shane Black (best known for the "Lethal Weapon" movies) and Anthony Bagarozzi (not yet known for much of anything), "The Nice Guys" tells a twisting story that finds excuses to explore the excesses of the decade Hollywood so often forgets. The movie isn't a treat just because it so beautifully fits the era it is supposed to depict, though. Rather, it owes its excellence to the amusing interactions between Jackson and Holland, who are brought to life so well by their respective actors that it's easy to forget they're not real.

"The Nice Guys" has all of those qualities of a perfect summer blockbuster, and yet it doesn't feel like a clone of the "Lethal Weapon" films or any others you might have seen. It covers just enough familiar ground that it's easy to follow each new development and hazard a guess about what might come next, but the twists are unexpected enough to keep a person guessing and wondering until nearly the very end.

The film arguably has two weak points, however, depending on your perspective. The first is that there's an awful lot of profanity. This is no Scorcese picture, but Holland in particular likes to swear a lot (which is sometimes "the joke"), and plenty of other characters are happy to drop a few f-bombs in rapid succession. The film definitely earns the R rating that was tossed its way by the MPAA, even before you add in the bared breasts and a few places where blood flows freely.

The other potential issue is the humor. You've seen a lot of the jokes if you've watched many trailers for the film (so avoid them, if that's not yet the case), but the good news is that they're still funny when you see them placed within their proper context. Watch this one in a crowded theater and you'll hear a lot of people laughing. The problem is that the frequent levity sometimes goes a wee bit too far, stalling momentum and cutting away at the possible tension. You start to expect to laugh at any moment, even if a joke isn't playing out, because there are so many jokes packed into the film's two hours. That expectation can't help but diminish the impact of a few scenes (including some awesome action sequences), but never so much that the movie ever becomes excessively lighthearted.

Everyone goes to the movies for different reasons, of course. If you go to be entertained by a fusion of active and comedy, buoyed by one of the most likable and mismatched duos this side of the "Lethal Weapon" movies, you should definitely watch "The Nice Guys." If you're looking for a more somber and laid back take on the private eye's life, though... this is not that film. It's too busy having fun.