Super Mario Maker Proves Times Change
September 11, 2015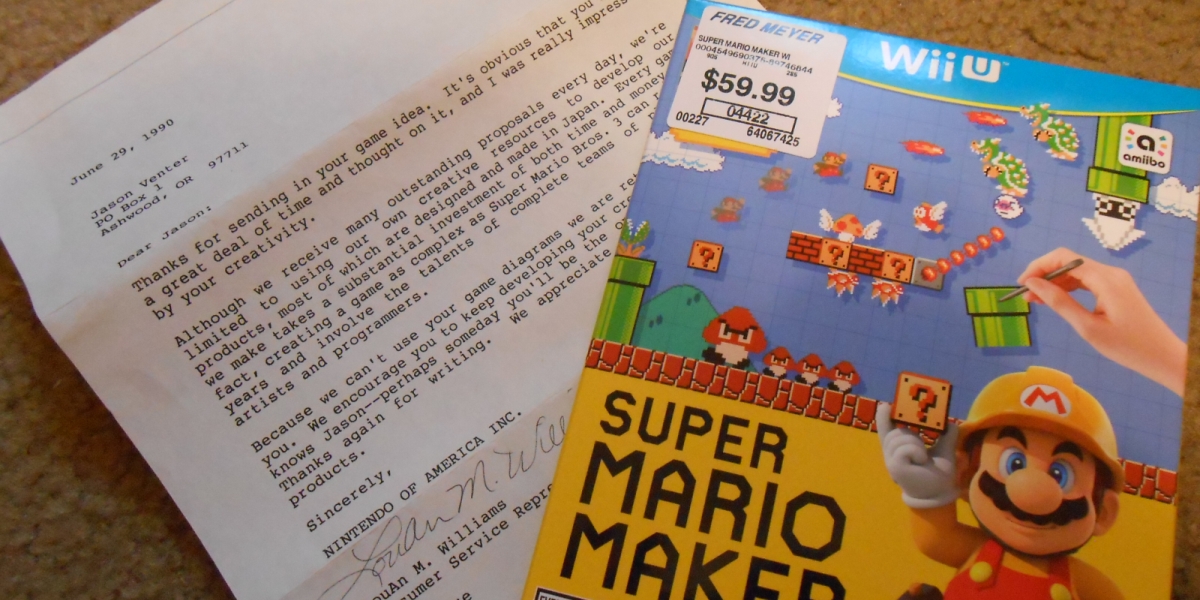 | | |
| --- | --- |
| | Nintendo has a new direction to point would-be game designers, provided they have a Wii U. |
As I have written previously, my younger self was a passionate gamer who thought he might want to grow up to design games. I even went so far as to submit a game design proposal for "Super Mario Bros. 4" to the folks at Nintendo of America, but they rejected it. They were very kind about it, at least.

In the form rejection letter, the representative noted: "Every game we make takes a substantial investment of both time and money. In fact, creating a game as complex as Super Mario Bros. 3 can require years and involve the talents of complete teams of planners, artists and programmers."

But times have changed. This morning, I went to the local department store and purchased a copy of Super Mario Maker for a very reasonable $59.99, and now I'll be able to create dozens of levels, if it suits me. I'll finally be able to make my dream of building Mario levels a reality and it cost me less than I paid for Super Mario Bros. 3, way back when.

Over the coming weekend and beyond, I do hope to build a number of stages. There's one vague stage design in particular that I've had rattling around in my head for years, and I'm happy to (hopefully) have the tools to put it together as a genuine interactive Mario experience, to see how close the reality plays to the version I conceived years ago when the idea of ever getting to actually play it seemed impossible.

I suspect that my level won't play nearly as well as what I've imagined and (quite literally) dreamed of. I'll probably go on to create other stages I like more, but I hope you'll try my level if you pick up a copy of the "game" for yourself, and I hope we can swap levels and enjoy this whole experience together. With any luck, I'll have a lot of time to build, play, and create with Super Mario Maker in the coming weeks. Will you be trying to do the same?