Q&A: Josh Tsui on Telling the Inside Story About Midway Games
July 23, 2015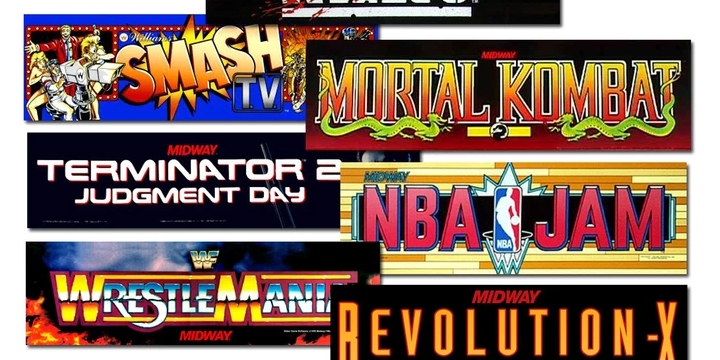 | | |
| --- | --- |
| | Learn more about the man and the project that will tell the inside story of the arcade games that impacted a generation. |
Midway Games has gone out of business now, but we're still feeling the impact of the great titles it produced in the 90s and beyond, even if we haven't played all of them ourselves.

Josh Tsui, a game developer at Robomodo, is in a unique position to tell the story of those early games, with help from the people who were producers and directors at the time. The interviews he is gathering could make for fascinating viewing, and Josh is hoping you'll support his new Kickstarter project that will turn that dream into a reality.

When the opportunity arose to ask Josh some questions about experiences at Midway and what he hopes to achieve with his in-progress documentary, "Insert Coin," I knew I couldn't pass it up. Below is the result of our exchange, which was conducted by email. I hope you enjoy it as much as I did, and thanks for making it happen, Josh!

HonestGamers: Eugene Jarvis notes how exciting it is to have an insider working on this documentary. How long did you work at Midway Games, and when?

Josh Tsui: I worked at Midway Games from 93 to 99. I left the company with John Tobias (co-creator of Mortal Kombat) and a couple of others to start Studio Gigante.

HG: Midway Games became a giant, but it didnít start out that way. How difficult was it to get a job with the people who are now arcade legends?

Josh: Holy smokes, I interviewed there about 9 times. It was pretty difficult at that time for someone like me to come in as an artist. Almost all of the artists at the time were very strong illustrators. Here I was, a video guy trying to do game art. What saved me was that I had experience with digitizing video and the NBA Jam team needed help starting up Wrestlemania. So after a year of interviewing I finally got in.

HG: During your time with Midway Games, what are some of the biggest titles you helped to develop and do you have a favorite?

Josh: The biggest was the Sub Zero game. It was Midway's first original console game. Not the best game by any means but it was huge for us. I really love my first game, Wrestlemania: The Arcade Game. I felt like we just did a lot of cool things in it and it was so wacky. Meeting all those wrestlers was amazing and we got so many great stories out of that.

HG: What sort of responsibilities did you have?

Josh: The teams were so small that everyone did a lot of different things. I would touch up characters one day, then do some level art the next, even set up video shoots. The small teams were great because every single person counted and each member would pour their hearts into each game.

HG: Does your likeness appear in any arcade games I might have played?

Josh: Yeah, I ended up being in a lot of games. I was Sub Zero's face in his ending in Mortal Kombat 2. I was Liu Kang in Mortal Kombat 4. Random characters in Revolution X. You can play me in NBA Jam. Probably other things too!

HG: What was the single best experience you had at Midway, and how does it affect your work in the industry today?

Josh: Man, there were so many. I'd say that doing the wrestler shoots for Wrestlemania was pretty great. They were hugely popular but really made a point of doing the work and being pleasant to be around. Then they would take us to dive bars by the airport and get us shitfaced.

HG: Since Midway, what have you kept busy with in the game industry?

Josh: I started up a game studio called Studio Gigante, worked at EA, and lastly started up Robomodo. Made games for publishers such as Activision, Microsoft, and EA.

HG: To put together a documentary now, you must still be in contact with some of the principle players. Do you work on current projects together with any of your old coworkers?

Josh: Yeah, we all keep in touch with each other in various ways. The amazing thing about this team is that so many have gone onto such big things all over the country and world. Thanks to social media, it's been pretty easy to catch up. We haven't worked much with each other but I'm hoping this documentary changes that!

HG: How will you find time to get more interviews, or will you be working as part of a team?

Josh: Definitely will be putting a team together at various times. My main focus is to conduct the interviews as I know what to ask. I'm not foolish enough to think I can pull this off by myself, which is why I'm the producer. My job is to get the right people in to get this to be the film the fans have been waiting for.

HG: How do you decide what topics to address in the documentary? Are there any questions you get frequently that youíre still not allowed to address?

Josh: I had a set idea of stories and topics to pursue, but as I started shooting a whole bunch of other things have come up. The challenge of a film like this is to stand aside and let the story happen. I have my own preconceptions but that can't stand in the way of what develops. So far nothing is off-limits.

HG: What sort of length are you shooting for if you get the budget to make the movie the way you want?

Josh: Not sure, tbh. I'm guessing somewhere between 75 - 90 minutes. Ultimately it has to be entertaining so can't make it too long. I'mm planning on putting a lot of extra stuff into the Blu Ray. Interesting stories that would stand on their own.

HG: Do you have anything in mind for potential stretch goals?

Josh: Yeah, been thinking a lot about that but I need to be careful on doing things like physical prizes. They can take a toll on expenses and it's important to maintain focus.

HG: Some fairly big names have already become involved, offering up words of encouragement or talking about it on social media or even pledging funding. Did that come as a surprise?

Josh: Yeah, the support has been great and humbling. I was pleasantly surprised that everyone has been more than willing to spend the time to help out.

HG: If you could get the green light to revive a Midway property in the future, would you be interested and (if so) which one would you choose?

Oh man, probably not anything from the 90s, tbh. I really do want to make a game using actors as sprites again, though. One game that I really loved, but it's from the 80s, was Sinistar. That one was so ahead of its time.

HG: Do you have any parting thoughts for gamers who are interested in the Midway story and who might want to back this project?

Josh: Enjoying the games is great, but once gamers learn about the people and stories behind what they grew up with, they'll never look at the games the same again. I'm just really excited that the documentary will bring another layer of enjoyment for those classics.