Here's a fascinating Gurumin Q&A with Nihon Falcom's president, Toshihiro Kondo
April 23, 2015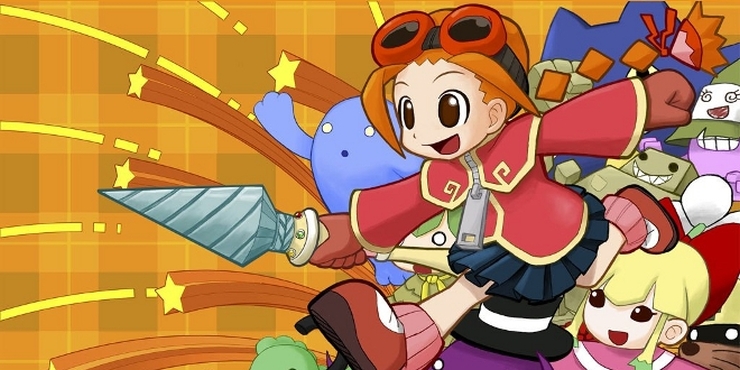 | | |
| --- | --- |
| | Plus find out how you can win a hint book signed by Parin's voice, the famous Tara Strong! |
Gurmin is another terrific action-RPG from Nihon Falcom, the studio known for its work on Ys and Legend of Heroes, among other classics. In North America, you can enjoy it on PSP and now on Steam, as well.

When we learned that Gurumin was finally coming to Steam, we reached out to see about obtaining a review key. That initial contact led to the opportunity to send some questions along to Toshihiro Kondo, president at Nihon Falcom. I had some questions ready to go, but I knew how closely zigfried has followed the company for years and I figured he was the perfect guy to come up with a bunch of others besides... which he did!

Below, you'll find the ten questions we finally posed, with translating help from Bill Swartz of Mastiff. I hope you'll find the answers as interesting as I did!


---
What is the meaning of the title "Gurumin"?
There are lots of stuffed animal like characters in the game, so starting when we were developing the game, we took the word for stuffed animal (nuigurumi) and turned it into Gurumin. At first we weren't sure if it was really a good title or not, but since it seemed to leave an impression we decided to keep it.
Note from Bill Swartz of Mastiff: The suffix "min" in Japanese is often applied to indicate members of a group. For example, koku is country and citizens (members of the country) or called kokumin. Since nuigurumi already happens to end with the "mi" sound, just adding the 'n' to form "min" twists the word into something with a meaning like "stuffed animal tribe." A very clever pun.
Parin and her world are very distinctive. What was the inspiration for Gurumin's heroine and setting?
The Gurumin development team was young and also small. If we were going to make this game, we wanted to do something unique with the art. We couldn't let the (art) design and modeling get too complex, so within the limitations (of the project) we went through a process of figuring out what to do with the art. There was also a desire to do something looked different from the usual Falcom style. And that's how the game's visuals were born.
Was Gurumin originally planned around the drill, or was that something that emerged during design?
The original idea, and I admit that it sounds a little strange, was to make Gurumin a game where you dig a dungeon and manage it. We were talking about having a boy and a girl to be the main characters for the game. The drill came from the dungeon digging idea.
Most games have some features that don't make it into the retail release. Are there any elements that were originally planned for Gurumin, but aren't in the final product?
It was a young and small team so we really didn't have room for waste. Everything (created), even if in a different form, was somehow used in the game. For example, in the early stages of development we were looking at adding a music game component to this title. That later turned into Gurumin's Critical Hit system.
As a Falcom fan, I smiled when I saw that one of the music tracks in Gurumin is called "To Make the End of Digging". Are there any other Falcom or pop culture references that players should look for?
We are always delighted when we find a reference like that in someone else's game or comic. For example, we heard of some work that featured characters called Feena and Estelle. We thought it was just a coincidence but we met the people who made the product and it turned out they had inserted the characters because the loved Ys and the Legend Of Heroes series. That was great.
Have you ever considered a Gurumin sequel? Is this a possibility for the future, or do you feel the story of that world has already been told?
Gurumin is about Parin sketching memories of childhood, and the ending wraps it up pretty well. So if we did a sequel it would be about kids of a different age and their interactions with monsters.
Gurumin was received very positively in the West. The PSP port helped the game reach a wider audience, paving the way for the recent Steam release. Are there plans to port or remake any other games from Falcom's back catalog?
Ys and the Legend of Heroes series have already been released on Steam, and we were surprised by how popular they were. We have other things we are planning, but are waiting to make an announcement.
Changing topics -- when Ys: The Oath in Felghana was released back in 2005, a game called Rinne also came out on the same day. I enjoyed the dark atmosphere and body-switching gameplay. I've heard that the game was a collaborative effort. What was Falcom's involvement with Rinne? What inspired that project?
I wasn't directly involved personally with Rinne, but it was a joint effort with a Japanese game maker called Bothtec. We knew each other because we were both PC game makers and that's how the project started. The basic game system, including Body Switch, was originally in Bothtec's best known title, Relics, which released in 1986. There was a Falcom character in it, and that made it a cooperative title.
A few years ago, internet rumors said that Falcom was going to release 3DS games. Are there any plans to bring older titles to 3DS? I'd love to play a 3D remake of Shiroki Majou.
I'm afraid I don't know about that rumor, but we have certainly considered 3DS internally. Unfortunately, I don't have anything to announce right now. However, (Legends of Heroes) White Witch was my very favorite game when I was a user. I'd love to find a way to bring it back.
I'm eagerly anticipating Tokyo Xanadu. Is this officially related to earlier Xanadu games, or is it an entirely new experience?
It will be entirely new. In the past there were titles in the series like Legend Of Xanadu and Xanadu Next, but all of them were also completely original. It's a title we've used for thirty years, but it's also a very challenging title.
Thank you very much for your time, it is greatly appreciated.
---
Thank you, Mr. Swartz and Mr. Kondo, for making the above exchange possible, and for bringing Gurumin to Steam. Hopefully, we'll see similar projects come to life in the future.
A number of years ago, when Gurumin first arrived in North America on the PSP, I wrote this
Gurumin strategy guide
. I think it turned out quite well. However, there's a brand new tip book available for the game--written by someone else completely--and I have a copy to award to one fortunate reader. Best of all, it is signed by the immensely talented
Tara Strong
.
If you'd like to win the signed tip book, make sure that you check out
this Facebook post
. Otherwise, enjoy the above Q&A and enjoy the game! We think it's
pretty great
...