Welcome to Blogs 3.0
January 08, 2015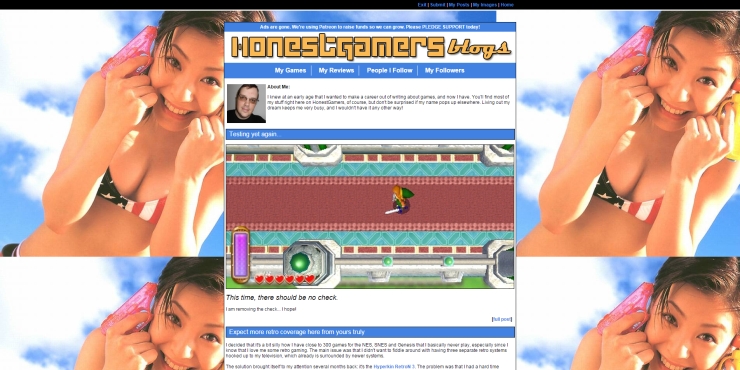 | | |
| --- | --- |
| | They say the third time is the charm. Here is the revision some of you have been asking for! |
Blogs are back, they're better than ever, and they'll likely continue to improve incrementally for the next few days, weeks, or months. That's the short version of this post.

When I disabled blogs in late 2012, they were a bit of a mess and they weren't being utilized properly. Spammers were posting dozens of posts advertising handbags, which was penalizing the site's placement in search results and cluttering things horribly. There were also a number of persistent glitches, and posts from active community members were getting lost amid the noise.

Since blogs went away, I've explored other ways to improve community activity, and to make it more rewarding. HG Chatter was the most successful effort, but it has quickly become obvious to me that while long-time members of the community do enjoy having discussions about all sorts of things, the shorter format was limiting us. That's why you would often see people posting three or four quick posts in a row. We still need the option to type much longer posts.

Then, earlier this week, several staff left IGN to look for success on Patreon. And they're finding it, because they had used that platform to build up a huge, highly engaged audience. Their followers know them--through podcasts and the like--and many of those people are ready to support those former IGN staffers with their next exciting ventures.

That got me thinking, and I realized--not for the first time--that people tend to ignore online content if they don't feel like they know enough about the people who are providing it. I feel like there's more we can do along those lines here at HonestGamers.

Some of you have been posting here for years, and we've had a lot of fun talking about all sorts of stuff during that time, but what about newcomers? They don't have access to that rich history, and there's not much reason to seek it out. They come, they see a list of reviews, and then they leave because who are we? They don't know us, and there really wasn't a way to change that...

...until now.

My plan is for blogs to replace HG Chatter in the right column of the landing page. New posts will appear there, and you'll be able to tell when staff have something new to say, or when other members of the community have posted about the games they're playing, the movies they're seeing, the conventions they're attending... whatever! This is a chance to get to know each other, to engage in the extended conversations we've been having lately in a format that makes that easier. Your avatar throughout the site will soon link to your blog instead of HG Chatter profile, as well, and game collections are now managed through your blog.

I knew when I set out to bring back blogs that it wasn't worth doing if we'd have to lose the years worth of content that came before, and the good news is that we don't seem to have lost ANY of it. You can still go back through and read old posts you might have made, all the way back to the very first post. Now, though, you have new options and a more streamlined interface.

I wasn't able to save custom formatting, but you can still create your own backgrounds and banners and update them from your Settings page. And now it's easier than ever to look back through your old posts and to dress them up with images, which you can store right here on the server so that free image hosts don't break them down the line.

I look forward to seeing what you all do with the rebooted blogs, and I'll continue to make slight design tweaks here and there as necessary. There are still a few resources that aren't available as I post this message, but you should look for them to materialize (hopefully) sometime during the next few days. Have fun!