Jerec's Games of April 2021
April 30, 2021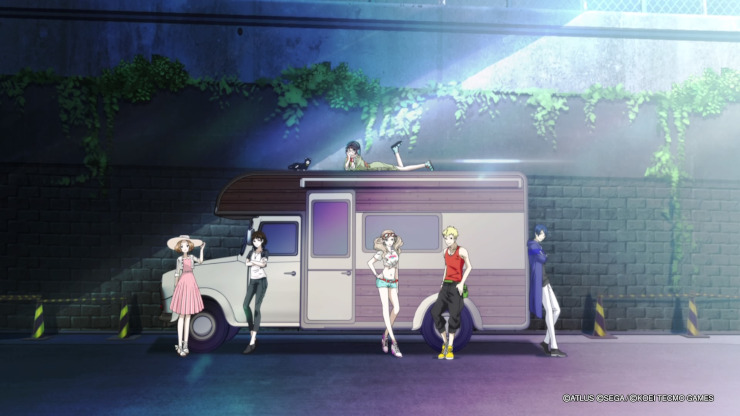 | | |
| --- | --- |
| | How I resumed an RPG I started 3 years ago without restarting. |
Another month of gaming!

FINISHED

Persona 5: The Phantom Strikers (PS4)

This was a satisfying experience all around. It felt like a true and proper sequel to Persona 5, although since they worked on Royal at probably the same time, the additional content doesn't mesh as well. But that's okay. Some really awesome moments in the latter half of the game - some that fit right up there with moments from the original. I think I was about half way through by the end of March, and I knocked out the last section of the game today so it would count as an April finish, although there are still some post-game missions to do, and the remaining trophies don't look too difficult to obtain. But I'm counting this one as done since I beat the final boss and watched the end credits.

Xenoblade Chronicles: Definitive Edition - Future Connected (Switch)

I finished the main game last year and made a start on the bonus Future Connected chapter, but I was a little burned out at that point so I shelved it. Decided to go back to it this month and knocked out the whole thing. The chapter is only about 12 hours long, but it tells a pretty good story, mostly focused on Melia and the fate of her people, which is something the main game didn't quite do enough of. Surprised they got Jenna Coleman back to voice Melia, since her fame has skyrocketed in the last ten years. As it takes place in its own side game, you start with characters at level 60 (and I got them to about 80 by the end), but there's fewer options to build the party and high level grinding is limited, so the last few bits were bloody hard, harder than anything in the main game (which you can kinda break if you know what you're doing).

IN PROGRESS

Steins;Gate ELITE (Steam)

This month I finished Chapter 3 and 4, and made a start on Chapter 5, where things do start getting more intense. I find I'm not playing it that much right now since I have so many other things to do. I feel like I can play this for an hour or an hour and a half but barely make any progress, since visual novels tend to be very slow with scenes playing out so much slower than in the anime because we spend a lot of time in Okabe's head. Another game has been devouring my time this month.

Pic-a-Pix Pieces (Vita)

I've completed a few of the pictures, but there's no hurry to get through this. I'm getting used to colour picross - first time I've played one of these games where I need to work out which colour to use along with the spacing, which is slowing me down a bit. I was making a few silly mistakes by leaving gaps where there weren't.

Faerie Solitare Harvest (Steam)

Slowly plodding along.

Animal Crossing: New Horizons (Switch)

The latest update is just a slight modification on last year's events at this time of year. I need a 2.0 update soon...

Fire Emblem: Three Houses (Switch)

I'm a few chapters post timeskip, so I am in new territory story-wise now. Took a break because another game is devouring my time this month...

Fire Emblem: Fates (3DS)

Played a few missions.

Mario Kart 8 Deluxe (Switch)

My sister visited and we played some multiplayer. Feeling inspired, I then continued to play a bit more myself to unlock more kart customisation stuff, and get those 3 star trophies. Still on 50 CC right now. I bought this to replace the Wii U version, but I haven't really gotten my money's worth yet since I've barely played it.

Danganronpa 1-2 Reloaded (PS4)

Finished Chapter 4, although I did it in the last few days of April just to try and stay on track. Because another game has been devouring my time.

Ys II (Steam)

I made a little progress. I went to a town where everyone hated me, but then I found out it was because monsters had kidnapped a kid. So I went to find him, and because I'm following a guide, I was clued into two achievements. One of them branded me a sexual predator. But maybe I redeemed myself by getting the kid up to level 20 to the point he could hold his own in battle. He may come after Adol one day... I was hoping to finish Ys II this month so I could move onto Origins, but yeah, the next game on my list.

Xenoblade Chronicles 2 (Switch)

Okay, some background. I bought XC2 when it first released back in late 2017 (only a few months after I got my Switch). I played about 15 hours into Chapter 3 and just stopped. I don't even remember why. The game might've been too complicated, or maybe I feared getting walked in on when Pyra was on screen, since I wasn't living by myself back then. After finishing Future Connected, I felt the need for more Xenoblade. I figured since I dropped off before, I wouldn't restart the game. I re-watched all the cutscenes in the event viewer, then jumped back into the game. There was a bit of an adjustment mode where I tried to relearn all the various mechanics and systems (I swear, this game might be a little too complicated for its own good). In only a couple of days, my 15 hour save file became 25. As of yesterday, I'm close to 60 hours and have just started Chapter 7. The game is bloody addictive. I think if I'd managed to get to Chapter 4 a few years ago, I would've kept going, because the game really opens up at that point and stops adding tutorials. The Merc missions and blade collecting is really addictive. Working on side quests and blade affinity, then moving on with the main story when I run out of stuff to do... This has been an all day every day kinda game. I actually didn't play it today so I could finish off Persona 5 Strikers, which was a tougher decision than I expected. I've also got the expansion pass, so even when I finish this, I'll still have Torna: The Golden Country, but if burnout sets in like it did with Future Connected last year, then I have something to save for later. Rumblings at Monolith suggest something is coming - hoping it's a XCX port, since I want to play that but I honestly can't stand the Wii U gamepad. Or maybe a new game entirely.

NEGLECTED

Ni No Kuni - still benched for being annoying.
Bug Fables - it's good, but the competition for my time is intense at the moment.
Uncharted - lol, it was probably a bad time to start that, in hindsight.
Trails series - I have Cold Steel III and IV ready to go, but the Geofront translation of Azure isn't out yet, so the series is still on pause. If it comes out before I'm done with Xenoblade Chronicles 2, I may be in trouble.