One Sentence Reviews v3 - 32X Edition
June 17, 2018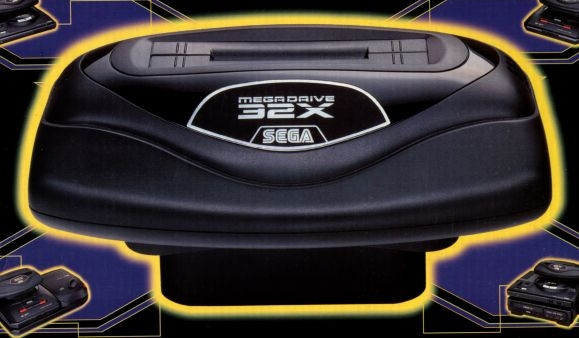 | | |
| --- | --- |
| | Still hanging onto the illusion that this was a good idea. |
::After Burner::

The best version of this game until the next one was made.

::BD Racers::

A bad clone of a Mario Kart clove populated by mascots you probably never knew existed.

::Blackthorne::

A thinking man's action platformer made by Blizzard before they took over the world via MMO.

::Corpse Killer::

Why the hell did Digital Pictures release this awful game three bloody times?

::Cosmic Carnage::

Updated a generic female sprite from the original Japanese release so that she was, instead, constantly on fire for exactly no reason.

::Darxide::

The most expensive bad time you can have this side of buying a Nottingham Forest season ticket.

::Doom::

Better than the 3DO port and maybe the awful SNES one.

::Fahrenheit::

SEGA tries to muscle into the FMV genre with dreary, head-scratching results.

:: FIFA '96 ::

Stuck between the cart and CD version; the football game no one asked for or wanted.

::Golf Magazine: 36 Great Holes Starring Fred Couples::

A better, more inventive, golf game than the system probably deserved.

::Knuckles' Chaotix::

Hasn't turned up on any of the four million Sonic complication disks for a reason.

::Kolibri::

Still (arguably) the best hummingbird based puzzle/shooter hybrid on the 32X.

::Metal Head::

An earnest and surprisingly competent mech-em-up.

::Mortal Kombat II::

Is Mortal Kombat II; the decent SEGA one, not the girly Nintendo one.

::Night Trap::

A game with a more interesting history behind it that its actual content warrants.

::Primal Rage::

An entire arcade board version behind the SNES port

::San Goku Shi IV::

I have no idea what is going on!

::Slam City with Scottie Pippin::

Because, what basketball videogames have been crying out for is FMV.

:: Space Harrier::

An arcade perfect port of an arcade game that was first located on Noah's Ark isn't as big a boasting point as you might originally believe.

::Supreme Warrior::

OH GOD, I CAN FEEL MY LOVE OF THIS HOBBY DYING WHICH EACH SECOND I PLAY!

::T-MEK::

In a city filled with giant mechs where nothing of notice happens at all.

::Virtua Fighter::

Better than the Virtua Fighter CG Portrait Series on the Saturn!

::Zaxxon Motherbase::

Surprisingly nominated as best Zaxxon left standing despite not really being all that Zaxxon-y.