EmP talks about: Football.
May 09, 2008
I'm going to do something a little taboo and actually blog. And I'm going to blog about something none of you care about. No, not genj's new musical interlude or the ongoing debate over how many figures OD's age has strayed into (my money is still on three), but on football.

And not your dull American football nonsense.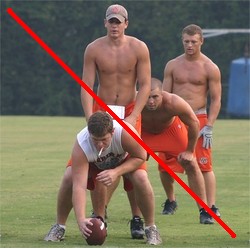 We do not allow girly sports in the Arena of EmP.

With our premiership champions being decided on the last day -- and what could very well be on a margin so slim it will need goal difference to declare a winner, I've really started to enjoy the game again. There was an awful period where you could predict the champions and bet the house on it pre-season, be it Manchester United's fantastic run throughout the 90's , Arsenal's spell of dominance or Chelsea's successful attempt to buy the trophy annually, until last year, the surprises were few.
This year has been great for football.
Tottenham are in Europe! Portsmouth are in the FA Cup final and they're playing bloody Cardiff! And the safest bet is that the winner of the premiership will be the team who have scored the most goals. This team is going to be Manchester United. And this is the fairest result.
Chelsea has always talked about playing beautiful football, but has always been happier to grind out a result instead. To watch Utd play the last few years has been a joy (although I can't believe I'm the only person in the world who can see Ronaldo is a shit free kick taker. He smashes it right into the wall, every single time!) The amount of goals they've scored has been a testament to their attacking football, to how willing they are to throw players forward. They do this because they know there's always a good chance they are going to score. Chelsea drowns their squad in defensive midfielders and is often happy to score then absorb.
For a team owned by an open admirer of Barcelona's fluid football, this is often quite puzzling. Almost as puzzling as why they insist on wheeling out Frank Lampard for every game they can squeeze him into.
In a fair world, Manchester United will be picking the trophy up this weekend. As for when the two clubs clash in the first English-only European Cup final later on in the week? That one's still up in the air.