Reviewish thing: Wrestlemania Weekend part 2: Wrestlemania 34
April 20, 2018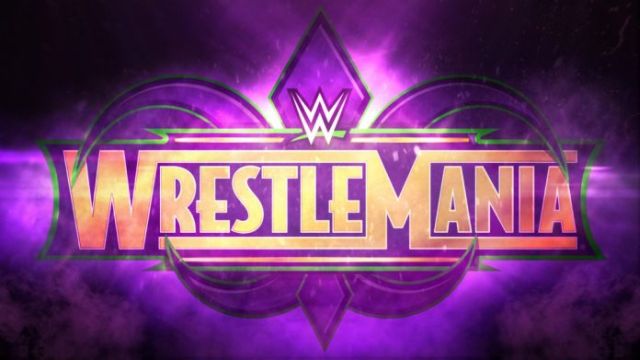 | | |
| --- | --- |
| | Better late than never |
This is belated, but these are my thoughts after finishing Wrestlemania 34 nearly two weeks ago. I wanted to have this up sooner, but my electrical issues prevented that. Now that I have finally updated the blog post, here it is:


I just sat through all of it and I'm exhausted, so I'm going to cut to the chase on my opinion about Wrestlemania 34.

How was the event? Decent. What I liked more is that it leaves WWE in an interesting spot and establishes cliffhangers. Wrestlemania is supposed to be their flagship PPV and the culmination of their season, so there shouldn't be cliffhangers. Yet here we are...


Matches in order, with brief opinions:

1. Andre the Giant Memorial Battle Royal
Rating: 2.5/5
Winner: Matt Hardy
I don't like battle royals much because there's usually too much going on to follow anything. All I saw here was a bunch of mid-carders and has-beens trying to push each other out. It came down to Matt Hardy, Baron Corbin and Mojo Rawley. Bray Wyatt appeared aided Hardy in winning, thereby establishing a new alliance. Regardless, it was a boring match and a ho-hum way to start the PPV (especially if you look at NXT Takeover's insane starter).

2. Cedric Alexander vs. Mustafa Ali, Cruiserweight Championshiop Tournament final
Rating: 3.5/5
Winner: Cedric Alexander
A good, fast-paced match with a few awkward spots. I went into this match not all that interested in the cruiserweight division, despite its reformation, but left it wanting more. Cedric Alexander came out on top, though a lot of people figured Ali would get the win.

3. Fabulous Moolah Memorial Battle Royal Women's Battle Royal
Rating: 3/5
Winner: Naomi
More of the same. It didn't get interesting until the end, when it was Bayley, Sasha Banks and the Riott Squad left behind. The first two cleared out the heel stable, then Bayley threw Banks out. It turns out she forgot about Naomi, who wasn't technically eliminated and ended up winning the match. Again, I'm not a battle royal fan, so this to me was just a filler match.

4. The Miz vs. Seth Rollins vs. Finn Balor, Intercontinental Championship
Rating: 4/5
Winner: Seth Rollins
A solid starter, if you don't count the battle royal from the pre-show. These guys all had chemistry, and it made for an exciting and fast-paced match. There didn't seem to be much of a story to tell here, though. It was just a good match with plenty of "oh shit" spots.

5. Charlotte Flair vs. Asuka, Smackdown Women's Championship
Rating: 4/5
Winner: Charlotte Flair
Asuka's streak came to an end via submission, but at least it was a thrilling bout. My only complaint is that Asuka felt kind of off. The story told here, of two dominant women refusing to bow to one another, was compelling.

6. Randy Orton vs. Bobby Roode vs. Rusev vs. Jinder Mahal, United Stats Championship
Rating: 2/5
Winner: Jinder Mahal
There were a few good spots, but for the most part this match felt like a lot of posing and showboating. I feel like this match exemplifies one thing wrong with WWE's character writing: their characters are mostly one-dimensional and only have one trick to offer. Only Rusev stood out here, but he got jobbed out to Jinder Mahal. Meh, I'm sure that'll make for an intriguing title run...

7. Kurt Angle and Ronda Rousey vs. Stephanie McMahon and Triple H
Rating: 4.5/5
Winners: Kurt Angle and Ronda Rousey
This was surprisingly one of the best matches of the night. It told a very good story with Rousey dying to get her hands on McMahon and force her to tap out. She eventually did, but not before the four of them basically took each other apart. Trips and Angle showed that they can still take bumps, and Rousey proved to be decent between the ropes. She also lifted Triple H on her shoulders, which looked impressive.

8. The Usos vs. The New Day vs. The Bludgeon Brothers, Smackdown Tag Team Championsip
Rating: 3/5
Winners: The Bludgeon Brothers
The Bludgeon Brothers basically destroyed the other tag teams and won the belts. I expected as much, but this match didn't feel like it was a top caliber brawl. My guess is that the Brothers are going to be monster heels for a while, and won't get any memorable matches in until another tag team gives them a fitting challenge.

9. John Cena vs. The Undertaker
Rating: 1.5/5
Winner: The Undertaker
Call me jaded, but this entire thing felt like a waste of time. WWE built it up by having Cena call out the Taker, but he never responded. John Cena attended Wrestlemania as a spectator before a ref called him to the back. He came out and awaited his opponent, only to be trolled by Elias. After stomping Elias into the dirt, Taker showed up and squashed Cena in a 2 minute match. Fans popped and I'm sure they were pleased by this match, but I found it pointless. All that build up for a squash match...

10. Daniel Bryan and Shane McMahon vs. Kevin Owens and Sami Zayn
Rating 3.5/5
Winners: Daniel Bryan and Shane McMahon
I really like Daniel Bryan, but I'm tired of Shane McMahon. I expected Bryan to get the win, this being his return to wrestling after legitimately being told he had to retire early years ago. On that level, I can appreciate this match for telling the story of Daniel Bryan returning from the void to do the thing he loves most. He looked the happiest he's been in years. That being said, the parts with Shane McMahon bored me, with the exception of him hitting a coast to coast on Sami Zayn while he was in a tree of woe position. It was a decent performance otherwise.

11. Alexa Bliss vs. Nia Jax, Raw Women's Championship
Rating: 3.5/5
Winner: Nia Jax
This one plodded a bit, but told a good, emotional story. The part where Jax told Bliss "I loved you" was good stuff. Jax ended the match in grand style, too, with an avalanche Samoan drop.

12. AJ Styles vs. Shinsuke Nakamura, WWE Championship
Rating: 3.5/5
Winner: AJ Styles
I was pretty disappointed with this match, especially seeing what they could do in New Japan not long ago. This one was a slow burn match, which defied expectation. However, the best part came after AJ Styles defeated Nakamura. Nakamura bowed down and handed the belt to him in an apparent showing of the utmost respect, then nailed him with a low blow before kicking the crap out of him. I wondered if WWE was going to turn Nakamura heel, and it looks like my suspicion was correct.

13. The Bar vs. Braun Strowman and some random kid from the audience, no I'm not making this up
Rating: 2/5
Winner: Braun Strowman and the obviously planted young spectator named Nicholas
Strowman is one of the most over wrestlers right now, and they threw him into this match (the kid, called "Nicholas," is supposedly WWE official John Cone's son). Strowman basically dismantled The Bar and won the belt. Yeah, you read that right, a ten-year-old kid was a tag team champ. There's a rule they have in wrestling: never let someone who isn't a wrestler win a title. See also: David Arquette

14. Brock Lesnar vs. Roman Reigns, Universal Championship
Rating: 2.5/5
Winner: Brock Lesnar
What a boring match. I hate to agree with the consensus, because I actually appreciate Roman Reigns, but What. A. Boring. Match. It was basically German suplex, German suplex, Superman punch, Superman punch, German suplex, belly to belly, belly to belly, spear, spear, German suplex, F5, F5, F5, F5 onto a table, F5, spear, spear, spear, F5, pin. I feel that WWE having Reigns kick out of five F5s pretty much wore out everyone's patience and made the match feel less believable. It also made Roman Reigns look almost unbearably superhuman. And having Brock Lesnar win was perplexing. They groomed Reigns for the top spot for years and they're still not pulling the trigger on him? Either do it and get it over with (which is what they should have done) or push someone else, because this is getting old.

---

So this leaves WWE with one huge question: Where do we go from here? Roman Reigns losing will either kill his momentum, postpone his official ascension to top face status or basically give WWE another flipping year of building him up for next year's Wrestlemania main event. They'll probably have him win on some other PPV, like Greatest Royal Rumble, but still. With Asuka's streak now being over, are they going to bury her? Is Braun Strowman's popularity going to dip because of this peculiar angle? Will Shinsuke Nakamura finally do something compelling as a heel?

I feel like they have a huge opportunity here to finally address the stagnancy that has plagued their promotion since the fall of Daniel Bryan. Hopefully it'll lead to some better decision down the line as well. Maybe they'll finally dial back the cringey scripting and knock off all of the awkward buzzwords they force their wrestlers to say. Whether or not Wrestlemania 34 was any good will not be determined solely by how the matches played out, but by how they use this unique situation to craft better storylines.