Reviewish thing: Wrestlemania Weekend part 1: NXT Takeover: New Orleans
April 08, 2018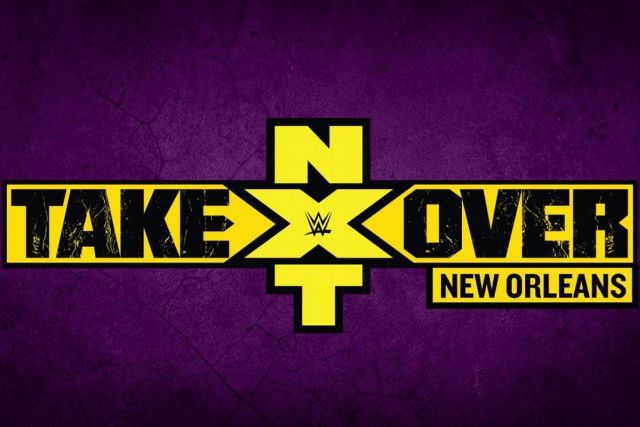 | | |
| --- | --- |
| | One hell of a PPV |
It's been 18 years since I avidly watched WWE. I stopped watching for a number of reasons, but the main one being the visible dip in quality. The latter years of the Attitude Era were tiring, especially the events involving the McMahon-Hemlsley Faction. I drew the line at The Invasion, when WWE purchased WCW and attempted a half-assed crossover event (which also saw ECW playing a part) that fell flat.

These days, not much has changed except that WWE can afford top tier talent. They've got guys like AJ Styles, Shinsuke Nakamura, Samoa Joe and Finn Balor on their payroll. However, even though they're sitting on tremendous gold vein, they continuously mine silver. Every year we hear the same promise that things will change. I'll grant WWE one thing: their product has improved since the last decade, at least in my opinion. However, I'm still skeptical if it's for me or not.

You see, I've only been following from afar, reading the occasional highlight article. I want to jump gleefully back into it, but every time I do I watch one of their obviously over-scripted promos and question whether or not getting back into it was a good move.

However, there seems to be some promise this weekend...

It's Wrestlemania weekend, with two shows booked: Wrestlemania 34 and NXT Takeover: New Orleans. Both match cards actually look like they might--might--impress me enough to tiptoe just a little bit closer in my following of WWE. I shall use this weekend as a test of sorts to see if this promotion is worth my time or not. If not, there's always New Japan, which has begun marketing its product Stateside.

I figure since this is a newish experience for me, I may as well write about it. So what do I have to say about the dozen or so matches that make up Wrestlemania weekend? I'll start with NXT Takeover: New Orleans.


NXT Takeover: New Orleans match card

Johnny Gargano vs. Tommaso Ciampa (unsanctioned match)
Ember Moon vs. Shayna Baszler (Women's Championship)
The Undisputed Era vs. The Authors of Pain vs. Pete Dunne and Roderick Strong (Tag Team Championship; triple threat match)
EC3 vs. Adam Cole vs. Lars Sullivan vs. Ricochet vs. Velveteen Dream vs. Killian Dain (inauagrual North American Championship; ladder match)
Andrade "Cien" Almas vs. Aleister Black (NXT Championship)

[C] denotes champion

---

For those unfamiliar with NXT, it's one of WWE's brands (separate rosters that act as branches or sub-promotions of WWE--also includes the Raw brand and the Smackdown brand), but one that primarily functions as its development territory. They use NXT to prepare performers for the main roster, which includes Raw and Smackdown. NXT has received some praise since it was revamped several years ago, especially as it presents matches and shows that mirror the North American indie wrestling scene. It's also a leaner brand that relies more on performance than it does on the cheesy entertainment, over-usage of buzzwords and cringeworthy humor you see on the other brands. Their typical PPV events are only about five matches long, as with this one.

Match One
EC3 vs. Adam Cole vs. Lars Sullivan vs. Ricochet vs. Velveteen Dream vs. Killian Dain
North American Championship ladder match
Ladder Match

My predicted winner: Adam Cole, bay-bay.




Another new title? WWE has way too many of these nowadays. And after Wrestlemania is over, they're doing a tournament to crown cruiserweight tag team champions? Geez.

I skipped the entrances. I'm too old and impatient to sit through six entry themes back to back.

My god, this was a chaotic, fun match. This is probably one of WWE's best starters in a long time. There were tons of insane spots, from Velveteen Dream hitting a Purple Rainmaker off the top of a ladder, to Killian Dain performing a seated senton onto Ricochet (who was lying on a ladder that rested on both the ring and the announce table), all while holding Adam Cole.

This match seemed to also serve as a means to igniting some future rivalries. Lars Sullivan and Killian Dain clashed a lot, Ricochet feuded with Velveteen Dream, and EC3 and Adam Cole did some back and forth.

The match ended with all six men climbing three ladders positioned underneath the belt. All of them eventually fell off the ladders, but Adam Cole slunk in while everyone was occupied and seized the title, becoming the first North American champion.

This was a real banger of a match with no obvious winner. I figured EC3 and Ricochet would be out, on account of them being new to NXT. Lars Sullivan is also supposedly in line for a push to the main title in the future. Despite that, I still thought any one of those guys could win, because WWE seem to be serious about making those three top talents.
Winner: Adam Cole
Rating: 4.5/5
Match Two
Ember Moon [C] vs. Shayna Baszler
NXT Women's Championship
Predicted winner: Shayna Bazsler. I believe Ember Moon is about to be called up to the main roster, and her reign is thus coming to an end. If not, then Baszler will likely be called up, while Moon may lose the belt on the next PPV. But let's face it: Moon doesn't need to be on NXT anymore.
The match got off to an okay start. It roared to life at first, then hit a small speed bump.

Ember Moon seemed to take a heel role here, even though she's the babyface in this confrontation. I guess this suggests that if WWE wanted to turn her heel, she wouldn't be out of place. At the same time, I almost sympathized for Baszler, despite being a heel.

They did a spot where Moon separated Baszler's shoulder (kayfabe, of course), as an act of retribution. Baszler used the ring post to relocate it. It was a simple thing, but it added a nice touch to the match.

Baszler applied a Kirifuda Clutch near the conclusion, but Moon escaped it by working on that hurt arm. Moon began wailing on her opponent, but found herself in a triangle choke. She reversed it with a powerbomb. Moon went for an Eclipse, but Baszler reversed it into another Kirifuda Clutch. Moon fought hard, but eventually faded and the ref stopped the match. Baszler became the new champ.

This fight didn't get off on the best of starts, but it picked up toward the end. Sadly, by the time it was getting good, it ended. I hate it when matches do that.
Winner: Shayna Baszler
Rating: 3.5/5
Match Three
The Undisputed Era [C] vs. The Authors of Pain vs. Pete Dunne and Roderick Strong
NXT Tag Team Championship triple threat match
Predicted winner: I'm torn between Era and Strong/Dunne. I have to go with Undisputed Era, though. The Authors of Pain already had their run with the belts, and I'm sure they're going to be called up soon.
Do you need more proof that there are too many belts in WWE? This match not only features the tag champs, but two singles champions (the newly crowned Adam Cole and Pete Dunne, the latter of which is the UK champion).

Like the match before it, this one didn't get off to the greatest start. It was kind of sloppy until AOP cleaned house.

Adam Cole got put through a table early on, obviously as a means to let him rest since he had a long match before this. If I'm not mistaken, Bobby Fish was supposed to be in this match, but is out on injury.

Roderick Strong hit some impressive spots, and had excellent chemistry with Kyle O'Reilly. O'Reilly also did some great stuff, including taking a German suplex and rolling right back to his feet. He then screamed and tumbled out of the ring, as if the effects of the throw were delayed.

Strong tagged in Dunne, who started kicking ass all over the place. He eventually hit the Bitter End on Kyle O'Reilly. Strong, however, broke up his own partner's count, betraying him. He then gave him an End of Heartache and rolled O'Reilly onto him, allowing The Undisputed Era to retain the belts. Strong afterward took off one of Adam Cole's armbands and put it on, signifying that he had joined The Undisputed Era.

Like the previous match, this one started kind of off, but picked up steam towards the end. It was a quick, decent affair.
Winner: The Undisputed Era
Rating: 3.5/5
Match Four
Andrade "Cien" Almas [C] vs. Aleister Black
NXT Championship
Predicted winner: Aleister Black. Like Ember Moon and the Authors of Pain, I think Almas is looking at a call up soon.
This one took off in a flash with Black and Almas hitting awesome spots left and right.

It came to a boiling point, where there was a lot of back and forth, and tons of reversals and dodges.

Black tried a sunset flip into an avalanche powerbomb, but Almas reversed by landing on his feet and delivering a German suplex.

Almas went for an aerial move, but Black rolled out of the way. Almas again landed on his feet, then quickly transitioned into a standing moonsault.

Zelina Vega interfered almost constantly throughout the match, especially breaking Black's cover after he hit a Black Mass (she placed Almas' foot on the bottom rope).

Almas eventually landed a Hammerlock DDT, but Black still kicked out. Vega climbed the top rope to crossbody Black, but Blacked dodged it. She landed in Almas' arms instead, and Black caught Almas with a final Black Mass to capture the NXT Championship.

Holy hell, this was a great performance with a lot of false endings. My only complaint is it ended the same way most NXT Championship matches do, and I think that formula is getting old.
Winner: Aleister Black
Rating: 4/5
Main Event
Johnny Gargano vs. Tommaso Ciampa
Unsanctioned match (no DQ)
Predicted winner: Johnny Gargano. It's Wrestlemania weekend, and the purest face in the promotion should be vindicated.
This was one long, but absolutely awesome match. I can't remember the time WWE had a match where a traditional babyface wrestled a traditional heel, and the crowd was actually into it. People booed Ciampa and popped heavily for Gargano.

In fact, the crowd was so into this rivalry that at one point Gargano powerbombed Ciampa onto an exposed portion of the floor and they chanted "You deserve it!"

Gargano had Ciampa in the Garga-No Escape, but Ciampa escaped it. So much for "No Escape."

Ciampa hit his finisher as well for a two count.

The two of them hit a lot of really big moves for almost ten minutes with all near falls. Finally, Ciampa connected with an avalanche Project Ciampa that (kayfabe) hurt this bad knee, and still didn't end the match. Ciampa took off his knee brace and summoned some actual tears to sell the hurt.

Ciampa seemed to regret their rivalry near the end. He sat glum in the middle of the ring while Gargano advanced with a piece of Ciampa's broken crutch. He took a swing, but relented, then sat next to his former tag partner. Obviously, this was a trap, as Ciampa grabbed his doffed brace and swung it at a vulnerable Gargano. Johnny saw it coming and reversed the swing into another Garga-No Escape, but then transitioned that into an STF while strapping the knee brace across Ciampa's face. Ciampa tapped out.

You can't help but give these guys a standing O. This was one of the best things NXT has done in a long time.
Winner: Johnny Gargano
Rating: 5/5
Tune in soon for my part two, where I cover Wrestlemania 34.