Game Progress 7/21
July 21, 2017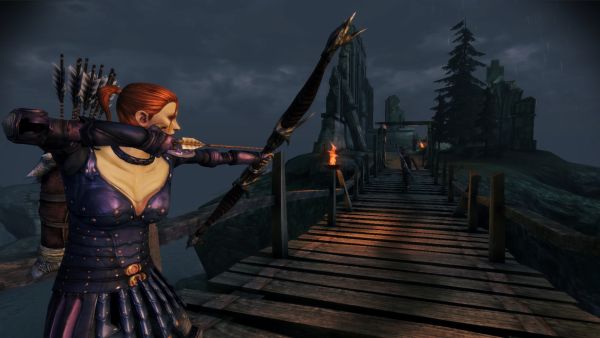 | | |
| --- | --- |
| | Short but sweet |
Metamorfose S (PC)
I started this Symphony of the Night-inspired indie game. I'm not far, though. Expect a staff review eventually.


Axiom Verge (PC)
Burned through this wonderful Metroid love letter and completed the game with 97% of the map filled in. Whew.


Doorways: Prelude (PC)
Formerly known as Doorways: Chapter 1 & 2. I started this and haven't gotten very far, but it's piqued my interest so far. I just started chapter 1.


Dragon Age: Origins (PS3)
I forged on further, completing the events leading up to the wedding. I've decided that my character, a female elf, is going to be a bit abrasive, but ultimately good. I've been selecting some of them more blunt, rude speech options, but I'm not getting much of a reaction from those with whom I am conversing.

Shit got real, bad guys kidnapped innocents and I ended up fighting humans. Along with my cousin, I battled my way through the halls of an introductory dungeon, lopping off heads and stunning suckas with my dirty tricks. Eventually, I met the boss and his buddies and sent them to a quick grave. There wasn't much to the area, except that it serves as the reason for my departure from the town.

Duncan eventually took me away to a camp, where I met Alistair, Jory and Daveth. The four of us embarked on a quest through the wilds to obtain some Darkspawn blood and scrolls. The going wasn't very tough until near the end. I chopped my way through countless Darkspawn and wolves until I met a spawn that could use magic. He annihilated my group during our first encounter, but I made him pay after reloading. I eventually completed the quest, and even took the time to kill a monster that appeared after sprinkling ash on a pile of rocks.

The last thing I did was become a Gray Warden, an event that saw Jory's and Daveth's... er, permanent departures.


Fire Pro Wrestling World (PC) [EARLY ACCESS]
I tinkered more with the game, ran a tournament, and even created a bear. I haven't had time to tweak his AI or moves yet, but I will eventually.

My favorite simmed match so far was between Big Show and Butterbean (using Steam Workshop characters). Typically, wrestlers don't stand a chance in FPW games against boxers and mixed martial artists, assuming creators stick to proper statistics and AI routines. Yeah, sometimes they win simmed matches, but they more often end up getting knocked out. Big Show, on the other hand, landed something like four WMDs on Butterbean before pinning him.