Impressions thus far of Fire Pro Wrestling World Early Access
July 16, 2017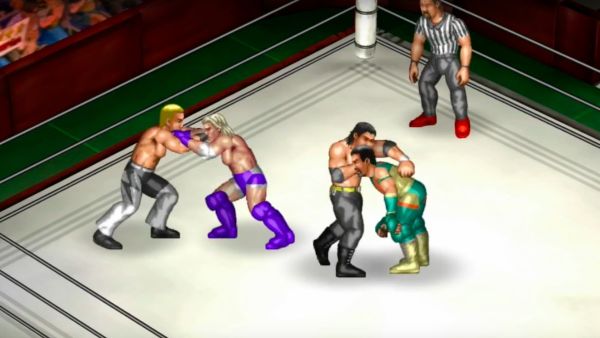 | | |
| --- | --- |
| | I haven't tinkered with it much |
I almost never buy Early Access products. I made an exception with Fire Pro Wrestling World for two reasons:

1. I adore this franchise.
2. I've been begging for FPW on Steam for ages, mostly because of Steam Workshop.

For those of you who don't know of this series, it's been running since 1989, when it debuted on Turbografx. Since then, it's garnered a devout fanbase. FPW's mainstay elements include 2D visuals, a combat system based on timing rather than button mashing, loads of customization and a humongous roster. Its selectable lineup consists of actual pro wrestlers, mixed martial artists, boxers, and Greco-Roman wrestlers from a wide variety of counties and decades. For instance, Fire Pro Wrestling Returns on PS2 included Bret Hart, Shinsuke Nakamura, Lou Thesz, Aleksandr Karelin, Roland Boch, Ernesto Hoost, Andre the Giant, Fedor Emelianenko (for some reason depicted as black, despite having Caucasian alternate attires), El Hijo Del Santo and Juventud Guerrera to name a few.

Developer Spike Chunsoft avoided legal issues, however, by renaming their combatants. Bret Hart, for instance, is named "Blood Love" in Returns. Some were more difficult to figure out. Mr. Emelianenko was called "Blizzard Warhol." Spike had the decency to include a rename option so you can swap Blood Love's and Blizzard Warhol's cringey monikers for the real deals. You can also edit existing units to give Fedor his proper skin tone.

Anyone who isn't included in the game can be easy created via wrestler creation mode. Bear in mind that Fire Pro has been doing the whole CAW thing much longer than WWE, so no, they didn't steal this one from WWF Warzone.

Fire Pro Wrestling World is very much the same as Returns, and that's a good thing. Here are some things that I noticed thus far:

Neutral:
World doesn't have as expansive of a roster as its predecessors. It begins with only 30 competitors who vaguely seem familiar. Allegedly, this is because World will be more accessible than any of its predecessors, and the potential for a lawsuit is much higher. So instead of cramming the game with everyone from New Japan, WWE and UFC, they decided to leave it up to players to fill the roster.

Good:
If you're playing the Steam edition, you don't have to go out of your way to create every wrestler you want. Steam Workshop allows you to download any that people have uploaded. The creation mode is also already deep enough to allow fictional characters. Browsing Workshop, I noticed faces from Street Fighter and Mortal Kombat among the usual suspects.

Good:
All of the usual modes are there, from standard wrestling matches to MMA events.

Good:
You can finally defend your created championships in Battle Royals or setup championship tournaments.

Bad:
There are a lot of places where you can't back out or cancel. For instance, I tried to set up a tournament and wanted to select Kevin Owens. I inadvertently grabbed Vader and the game wouldn't let me cancel. I had to soldier on and reselect instead. This is a minor inconvenience, but one that could get irksome over time.

Bad:
I think it's time for Spike Chunsoft to let go of the whole "we don't do gimmicky match types" policy. By this point, ladder matches at very least should be a mainstay because there have been so many good ones in the past. But "We don't put gimmicky matches in our games," says the developer who includes landmine matches.

Bad:
Belt creation should be more in depth. All you get to select are the strap type, the strap color, the plate type and the plate color. That's worth a yawn or two.

I'll report more as I continue to play. I intend to toy with the wrestler creation mode in coming sessions, as well as "Mission Mode." I've never played a Fire Pro game with some semblance of a campaign, so this ought to be interesting. I understand that this is Early Access, so a lot of my qualms may disappear once the game is complete (and that new ones may arise as well).