No Man's Sky has reminded me why gamers occasionally have a bad reputation
August 12, 2016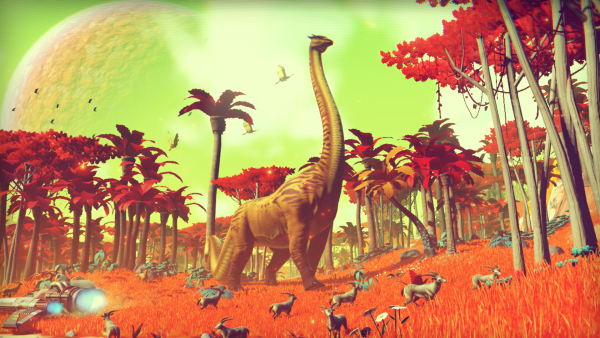 | | |
| --- | --- |
| | The discussions on Facebook regarding it, that is... |
I have yet to play No Man's Sky. Though it kind of piqued my interest when I first read about it, I have to say that it doesn't look to be something I'd drop $60 on. I'll wait for a huge price reduction and nab it when it's in the bargain bin or on a tremendous digital sale.

What drives me nuts about this game isn't the game itself, but the discussions surrounding it. Let me give you a sample:

Commenter 1: Scathing opinion, sometimes with clever punchline.

Commenter 2: Grumbly comment about how no one understands what the game is supposed to be or how exploration games work.

Commenter 3: General negative statement about exploration games and the ruination of gaming.

Commenter 4: Remark about how people who don't like the game are dumb and obviously expected it to be [insert "pedestrian" game franchise here]. Occasionally with the term "lowest common denominator" thrown in.

Flame war achieved.

I can only think that (though I hope this isn't the case and I'm just being cynical) some non-gamers might spy bits of these discussion and shake their heads at how childish gamers are. It's one thing to be opinionated and to express even your harshest thoughts, but the discussion surrounding this game seems to be getting steadily uglier.

On the other hand, there's one short "review" on Steam for No Man's Sky that I liked quite a bit:

"No Man's PC can run this game."

Classic.