Game Progress 7/20
July 20, 2016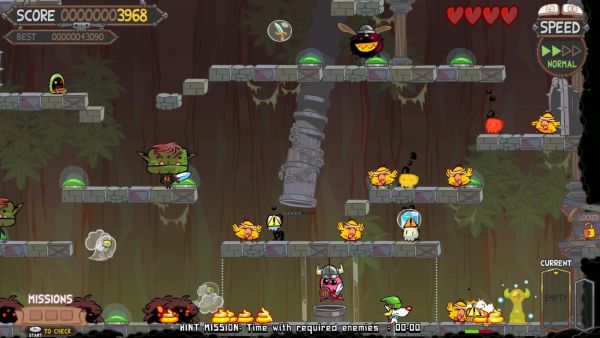 | | |
| --- | --- |
| | Finished a FPS, nearing completion of an arcade platformer |
It's going to be a long work week. I'm working overtime every day, which means leaving the house at 2:00ish PM and getting home at 4 in the morning. As you might guess, there won't be much in the way of game progress this week. Worse than that, I've got two rough drafts, one for WWF Wrestlemania on NES and one for Crysis on PC, that probably won't go live for a week or two.

Speaking of which...


Crysis (PC)
I chipped away fiercely at this one last week. I stayed up late trying to get through the military shooter portion of the game, and was rewarded with a banal boss fight. The game segued into more of an alien invasion storyline, with all the necessary cliches (middle tier characters sacrificing themselves, a "dead" character makes a return, that sort of things...). I enjoyed the game, though, because of its great AI and tough conflicts in the last few levels. The final boss was a bit of a challenge, but I did manage to overcome it and beat the game. I might move on to Crysis Warhead in the future.


Poof vs. the Cursed Kitty (PC)
I've been playing this one quite a bit lately. It's an arcade-style platformer that's similar to Mario Bros., but with tower defense elements and a laundry list of missions to accomplish (e.g. remain alive for X minutes, kill X enemies with a certain weapon, etc.). It's addictive and loads of fun, even though the jump button is occasionally unresponsive and it's sometimes easy to get overwhelmed. Currently, I have about four reward tiers left before I complete the game, so I'm a good ways in.


Pokemon GO (Android)
I've only been playing here and there. With my current setup, it's a tad difficult to get out of the house except to shop or go to work. Currently, have about a dozen Pokemon and I've just reached level 5. I haven't done any battling yet, nor have I selected a team to join.


Hungry Shark World (Android)
I beefed up my megamouth to its maximum level and power, farmed coins until I had 65,000 and cashed in for a great hammerhead. In the interim, I managed to score in the top 5% of players during a couple of competitions and receive some fat rewards. Sadly, I haven't gotten any special items from competitions (must be top 1%). Currently, I aim to boost my hammerhead and eventually purchase a tiger shark before moving on to the next size category (which includes basking, whale shark and great white).