Gaming Progress + RPG Clearing: 8/30/15
August 30, 2015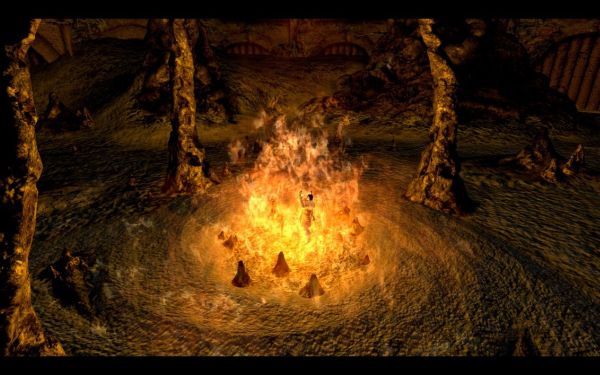 | | |
| --- | --- |
| | The final session of Dark Souls and the first session of Dark Souls II: SotFS |
DARK SOULS (PS3)
I reached a point where I realized I only had a few things left to do, and I should do them and move on to the next project.
Priority number one was upgrading the Estus Flask as much as I could. I discovered that there were two generic Firekeeper Souls that I missed, one in Duke's Archive and the other in New Londo Ruins. I nabbed both and beefed up the flask. I also recalled killing Gwyndolin, which makes the Firekeeper of Anor Londo hostile. I returned there and she attacked, but I subdued her and took her soul, bumping my flask to a +5. From there, it was boss hunting time.
I decided against going to Ash Lake. Although it would have been a decent distraction, there was no point, except maybe to get the tail sword from the Everlast Dragon (which I wasn't too keen on doing). I had fully upgraded armor and two weapons I loved: a Demon's Great Machete +15 and a Black Knight Halberd +5. There really wasn't much more that I could desire, though I could grab a better rack of armor (I didn't until the Kiln, though).
I first marched to New Londo Ruins, discovered a shortcut to the boss, died a couple of times--one because I forgot to equip the ring Sif dropped before plummeting into the abyss to fight the boss--before making a safe arrival in the Abyss. There I fought the Four Kings while at level 93 and basically slaughtered them. Their nuke attacks did a moderate amount of damage, but their defenses were low enough that I could wipe out huge chunks of their HP per hit.
From there, I returned to the Tomb of the Giants, wandered around for a bit, then checked a map online to find out where the hell I'm supposed to go. I eventually found an incline leading downward that no one in their right mind could have noticed in the darkness and found the path leading to Gravelord Nito. Upon arrival, I had three Estus Flask uses left, so I figured he'd win. I, thus, went all out with attacks, which resulted in both of us staring each other down with a single hit remaining. Luckily, I scored the final blow and killed Nito.
Deciding I had had enough, I advanced to the final area, the Kiln of the First Flame, chopped my way past the knights (except one, whom I lured off a cliff) and took on Gwyn, Lord of Cinder. It was a pretty mean fight. Gwyn was a tankish like myself, but much more aggressive. Thankfully, his attacks didn't deal much damage. I eventually stopped trying to block and initiated a strategy of taking damage while slashing, occasionally drinking, and continuing my onslaught. It helped that the fire before Gwyn powers up your flask to twenty uses. I eventually came to a point where I took two pulls of the flask and restored my HP whilst Gwyn had but one shot left. I savored the moment.
Then killed him.
That was it. The game has an ending system similar to the first
Blood Omen
, and I chose to light the flame. The closing moments weren't quite as wild or memorable as I hoped they'd be, but the game left me wanting to play the next one just the same.
DARK SOULS II: SCHOLAR OF THE FIRST SIN (PS4)
I joked on Facebook:
"I've already died so many times in
Dark Souls II
that I've decided to name my character in the next one Sean Bean."
Basically, this stems from a combination of two things: 1) I'm playing as a duel-wielding swordsman, and 2) my brain is still in tank mode. So basically I'm trying to tank as a dex-based, dodge-only character. I'll acclimate eventually though...
Anyway, I began my playthrough uneventfully. I paid for three months of PlayStation + (though I didn't want to), watched the opening cutscene, and took off. I attacked one of the rat things when I was still unarmed and his friends rallied to his defense. I ended up dying and receiving the "This is Dark Souls" achievement. From there I chose my class and found that the game had much better character creation options this time around. I was actually able to make a bald ginger with a fiery beard like I wanted to in the previous title.
After creation, I challenged something that looked like a cross between a pig and a bear and died horribly. I gave up that ghost, moseyed on to the tutorial dungeon and then made my way to the hub town. I then commenced pulling my hair out because I couldn't figure out how to level up. Memory told me to beat the first boss, because that's what worked in the last two
Souls
games. I wandered around town, looking for a path, and then found myself en route to a dilapidated fortress of some sort, packed with huge, powerful knights. I knew I wasn't supposed to be there, but figured that maybe the game was being intentionally tough--that perhaps there was a simple boss lying in wait. I mean, I could easily sneak past these knights and get to the mist gate and....
Oh, hey! There's a boss. Dragon Rider? He looks tough. I wonder if my sword does much...... nope.
...
And I'm dead. Well, shit.
I Googled leveling up and found out that there was an unnoticeable NPC I needed to speak to in the town in order to initiate leveling. After getting that off the ground, I also found another pathway that led to a different region where the enemies were much easier to kill. Currently, I'm boosting my stats to prepare for whatever onslaught the game has in store for me later on.