Gaming Progress: the RPG clearing project has begun!
July 04, 2015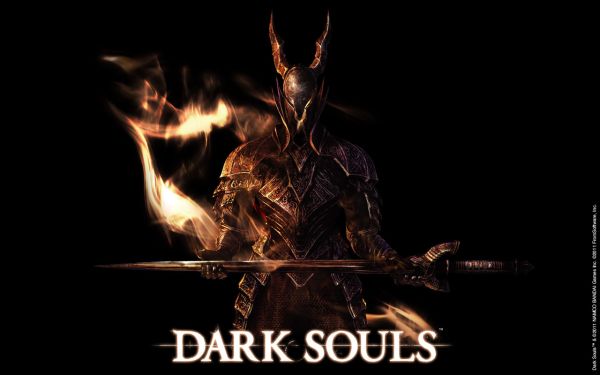 | | |
| --- | --- |
| | Dark Souls and Risen 2 progress |
Chaos is dead, and Final Fantasy: The 4 Heroes of Light has come to a close. I have temporarily shelved most of my other projects (Chronicles of a Dark Lord, Arc Rise Fantasia, etc). , with the exception of Soul Reaver 2 and Injustice: Gods Among Us, which I intend to fire up now and then. The time has come to begin the big RPG project I blogged about months ago and kick a few RPGs out of my backlog. It'll be a long, grueling process that might leave me sick of RPGs. I'll probably visit some short action titles along the way to make sure that doesn't happen.

---


SESSION 1 - DARK SOULS (PS3)
My memory of playing through
Demon's Souls
is peppered with frustration and, to put it simply, hatred. I couldn't stand the game when I first played it because I thought it was overly punishing. I ended up rage-quitting it three times before deciding to toss it into the donation pile, only to retrieve it and give it one more chance. I was glad I did so... My eventual enjoyment of the title, after wrapping my mind around its mechanics, lore, and concepts, drove me to pine for the other
Souls
entries.
...which brings me to this fateful moment, when I would have enough free time and no projects to prevent me from playing
Dark Souls
. I fired the game up, Googled a handful of things (mainly class and starting gift), and eventually settled on a knight with a master key. The result...
Honestly, I didn't have nearly as tough of a time getting used to
Dark Souls
as I thought I would. I think it helped having played
Demon's
, but also it felt as though the game wasn't quite as malicious in the early outs. I sliced through the first few foes pretty easily, even clumsily I might add. I didn't show any finesse and didn't need to. This is pretty much how an action game--even one that's as face-breaking as this one--should start.
Eventually I made my way to the boss, Asylum Demon, after having encountered him previously. Yeah, I didn't bother to kill him in my first attempt (which would have netted me a special weapon), and instead ran through the door on the side, nabbed the key to unlock the gate at the top of the stairs, and executed a plunge attack to reduce his health a bit. From there, I swung my sword with reckless abandon until my HP was low and then decided it was high time I take a swig from my
E-Tank
Estus Flask.
"Wait, how do you use-"
CRUNCH!
Dead.
Upon respawning, I understood how forgiving this game's introduction is. I recall the first level of
Demon's
and how it took me nearly a week to so much as open the gate leading to Phalanx because death meant restarting the level. With
Dark
, I didn't have far to go to recover my ground. I eventually made it to Asylum Demon again and died, even after learning how to use the Estus Flask, but slew the creature on my third attempt. And there was a moderate amount of rejoicing.
From there, I got to jump into the main region of the game, where I was finally able to level up. I did so and then searched for a merchant, only to find a pair of skeletons. I thought, "Pah, skellies. They're always easy enemies! Take this!" Eleven damage dealt and only a sliver fell off the undead's life bar. Crap. I ran back the way I came, led one skeleton back to the bonfire and took him on. I discovered that, despite their high defense, they're really not hard to take out. They move slowly and a heavy blow off-balances them long enough to do some serious damage. Just give them some distance, throw them off, and lay into them and that's all she wrote.
I didn't do much more with the game besides explore, grind, and find a few items. I'm thinking that's all I'm going to do for a bit, until I'm confident enough to venture further.
---
SESSION 1 - RISEN 2: DARK WATERS (PC)
I sometimes enjoy works of fiction that begin en medias res. With horror stories, it can be an instant pace-setter, allowing you just enough time to meet the characters before you have to pack up your junk and run alongside them away from the antagonist. In some instances, it can be an effective device.
In
Risen 2
, it serves only to muddle. Had I not played the original, I would probably be even more lost than I am now. I've picked up a bit of what's going on: someone named Mara summoned/created/attracted/has something to do with the appearance of a kraken. The protagonist, after coming to the aid of the game's leading lady, learns of a weapon that might be of use against the kraken. So he and the Inquisition have faked his expulsion (complete with implications of premarital mischief involving the aforementioned woman, whose name is currently eluding me), which is why I'm now running around shirtless, poking things with a crappy sword and wishing I had some armor. All you have to do is ignore a handful of names that were thrown out--as if you're supposed to know them, no less--in conversation. I feel like there's more to the story that I should know about, but keeping random names straight has been a bit of a task.
Whew....
Honestly, it's a bit early for me to say whether or not I'm going to dig
Risen 2
. The character models and most of the visuals aren't half bad, although the foliage tends to flicker when viewed from a distance. Although the protagonist looks well rendered, I can't shake the notion that he looks like Vyse from
Skies of Arcadia
as portrayed by Tom Cruise.

"I'm here to act bat-shit crazy and star in movies, and I'm all out of movies."
One thing that sticks in my craw so far is the combat. The first
Risen
had a solid battle system that relied on blocking, side stepping, and circling your foe.
Risen 2
has a peculiar parry system that, I'm assuming, will work better once I've acquired the relevant skill, and a lightly exploitable combo attack. I feel like there's more button mashing in the early outs of the campaign and less dodging and cautious maneuvering. It might just be me, but it seems like Piranha Bytes dumbed down the fighting. Please don't let it be so!
I've only put about forty or so minutes into the game, so it's tough to say how I'll feel about it once I've advanced a little farther.