EmP bitches about: Anime
August 18, 2008
It's not often I do posts like these because, frankly, I know you all look up to me as some unflapping totem of awesomeness and I don't like to drop in to normal conversation that I'm really just a huge geek like the rest of you, but sometimes, you should all just be happy to hear my opinion on things. So, I'm going to talk about anime -- which I watch.


Claymore is an anime about skimpily dressed barely post-teen girls battling huge demons that eat people's guts. It's surprisingly gory and tries to tackle subjects with a maturity that usually behoves its genre. At times, it's sobering, graphic and depressing. It also has the single worst ending since Grandia.
Grandia's ending is so bad that me and DoI like to pretend we've never finished the game. But, deep in our souls, we know we have, It has wounded us in ways we're scared to speak of.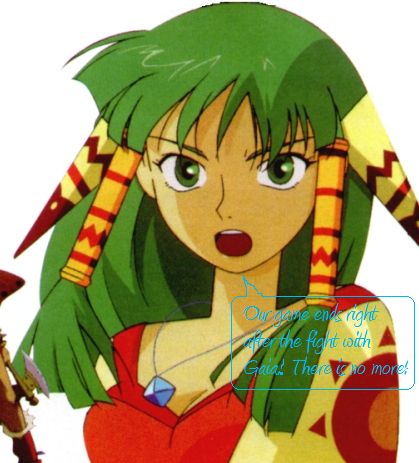 What follows is spoilers.
Imagine you're a young girl between 10-13. It's not hard; Boo does it daily. Your family has been eaten by a bunch of demons who spared your life just so they can drag you around torturing and sexually abusing you. Life is bad. One day, you are saved by a super secret sect of warriors by complete accident, and you start to follow one around until the two of you form a sugary-sweet bond of love. This continues until a well-written source of EVIL turns up and kills your guardian. Heartbroken and simmering with vengeance, you throw away your humanity to join said sect for the sole purpose of hunting down this EVIL -- an evil some hundred times more powerful than you -- and kill it until it is dead.
Shenanigans ensure. Demons are slain by your ridiculously oversized sword, seas of blood are shed, limbs are chopped up and interchanged in such a way to make Berserk look like a tame Broadway musical. You start killing Awakened Beings, demons that were once human but have reverted to huge beasties that want to eat you. Most of your story is a drawn out Rocky-like training monologue where you overcome some odds and get a little stronger. You kill, slice and main. Sometimes other warriors hang around in the plot for a while, but they mostly exist to get slaughtered to demonstrate how far the odds are stacked against you. You finally find the source of EVIL and, thanks to PLOT PROTECTION, hurt it enough to revert it back to her original human form. She bows before you, naked and sobbing, and all you need do is lop off her head. She's responsible for millions of random deaths, would slaughter again giving half a chance and has since her original sin, killed a handful of your closest chums.
You let her live because killing her would make you just as bad as her.
Seriously, what the hell? The entire anime has been about killing far lesser evils which you have done without pause and with apparent glee. You even go out of your way to kill an awakened being that tells you right out he only attacks and kills those that come to hunt him, meaning he'd happily exits hidden away in his mountain and pose no threat to anyone if you leave him alone. But, here, you have one of the most bloodthirsty monsters you can find at your mercy, but killing her would be wrong.
Girls in anime: more often than not, fantastically dumb.