About Me:

Sorry, but I haven't yet shared the information about myself that would typically display here. Check back later to see if that changes, or if I instead choose to remain an enigma.
---
hey cool people
August 13, 2009
http://www.shacknews.com/onearticle.x/59971

"An Xbox Live Arcade version of id software's 1994 shooter Doom II: Hell on Earth is being shown on the floor at QuakeCon, expected to be officially announced later today. A whole new episode will be included, along with all of Doom 2's original content."

think it'll be any good, or just a bunch of shitty 1994 maps and monster holocausts?
---
interest test
August 10, 2009
I might post this in the main forum if you all ignore this, but so long as I get a good 8-12 bites here then I can keep it out of the way.

despite the fact that we fucked up the first one a bit, particularly with our awful combined judging idea that turned into us writing two sentences agreeing with each other and then moving on, EmP and I would like to run Because We Hate You! again. it was a good idea and we got a lot of fun reviews out of it, as well as confirming the legend that the original Quake is simply a fiction of the internet's imagination and does not actually exist.

---
Memories of GUTS: Aerobiz Supersonic
August 02, 2009
now that Venter's deleting fan fiction, this one needs to be archived somewhere. why not here? it's a story GUTS wrote and I approved way back, and it speaks for itself.

---

The plane rose above 4000 feet, and I could feel my crotch getting tight against my trousers. I was flying a straight line from Tokyo to Sydney, business was a pressing matter that didn't allow for any dalliances, at least that's what I told myself before lift off. Now that I was up here, in the sky, my life and everything I knew entrusted to a hulking metal bird, a dalliance didn't seem such a bad thing.

---
re: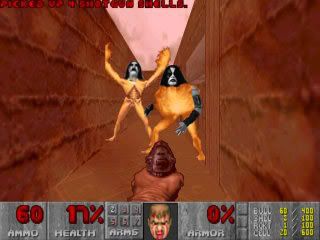 ---
the Doom bestiary is a great resource for modders and all, and some of the new monsters are incredible, but...




come the fuck on.
---
fuck this site, I quit forever
June 14, 2009
see you Tuesday.
---
Additional Articles:
[01] [02]