About Me:

Sorry, but I haven't yet shared the information about myself that would typically display here. Check back later to see if that changes, or if I instead choose to remain an enigma.
---
Awesome Final Fantasy crossover battle sequence with insane choreography
March 25, 2008
I don't know how it is even possible to take characters from several Final Fantasies and Dead or Alive and come up with an endless fight scene that is ten times as crazy and awesome as the entire Advent Children (which was, itself, one long battle scene), but my mind? It is blown.

---
Americans: I'm out to get you.
March 02, 2008
bodynoimages
---
New, extended FFXIII trailers!
December 15, 2007
bodynoimages
---
Pata pata pata PON!
December 11, 2007
bodynoimages
---
Exclusive Mighty Beanz review!
December 07, 2007
What follows is my own, let's say, non-serious take on a Mighty Beanz review. I think it's pretty clear that it can't be submitted officially anywhere, so I guess this is as close as it'll get to being published. It's been some time...

Investigation Report on Strange Videogame Addiction, by Agent Martlder

26/09/2004

While in a MSN Messenger conversation, I heard the name Mighty Beanz for the first time. Upon further inquiry, I obtain the following information:

Sparky says:
It's this fucking awful puzzle game that we can't stop playing

Mart says:
so it's bad yet addictive? like phone-shopping adverts? :-O

Sparky says:
WORSE

Sashanan:
*clears lv 11*

Sparky says:
We've both nothing but play since it started

Sparky says:
---
Martin visits UTour Golf. Dream career in pro golf dashed.
November 22, 2007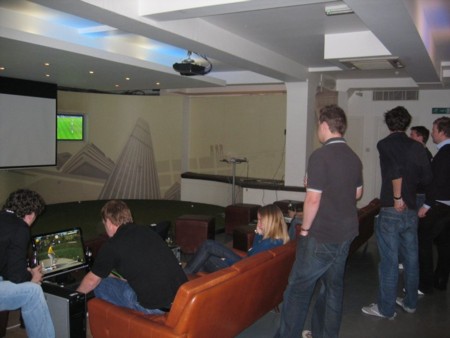 The press event concerning the future release of the computer game UTour Golf took place in Urban Golf, a slick, well-lit venue with modern furniture and tasteful minimalist decoration. It is also, strangely enough, a place where you can play actual golf in Central London.
---
Hooked from day one!
November 13, 2007
bodynoimages
---
Additional Articles:
[01] [02]