FIFA 19's Unexpected Menu Problems
October 17, 2018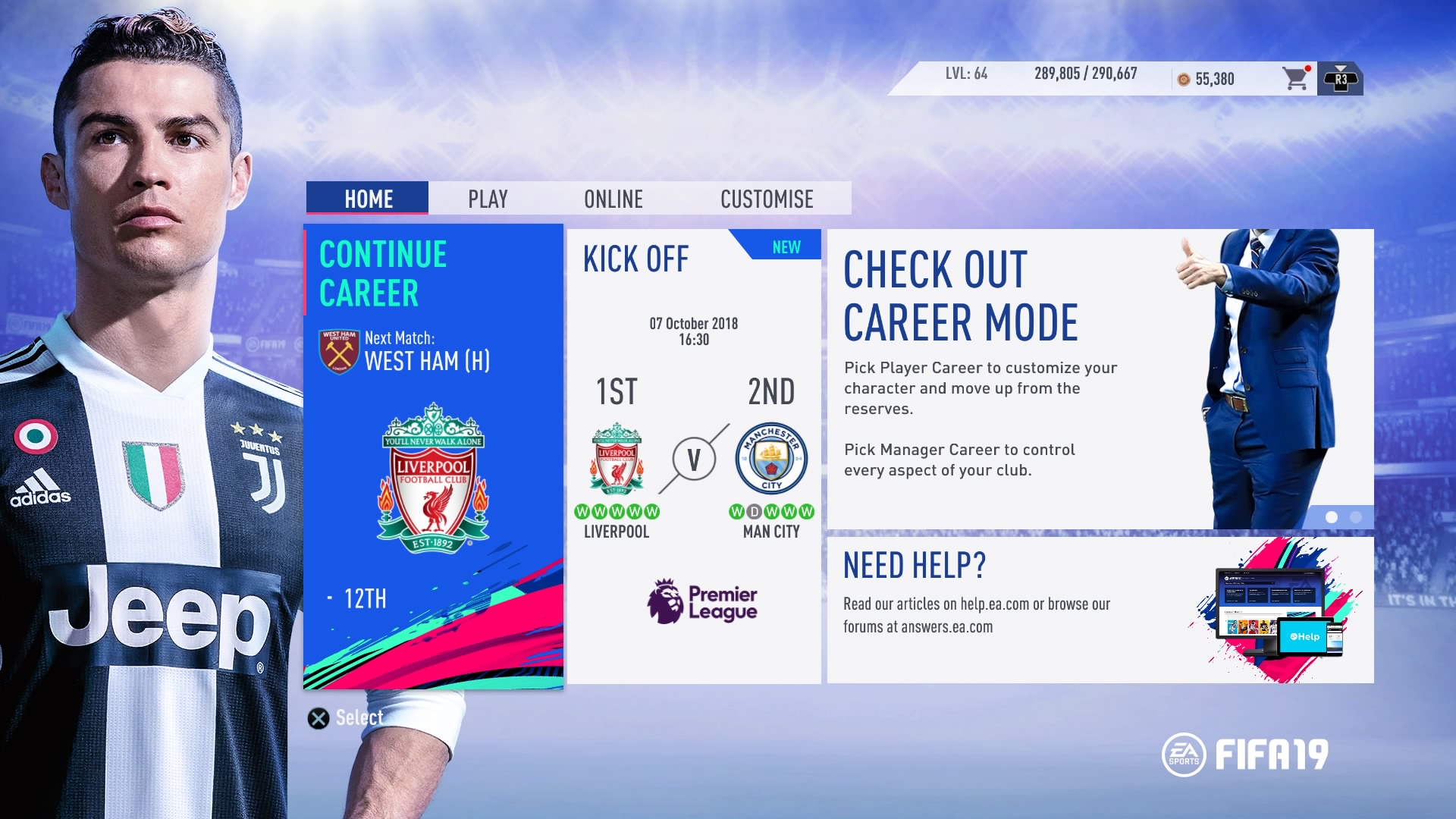 | | |
| --- | --- |
| | EA's latest soccer title is difficult to look at for a number of reasons. |
Iíve been playing a lot of Fifa 19 since it dropped a couple weeks ago. Iíve mostly enjoyed my time with it, and there are several gameplay tweaks that I find interesting, but, Iíve found myself increasingly transfixed by an aspect of the game that I highly doubt anyone at Electronic Arts spent much time considering on even the most rudimentary level: the menus.

My first half-hour or so with a new FIFA has played out more or less the same way for as long as I can remember: Go to the EA Sports Football Club hub (the gameís in-game store for various customization options and online pro upgrades) to unlock all the newest football boots from Nike, Adidas, etc. Then, I go to the edit player and take a tour around the major leagues to look at the new jerseys and updated faces. I'd never thought about why I do this until I started writing this out. Customization options have long been a point of contention across generations of soccer games. Sure, Konami canít afford many licenses for the major European leagues that dominate the sport, but they do allow users to tweak basically everything about the look of their Pro Evolution Soccer franchise: jerseys can be made more realistic by anyone with a USB stick and knows where to look for option packs. The physique and appearance of the players could also be completely modified in ways that fully licensed games probably wouldn't be allowed. Wonder what Lionel Messi would look like if he was seven feet tall and also had cornrows? You can do that. More impactful reinventions could also be made thanks to the seriesí higher emphasis on player personality. An individual playerís play style is much more detailed and unique in Pro Evo, which contributes greatly to why Konamiís last franchise standing can still approach realism with mostly fake teams and stadiums. Meanwhile, FIFAís edit mode has barely changed since the beginning of the Xbox 360/PS3 era. Traits that allegedly differentiate players from each other still arenít changeable and are barely surfaced in-game. Perhaps my early routine is some subconscious attempt to rearrange the priorities of a developer who will always get my money no matter what they do.

One of FIFA 19ís biggest features requires you to spend more time in menus. This is the first FIFA game in a long time that even attempts to treat tactics like they matter. The redesigned tactics system allows for a more textured sense of a gameplan, giving players the opportunity to change styles and systems without pausing the game. Iíve spent a lot of time trying to interface with that stuff and see how it works because, well, Iím a huge-ass dork about these things. Doing so was hard, because of the blindingly bright color palette backgrounding all of FIFA 19ís menus.

I can feel my eyes straining every time I look at these screens for more than a few minutes at a time. I mostly play career mode, so I have to stare at these obscene off-white windows pretty often, and the glare gets annoying quick. FIFA games are always a little maddening, but this is a new source of annoyance for the franchise. I keep a dim atmosphere in my room because it matches the tone of my soul, but this game makes any other terrestrial light necessary to balance out the senses. Iíve started turning on the second light stand in my room (I have a desk lamp and a larger lamp in the corner, Iím very fancy) when I want to play it.

The other issue is much more serious. With FIFA 19 being the biggest sports game in the world, EA is able to recruit star players to act as spokespeople for the game, appearing commercials for the game and adorning the main menu, a different player swapping in each time you revisit the home page. Here, youíll be greeted by the likes of midfield dynamo Kevin de Bruyne, theatrical superstar Neymar, and refreshingly, one of the best players in the womenís game, Alex Morgan. But the main star, the only player on the start screen, the one who also looms large on the cover of the game, is Cristiano Ronaldo, an era-defining superstar who is now the subject of a revived rape investigation.

Ronaldo transcended being just a soccer player a long time ago. Off the top of my head, I canít think of another soccer player with the same amount of investment in their own mythology. His entire life is based around being the best. The best player with the most goals and the most trophies with the best body. Heíll abscond the heavens when a goalie deigns to save his shots and barely celebrate the goals of others. He once said the people disliked him because he was rich and handsome, and the only surprise was that he hadnít said as much earlier in his career. An unashamed egotist with a cartoonishly corporate social media presence who tends to look at teammates mostly as facilitators to his glory rather than comrades battling for a greater cause isnít really the persona we ask for from our sporting icons. The fact that he has such a massive fanbase would be quite odd if he wasnít astoundingly good at kicking the ball into the goal. That isnít to say there is nothing to appreciate about his path to greatness. His dedication to his craft, the quality thatís allowed him to reinvent himself from waifish, intermittently dangerous winger to all-time scoring great with the physique of a Greek god, is truly admirable. For years, Iíve felt like he had an American analog in Kobe Bryant - theyíre both psychotically focused perfectionists who must be the center of attention - but I didnít realize how direct those comparisons could also include covered-up sexual assault cases.

Two weeks ago, German newspaper Der Spiegel published a story from Katharine Mayorga, a former model accusing Ronaldo of assaulting her in Vegas during the summer of 2009. The details - pulling his penis out while she was changing in a bathroom, anal sex she did not consent to, an immediate apology after the act to absolve himself of guilt - are heinous and specific enough to be credible. There's also the issue of a questionnaire from Ronaldo's lawyers where Ronaldo admits that Mayorga told him to stop several times. Mayorgaís life was completely derailed by the incident. She has come forward because she wants to void a settlement she feels she was pressured and threatened into signing by the strongarm tactics of Ronaldoís legal team and an ambivalent police investigation. The case has since been re-opened by the Vegas police.

Ronaldoís response has been unsurprisingly blustery and masculine, invoking the Trumpian phrase ďfake newsĒ and threatening to sue Der Spiegel for publishing Mayorgaís claims.

It was only a matter of time until the #MeToo movement reached international soccer. There have a few famous incidents of male impropriety in the past few years. Welsh forward Ched Evans went to jail for two years on a rape conviction in 2012 (his conviction was overturned on appeal), and former England midfielder Adam Johnson is currently serving a six-year sentence for sexual activity with a child. Not to mention the untold number of incidents that have been covered up and disregarded before women carved out enough space to talk about their suffering with some level of support. Many of them got swept under the rug because misogyny is a universal language, and stricter libel laws Europe gave a mostly male journalist class the cover to not investigate past the initial reports. Thankfully, tides have shifted enough that we can talk about these things. But not enough that Ronaldo was disqualified from becoming the cover star.

Certainly, this is a problem EA never asked for. FIFA games present soccer in its purest, friendliest form. You canít intentionally dive (although there is a diving trait that the game never actually references), players never get in aggressive arguments with the referee or launch into leg-breaking tackles. They play nice. But itís not as if these allegations dropped out of the sky without notice. The story first came out in 2017(the accuser was still anonymous at the time), well before any deal between Ronaldo and EA couldíve been finalized. Either EA was working in ignorance (which is not an excuse) or everyone involved just assumed the story go off and be forgotten, and to a certain extent that was true for a few months. But the case has been dredged back up, and now EA has nowhere to hide. The fact that Ronaldo is on the cover even though these allegations were public knowledge last year speaks to the power structures that always prop men up and protect them when the consequences come calling. There are other great players with less problematic noise. Sure, Lionel Messi has trouble paying his taxes, but itís not like anyone really gets bothered by white-collar crime. Iíd say that EA should know better, but considering how disastrous their game development practices have been for the last two years, bad decision-making should just be assumed at this point.

We donít know if Ronaldo is guilty yet. Hopefully, justice will be served at the second time of asking. Considering how bad we are at legislating assault cases, and the vast financial difference between Ronaldo and Mayorga, Iím not optimistic. Call me crazy, but anyone with credible assault allegations against them probably shouldnít be the center of a big marketing campaign. But even if heís innocent, itíll be a while until I can see his face and not consider the possibility that he may be a monster. The face of Fifa 19 will always be scarred by a conversation no one wants to have, one that probably wouldnít have happened if this came up last year. These issues canít be ignored anymore. Thatís for the better, but the swiftness of this conversation means that something as innocuous as menus for a soccer game can become so, so uncomfortable.