About Me:

Hello.
---
Today's Word of the Day
April 09, 2006
Drama
---
Latest Review
April 06, 2006
---
Monkey Avatar
April 04, 2006
I shot my own shadow, killed hobos with an axe, fought against giant rats, took on a witch goblin, slaughtered some nazis, ran over a couple more nazis, blew up an army of robot spiders, and knocked out a bouncer. And then I killed some more nazis.
---
Attention: pup
March 27, 2006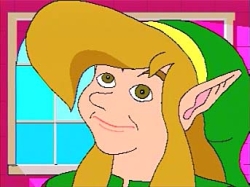 ---
Damn you, SNK Playmore!
March 23, 2006
http://www.gamespot.com/psp/action/metalslugcollection/news_6146542.html

I finally have a reason to get a PSP......

Of course, the title will probably get delayed ten million times before its actual release like all their other games.
---
Latest Review + Current Black statistics
March 16, 2006
Black

-------
Current Rank: Sergeant
Total Game Completion: 49%
Total Game Time: 10:10:20
Number of Headshots: 329
Weapon of Choice: AK 47
Total Enemy Count: 2,187
Total Bullets Fired: 40, 838
---
I spend WAAAY too much time on the recommendations page on Amazon.com
March 08, 2006
---
Additional Articles:
[01] [02] [03] [04] [05] [06] [07] [08] [09] [10] [11] [12] [13] [14] [15] [16] [17] [18] [19] [20] [21] [22] [23] [24] [25] [26] [27] [28] [29] [30] [31] [32] [33] [34] [35] [36] [37] [38] [39] [40] [41] [42] [43] [44] [45] [46] [47] [48] [49] [50] [51] [52] [53] [54] [55] [56] [57] [58] [59] [60] [61] [62] [63] [64] [65] [66] [67] [68] [69] [70] [71] [72] [73] [74] [75] [76] [77] [78]