About Me:

Hello.
---
Latest Review
April 16, 2006
Condemned: Criminal Origins

-------

Inn Keeper Update: I confronted her, but I tried to give her a chance to live by flirting with her. She hated it, so I slayed her. My life is now complete.
---
OutRun 2006: Coast 2 Coast got delayed till the 25th, so I cancelled my order and got The Very Best of Curtis Mayfield, instead. Oh well, at least that gives me more time for Oblivion. I haven't killed the inn keeper, yet, by the way. I'll get around to doing it, eventually.
---
That bastard.
April 12, 2006
So, here I was, minding my own business in Oblivion, getting ready to rent a room for the night. When I went up to the counter, the game screwed up a tiny bit, and I ended up accidently stealing a fruit on the counter instead of starting a convo with the inn keeper. She didn't say anything, so I didn't think much of it. I rented a room, went up stairs, went to my bed, then set 6 hours for sleep. Four hours into the sleep, I hear someone banging on my door (or shouting, I forgot). It was a guard that found out I stole something, and I turned myself in (I didn't want to go through the trouble of fighting the whole town like the last time when I resisted).

Damn it, I should've went back to kill her. Actually, I just might do that the next time I play the game.
---
Today's Word of the Day
April 09, 2006
Drama
---
Latest Review
April 07, 2006
---
Monkey Avatar
April 04, 2006
I shot my own shadow, killed hobos with an axe, fought against giant rats, took on a witch goblin, slaughtered some nazis, ran over a couple more nazis, blew up an army of robot spiders, and knocked out a bouncer. And then I killed some more nazis.
---
Attention: pup
March 28, 2006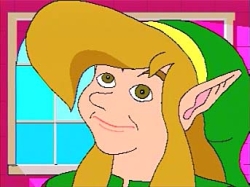 ---
Additional Articles:
[01] [02] [03] [04] [05] [06] [07] [08] [09] [10] [11] [12] [13] [14] [15] [16] [17] [18] [19] [20] [21] [22] [23] [24] [25] [26] [27] [28] [29] [30] [31] [32] [33] [34] [35] [36] [37] [38] [39] [40] [41] [42] [43] [44] [45] [46] [47] [48] [49] [50] [51] [52] [53] [54] [55] [56] [57] [58] [59] [60] [61] [62] [63] [64] [65] [66] [67] [68] [69] [70] [71] [72] [73] [74] [75] [76] [77] [78]