Little Civil War update for you. I'd mark for
SPOILERS
, but it's not like any of you guys are reading up on this. <_<
Recently, Captain America and a bunch of the anti-regs went to investigate this fire at a chemical plant. It wasn't a fire, it was really a trap set by Iron Man, and a fight broke out between both sides. Real nasty, but things seemed even until…

Thor came down.
For those who didn't know…and that would probably be most of you, if not all…Thor's been out of commission for the longest time. Long story, but basically he just went AWOL. So he shows up out of nowhere in the middle of a battle, and his first act is to fry Captain America along with the rest of the anti-regs, saying things like 'YOU ARE ALL GOING DOWN'. This is weird for a number of reasons.
First off, Thor doesn't talk like that. He typically has this weird Shakespearean talk, which doesn't actually make sense for a Norse god to have, but that's how he talks. Second, Thor is pretty much a Captain American fanboy. He's always stood by Caps side. Always. Third off, well…check this.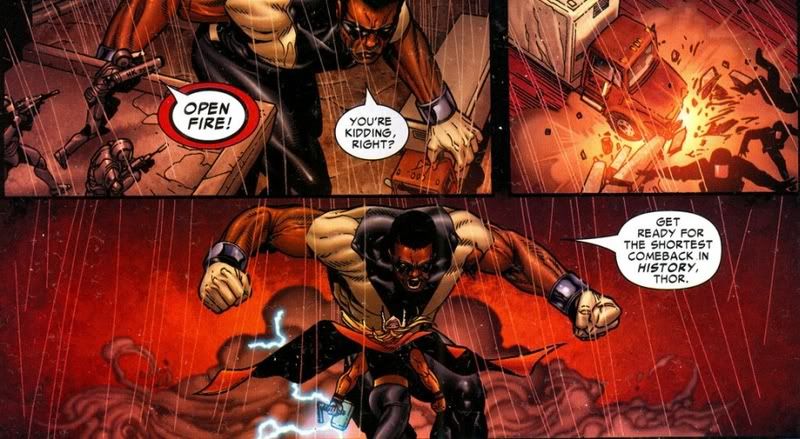 Okay, little fill-in: The big guy is Goliath. He used to call himself
Black
Goliath, but, well, I guess somebody told him how dumb that was, so he changed it. If you've never heard of him, I don't blame you; he hasn't done much and he's been on a hiatus. He just recently popped up, pretty much reappearing out of nowhere for Civil War. Nobody was asking for a Goliath comeback. Most people, even hardcore fans, had no clue who he is. To make matters worse, he's an off-shot of Henry Pym, aka Yellowjacket, aka as ANT-MAN, aka a really lame superhero with bad taste in names and costumes. So Goliath has a low pedigree, to put it mildly.
His main power is, obviously, to grow really big. That's about it. That's all he's working with.
Thor is a
frickin' Norse god.
He's traded blows with the Hulk. Smacked Galactus in the face. He's generally regarded as being Superman's equal, if not his superior, and the one time they did fight they messed the place up (Superman won, but eh) So, really…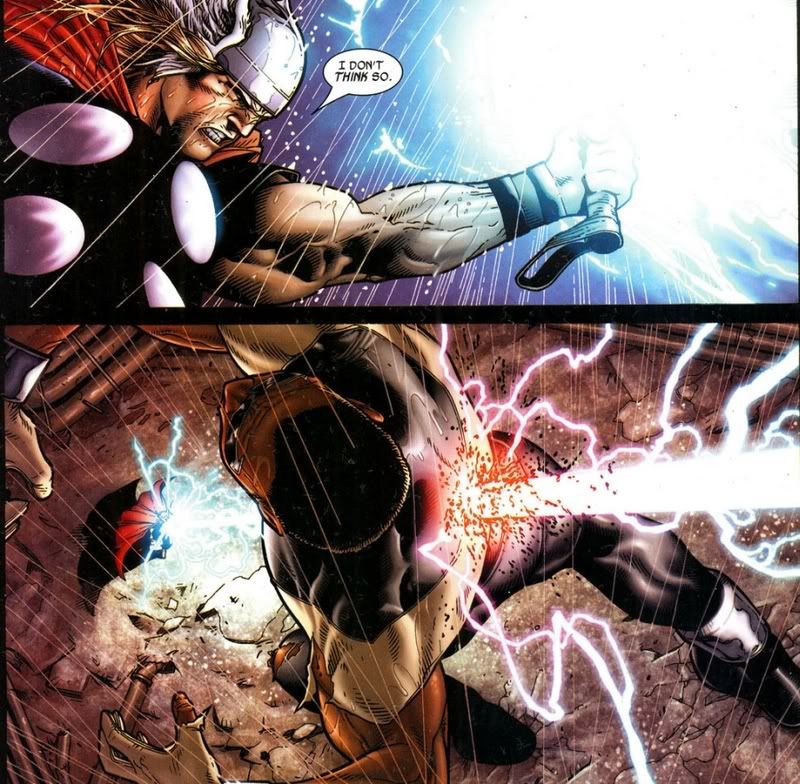 You gotta ask yourself: What the hell was Goliath thinking? Furthermore, what was Thor thinking? He typically doesn't kill people, especially not other superheroes. So why now?
Well…it's a clone. Yeah. To be continued…
Also, badass Batman Vengence review coming tomorrow. Also, next blog post...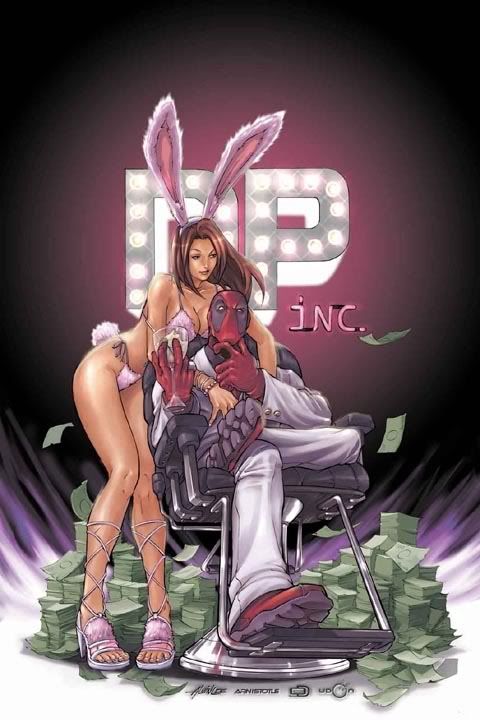 The Top Ten Reasons You Should Be Reading Everything Deadpool Related.
It makes me sad when people do that --bring back characters that no one likes. I actually haven't heard of ANY of those super heroes, and only know Thor from Norse mythology. I didn't know they put him into Marvel. Another reason why I don't get along with them, I suppose... -_-

Ha ha, that's such a lame super power! Just being able to get bigger? Well, if he runs out of work, I guess he could be a bilboard.
Number one reason to bring back old characters that no one likes or even knew existed: to kill them off.
Dude, kids suck. Little bastards.
I like babies. ;_;
Babies rate very highly on the list of things I hate.

..... it's a very long list.
How can you hate babies? They're so cuddly and they smile! I love it when babies smile. And they make these noises and they're so cute and stuff...and I know it's not manly but...damn, I love babies.