| | |
| --- | --- |
| | Starting tonight, people will die. I'm a man of my word. |
Alright, enough of this funk. I don't know and won't know how I'll fair against Usurper, but I'm not going to let it bug me. And what's the best way to get something off your mind?
That's right: Zombies. But not just
any
zombies.
MARVEL ZOMBIES!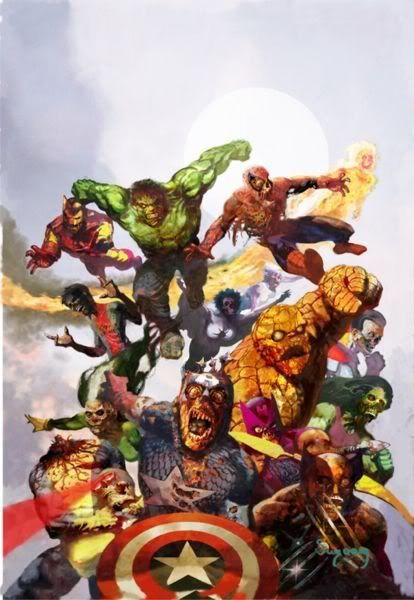 Some explanation, of course, is in order.
Alternate universe. Zombie infection that only infects superheroes. Superheroes turn Earth into an all-you-can-eat-buffet, and push mankind to the brink of extinction. And…that's it. The world is screwed. No one comes to save them. No last minute heroes. Just a dead planet with hunger superhero zombies roaming it.
Love a simple plot.
But what I really like about the zombies is that they don't act like zombies at all.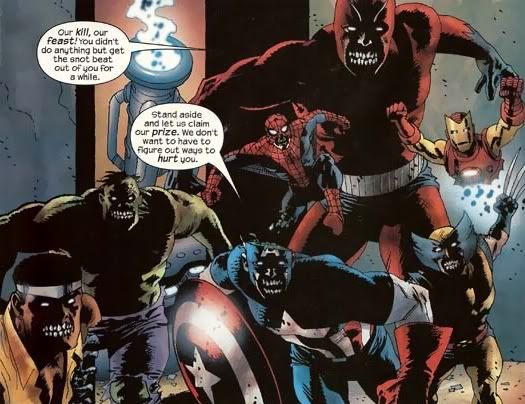 They retain all the intellect and personality that they had from their previous life, with the obvious difference being that they no longer care about human life. Spider-Man feels very bad about eating his wife and Aunt May. The Hulk is still his dumb self.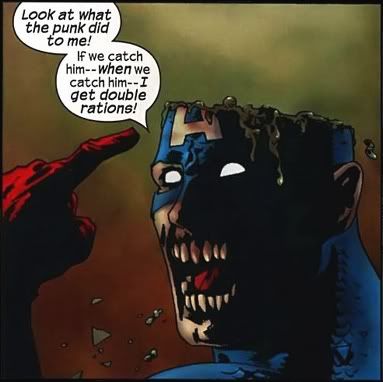 And Cap's just as take charge as ever. Kinda selfish, but understandable. The reason he's missing half of his head, though, is because Magneto chopped it off with Cap's own shield. While I won't delve (check out Ultimate Fantastic Four #21-23 for details) The
Marvel Zombies
miniseries starts off with an unzombified Magneto running for his life, as 95% of all the heroes Earth has chasing after him.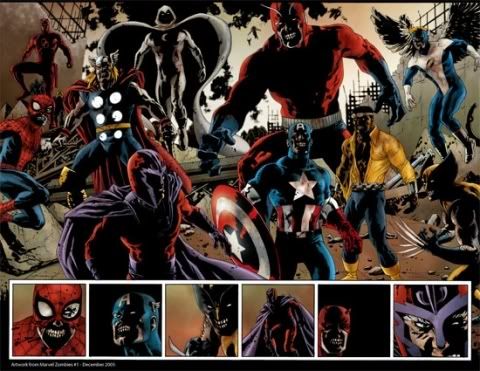 I love that shot. Very badass. Anyway, Magneto puts up an excellent fight and manages to hold them off for a few pages, but he's eventually overrun and ripped limb from limb. Then the Silver Surfer shows up. They eat him. Then Galactus shows up. They eat him, too. It's a lot more complex than what I'm making it out to be, but it's basically just superhero zombies eating people.
It's sick, it's twisted, but it's a guilty pleasure, and I love it. Not just for the story, but they keep releasing these special zombie covers, parodies of classics. My favorites…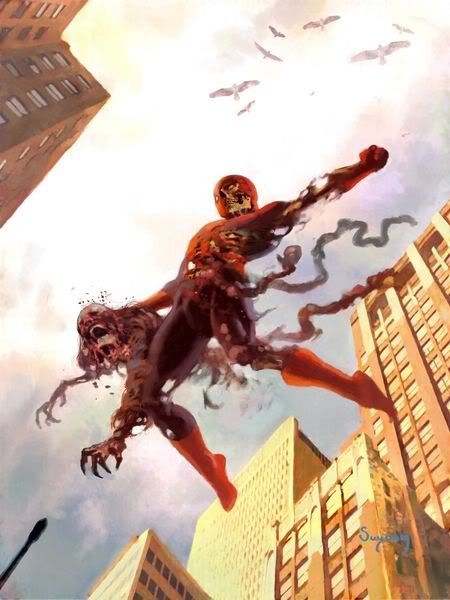 A parody of Amazing Fantasy #15, I believe.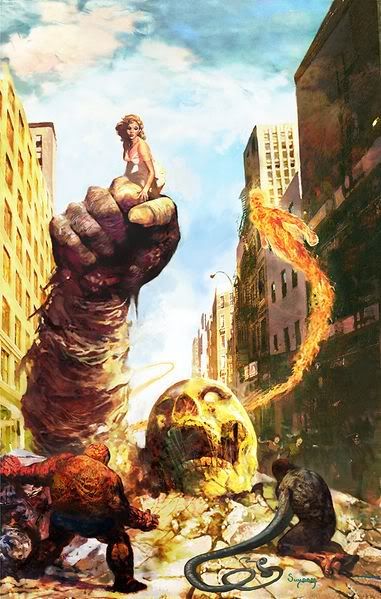 Fantastic Four #1? I want to say Fantastic Four #1.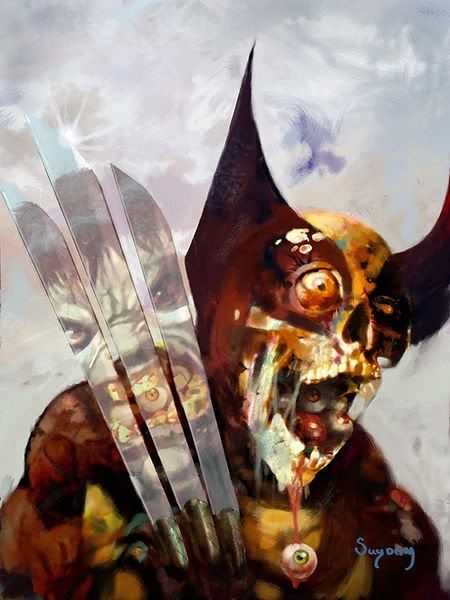 Can't remember this one, but it was one of the only covers that makes me like Wolverine a little.
Anyway,
Marvel Zombies
is a cool miniseries, even if you're not really into comic. Should be on trade paperback by now. Check it out.
Ah, I feel better now. Just what I needed. Bring it on, Usurper.
[reply]
I own the TV
'Cause tragedy thrills me
Whatever flavor
It happens to
Be like
Hit by the husband
Drowned by the ocean
Shot by his own son
She used the poison in his tea
Kissed him goodbye
That's my kind of story
It's no fun 'til someone dies.
[reply]
Don't look at me like
I am the monster
Frown out your one face
But with the other
Stare like a junkie
Into the TV
Stare like a zombie
While the mother
Holds her child
Watches him die
Hands to the sky cryin'
"Why, oh, why?"

[reply]
pie?
[reply]
'Cause I need to watch things die
From a distance
Vicariously I live
While the whole world dies
You all need it too
Don't lie.
[reply]
Blood like rain come down
Drawn on grave and ground


[reply]
Part vampire
Part warrior
Carnivore and voyeur
Stare at the transmitter
Sing to the death rattle

[reply]

La, la, la, la, la, la, la-lie


[reply]
Incredulous at best your desire to believe in
Angels in the hearts of men
Pull your head on out
Your head believes it give a listen
Shouldn't have to say it all again
The universe is hostile
So impersonal
Devour to survive, so it is
So it's always been


[reply]
<_< Are you on something?
[reply]
We all feed on tragedy
It's like bood to a vampire


[reply]
Vicariously, I
Live while the whole world dies
Much better you than I.
[reply]
I know the pieces fit
'Cause I watched them fall away
Mildewed and smoldering
Fundamental differing
Pure intention juxtaposed
Will set two lovers' souls in motion
Disintegrating as it goes
Testing our communication
The light that feuled our fire then
Has a burned a hole between us so
We cannot see to reach an end
Crippling our communication

I know the pieces fit
'Cause I watched them tumble down
No fault, none to blame
It doesn't mean I don't desire to
Point the finger, blame the other
Watch the temple topple over
To bring the pieces back together
Rediscover communication

The poetry
That comes from the squaring off between
And the circling is worth it
Finding beauty in the dissonance

There was a time that the pieces fit
But I watched them fall away
Mildewed and smouldering
Strangled by our coveting
I've done the math enough to know
The dangers of our second guessing
Doomed to crumble unless we grow
And strengthen our communication

Cold silence has
A tendency to
Atrophy any
Sense of compassion

Between supposed brothers
Between supposed lovers

I know the pieces fit
I know the pieces fit
I know the pieces fit
I know the pieces fit
I know the pieces fit
I know the pieces fit
I know the pieces fit
I know the pieces fit
[reply]
Alrighty then...
Picture this if you will...

10 to 2 AM
And actually eating up an old box of Krispy Kremes
And my "need-to-know potion"
Just outside Area 51
Contemplating the whole chosen people thing
When a flaming stealth banana split the sky like, wide open.
I never expected to see it in a place like this.
I do believe I spilled a diamond sundae
Or something wet on my Birkenstocks
And [you're yelping]
Holy fucking shit

Then the x-file beings who were like
some kind of blue-grey [Jackie Chan]
With Isabella Rossellini lips and breath that reeked
[They're wicked-shot terrorists all while making the sound]
abananadabanana so when I opened up my bug eyes, my gaping jaw and my sweaty lower and upper lip
And all I could think was
I hope that my partner here doesn't notice
that I pissed my fucking pants

So alive in this way
Like an apparition
You have me crying out
Fuck me
It's got to be
Dead head
Chemistry
The blotter got
On top of me
Got me seeing
E mother-fucking T

And after calming me down with some orange slices
And some fetal spooning
The ET revealed to me his singular purpose
He said you are the chosen one
The one who'll deliver the message
A message of hope for those who chose to hear it
And a warning for those who do not
Me, the chosen one, they chose me
And I didn't graduate from fucking high school

You had better...
You had better...
You had better...
You had better listen

When he looked right through me
With somniferous almond eyes
Don't even know what that means
Must remember to write it down
This is SO REAL
Like the time they floated away
See, my heart is pounding
Cause this shit never happens to me

I can't breathe right now

It was so real
Like I woke up in Wonderland
All sort of terrifying
I don't want to be all alone
When I tell the story
And can anyone tell me why
It was a repeat experience
will I ever be coming down
This is so real
Finally it's my lucky day
See my heart is racing
Cause this shit never happens to me

I can't breathe right now

You believe me don't you
Please believe what I just said
See they're telling the truth
And this wasn't all in my head
See they took me by the hand
And invited me right in
Then they showed me something
I don't even know where to begin

Strapped down to my bed
Feet cold, eyes red
I'm out my head
Am I alive? am I dead?
Can't remember what they said
God damn shit the bed

hey hey

Overwhelmed as one would be placed in my position
Such a heavy burden now to be the one
Born to bear and read to all the details of our ending
To write it down for all the world to see
But I forgot my pen shit the bed again
Typical

Strapped down to my bed
Feet cold and eyes red
I'm out of my head
Am I alive am I dead
Sunkist and Sudafed
Gyroscopes and infrared
won't help the brain dead
Can't remember what they said

God damn shit the bed

I Can't remember what they said to me
Can't remember what they said to make me out to be A HERO
I can't remember what they said
Can't remember what they said

Don't know, Wont Know (repeated 11 times)

God damn shit the bed

[reply]
Si pudieras lo harias. Pero no puedes. Voy a machucarte.
[reply]
ßå?…£?®£®?˜??å?©"£?¢´??å?ß???"?ˆ´ƒ"?å??ß
[reply]
Jerusalem
Kerak
Ashcalon
Tripoli
Sidon
Tartus
Byblos
Beirut
Jaffa
Haifa
Antioch
Edessa

[reply]
[reply]
I can't decide which is cheesier. Marvel Zombies or Led Zeppelin?
[reply]