Alright, here's the deal.
If all goes well and I can stop playing and watching the Godfather long enough (awesome movie and awesome game so far, should've gotten into it sooner) I'm going to release my
Separation Anxiety
review tomorrow. Now, I know the storyline behind Separation Anxiety and the symbiotes and everything major about it, but I'm not going to be able to touch on it all in the review because doing so would stretch it out too much. Plus, it's a lame storyline and I don't want to retell it.
But, I will recap the history of symbiotes in my blog here, because A) It might help you understand a few things in the review better B) It amuses me, because I really don't care much about the symbiotes and love making fun of them.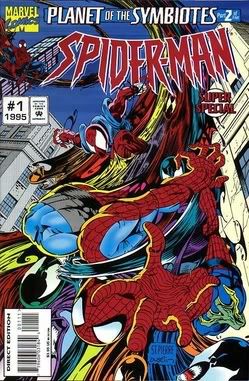 Yes, there are two Spider-Men in this picture. You don't even want to know, believe me.
On subject. Originally, back when there was just one of them, symbiotes were pretty cool. The first symbiote was this thing that attached itself to Spider-Man during the Secret Wars and took on the form of his badass black costume.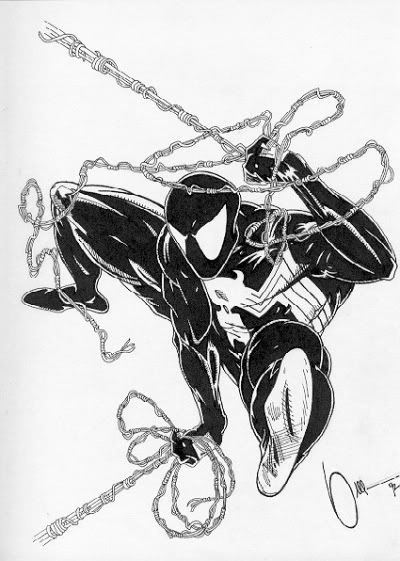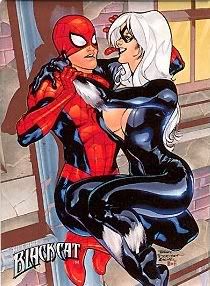 Just because it amuses me, I'll put up a picture of Spider-Man and the Black Cat making out, too. Anyway, since the new suit gave him extra strength, unlimited webbing, and changed clothes for him, he didn't ask much questions about where it came from or what it was. In reality, the costume wasn't actually a costume at all, it was an alien symbiote that was feeding off his adrenaline and taking his body for joyrides when he went to sleep, making Peter feel really tired when he woke up. Long story short, Spider-Man got the suit off, the suit bonded with a suicidal photographer who hated Spider-Man and Peter Parker, a few ominous comics later and…
Venom cometh. Notice how he doesn't have the sharp teeth, the tongue, and the slobbering in his first appearance. I guess…some one decided slobbering green liquid was cool…
Venom had some mad potential to be a great villain. He was stronger than Spider-Man. He didn't trip of the spider-sense (because the symbiote was part of Peter for a time, his spider-sense doesn't register it as a threat and doesn't react to Venom), which really threw of Spidey's game, and he knew that Spider-Man was Peter Parker. He'd pop up at Peter's house, his job, and just creep the hell out of him for the fun of it.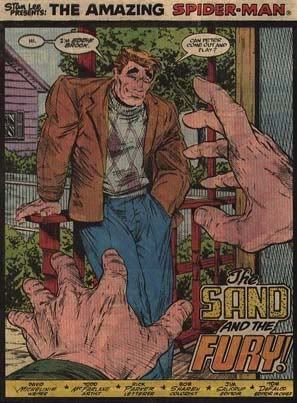 (On a side note, 'The Sand and the Fury' has got to be the straight-up lamest name I've ever heard for a comic book story, and I've heard some bad ones)
But Venom's badassness was not meant to last, and as time went on he just started sucking on a routine basis. He would job to Spider-Man, get put in the most cliché storylines, and he kept threatening to eat people's brains.
"I'M GONNA EAT YOUR BRAINS!"
He actually said that. Though, to be fair, he actually DOES eat people's brains. At least he backs it up.
Venom would eventually have a child…or, his symbiote would, because Eddie is a bit of a tool who has a habit of picking up suicidal and nutball girlfriends, and is therefore unlikely to have consensual sex with another woman any time soon. The symbiote's spawn would go on to bond with the worst possible person on the planet it could have bonded with: A serial killer named Carnage.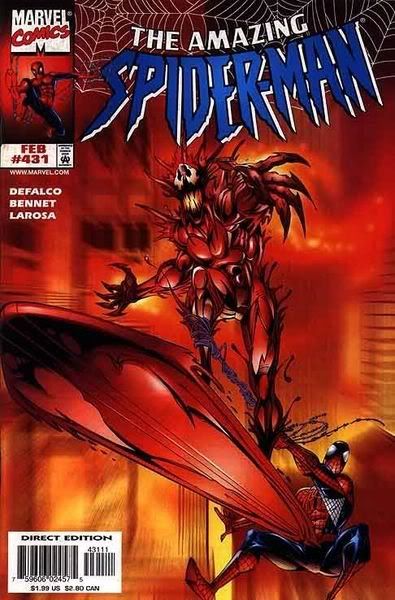 Yes, Carnage is on a surfboard. The Silver Surfer's surfboard, to be exact. You…do not…want to know.
Now, unlike Venom, Carnage was never really cool. In
theory
he has the potential to be cool villain; he's like Venom, only much more powerful (at least fives times stronger than Spider-Man) and without the weird sense of justice Venom had. He would've been cool if they'd just used him sporadically. But no, they whored him out, and eventually led up to the Maximum Carnage storyline that the game was based on.
This was a fourteen part thing. FOURTEEN DAMN PARTS. So, yeah, he got milked.
But the series must have sold well, because there were many stories involving symbiotes after this, not the least of which included the Separation Anxiety four-parter: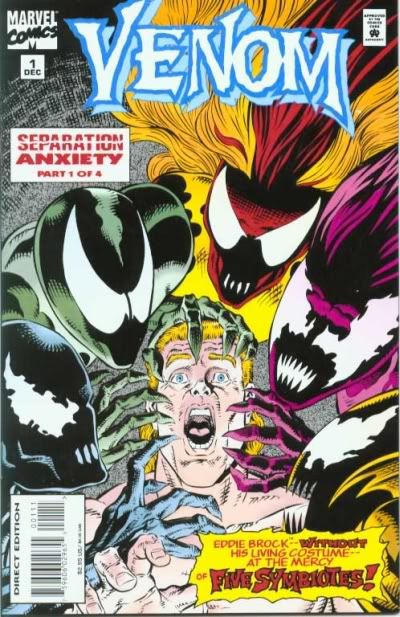 Interesting note: Eddie doesn't have his symbiote during these issues (hence the name), but he does in the game. There's probably a reason for that which I'm forgetting about, but it probably sucked.
Five symbiotes, and only one of them was ever remembered or cared about: Scream, the one with the red face and the yellow skin. Her popularity more than likely came from her looking like Mary Jane in her human form and having a nice chest. Not trying to sound sexist, but it sure as hell wasn't her lame ass personality.
The chest. Definitely the chest.
Anyway, I'm bored with this now, and there's not much else to the story. Nothing interesting, anyway. If you didn't know, now you know. I'm going to go home and shoot people.
Separation Anxiety was an awesome game. (EDIT: I'm actually thinking of Maximum Carnage. Never played the sequel.)

Not sure about the Godfather though. Even Francis Ford Coppola says it sucks. Looks like another GTA wannabe to me.
Don't know who FFC is. Feel like I should, though.

Anyway, I'd only played it for an hour when I said that. It is starting to go down a bit, I have to admit, and it does have that element of GTA to it. I think it works well for the game, though.
He directed the film. Although I'm not sure how much time he actually spent playing the game.
Coppola said that a long time ago way before the game was finished. He complained that it whored out his characters by making them do nothing but shoot each other. This is also besides the point that a film director may not be the best critic of a video game.
Everyone knows that The Outsiders was Coppola's brightest moment. Duh.