| | |
| --- | --- |
| | Starting tonight, people will die. I'm a man of my word. |
Kingdom Hearts II
Enjoy. Or not. But preferably enjoy.
Now, moving onward. I'm aware that, while some of you may not follow comics, you do sort of care, I suppose. You like Spider-Man or Captain America, but maybe you don't really keep track of what they're up to. Cool. But there's a really, really big event coming up in Marvel Comics, called Civil War, and it's probably going to have a big influence on the company in the coming years. The next time you check up on your favorite heroes, they could be all fucked up and you'll be all confused. Not only that, but Civil War is looking to be an extremely well done series, worth checking out even if you're not a fan. So here's a little promo to catch you up.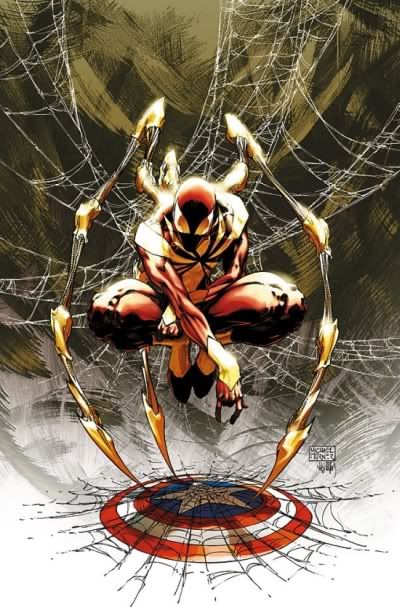 Okay, here's the start. There's this group called the Illuminati. It consists of:
Iron Man
Mr. Fantastic
Sub-Mariner/Namor (He's like Aquaman, only stronger and an asshole)
Dr. Strange
Black Bolt (He can blow up a planet by talking. That's all you need to know)
Professor Xavier
These guys meet behind their teams backs, and discuss matters. It's basically an effort, suggested by Iron Man, to coordinate all the superheroes of the world without ending up like the UN. And it's a noble idea…but it doesn't quite work right. See, one of the first major decisions they make is to send the Hulk off into space, after he goes on a rampage in Las Vegas and kills 26 people and a dog. (don't worry, the Hulk will be back. He's currently in this miniseries called 'Planet Hulk'. Him beating up aliens. Rocks) Namor, however, is strongly opposed to this, so much so that he punches Iron Man in the face and starts up a fight that Dr. Strange has to break up. And it only gets worse from there.
The next time they meet, Iron Man shows them a bill called the Superhero Registration Act. This act will make it illegal for people like Spider-Man, Daredevil…anybody with powers, basically; they'll all have to be registered under the government, secret identities kept in 'safe storage'. If they don't, they're violating the law (more so than usual) and SHIELD will send a task force to hunt them. So it's a superhero crackdown.
And Iron Man supports it. Sort of.
Iron Man predicts that this bill WILL pass, that the climate makes it impossible for it not to. He also predicts that, when it does, many superheroes will be against, and many will be for it, and that things will get very ugly, very fast. So he suggests that, if the Illuminati show up and give support to it, they can diffuse it from within and soften the blow.
Namor just laughs and leaves, and when Iron Man implies that they might bother him in Atlantis over the bill, he says it would be an act of war. Mr. Fantastic agrees with Iron Man. Dr. Strange is utterly disgusted and tells them never to call on his aid again. Professor X isn't around, because he doesn't have a power anymore since the Scarlet Witch caused all but 198 mutants to lose their powers in the recent House of M arc (long and stupid story) Black Bolt…well, he can't talk without killing everyone, but he does this thing with his hands, gestures. Iron Man just says 'I think I get the gist' in response, so BB's position on the matter is still up in the air.
Now, here's the setup.
Lots of heroes fighting each other.
It's strongly believed that Captain America is going to be against the bill, and he'll be the major leader opposing it, as an opposite to Iron Man supporting it.
The Fantastic Four are going to be split in half. It looks like Human Torch/Invisible Woman and Mr. Fantastic/Thing at this point.
Spider-Man is going to be against it, but he has to side with Iron Man because Tony got him to agree to this blood oath prior to. Spidey's new suit is also made by Iron Man, so it would be awkward to fight against the guy using his own tech. More than likely, though, Spidey will switch sides, and that switch will signal the change back into his classic costume.
The event is going to start in earnest in May, with Civil War #1. The bill basically gets a boost when a group of lame B-rate superheroes called the New Warriors get into a fight with some lame B-rate supervillains…a battle that causes an elementary school to explode. While all the children were inside. Baaaaadddd.
Anyway, I'm fairly psyched for the event. Looks badass. If you've always been fringe with comics and you're considering getting in, this is the time.

[reply]
Okay, first of all: Batman Return ROCKED.

Second: Do people really take Captain America seriously?

Good review, though. I enjoyed reading it, even if I'm never, ever going to buy KH2.
[reply]
I think that the main hook will be the reunion/battle between the smorgasbord of superheroes, more so than the civil war idea. In my mind, I don't think the superheroes would sacrifice protecting those they care for over a bill. Besides, if the issue is fear, then the real issue lies there. But nonetheless, I'm intrigued - keep us posted.
[reply]
Okay, first of all: Batman Return ROCKED.

BLASPHEMY!

Second: Do people really take Captain America seriously?

You'd be surprised. He's often believed to be one of the few non-super powered people capable of beating Batman in a straight fight; he's usually classified as the best hand-to-hand fighter in Marvel, hands down. He's also a master strategist, and he leads the Avengers damn well.

I can see why a lot of people might consider him hooky and propaganda-ish, but really, nowadays, Captain America doesn't represent America as it, so much as he represents how it once was and should be. This isn't the first time he's disagreed with the way America is run, and when he does, he usually makes a statement against it by changing his name and identity to 'Nomad'. He's a real cool character with a strong moral compass.
[reply]
CA like Marvel owns Batman and the DC universe.
[reply]
This sounds cheesy. I miss the days when comics were just about the good guy going out and stomping the bad guy. I still have some old Batman comic I got that had an artificial Joker in it or something. It was cool. This stuff is just getting cheesy. But then, my impression of Marvel is that they've always been a bit more on the melodramatic side than DC Comics with its straight-forward approach.

With all of that said, I would like to get some GI Joe comics, and even some superhero ones wouldn't be bad. I just keep forgetting to.
[reply]
To add to honestgamer's post, I would like to see both. I don't know. I go through swings with this. Sometimes I just want to see a bad guy get pounded in the face. But sometimes I want something outside of the box other than the good vs. evil cliche.

And I actually like Captain America. I frequently use him in Marvel vs. Capcom 2 for his range and damage capability. He's no pushover.
[reply]
than DC Comics with its straight-forward approach.

Heh. DC. Straightforward. That's funny.

You should check out what DC's been doing lately, man. I'd explain, but it would dead seriously take me all day.

[reply]
Well, I liked what DC was doing 15 years ago. How's that? About all I've read since then was Gen 13.
[reply]
Yeah, those were simpler times, 15 years ago. That was about the time I start coming into comics, myself. I've never really liked DC much outside of the Bat family, Wonder Woman, and Powergirl for humor purposes, though.
[reply]