Nintendo Reveals Partial Lineup of Indie Games Releasing for the Switch in 2017
February 28, 2017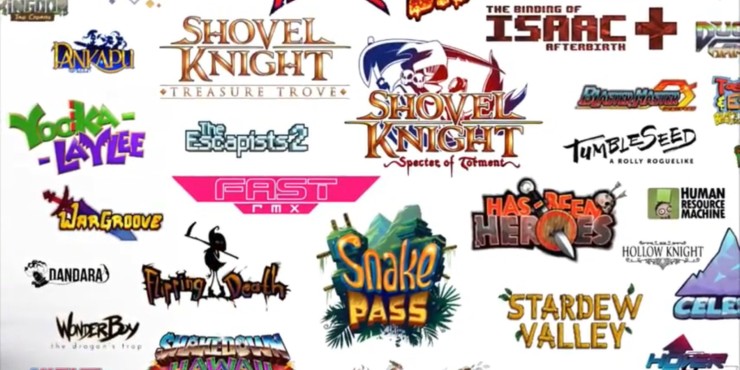 | | |
| --- | --- |
| | A surprising number of them are either exclusive, or hitting Switch with exclusive features. |
Nintendo had announced that it would today reveal a lineup of exciting indie games coming to the Nintendo Switch by the end of 2017, and today the company made good on that promise with a half-hour stream that revealed interesting new titles from familiar developers, as well as recent favorites from some of the biggest indie stars.

Rather than waste everyone's time trying to give you impressions of games I haven't yet played, I'll start by pasting the description of highlights from a press release that Nintendo kindly sent me:


Runner3 from Choice Provisions: Runner3 continues the joyous adventures of CommanderVideo from BIT.TRIP RUNNER and Runner2. Players will encounter quests, branching paths, item shops, new Retro Challenges, new character moves, new dance moves and a roster of characters that somehow manages to rival the strangeness of Runner2. The game is scheduled to launch exclusively for Nintendo Switch this fall.


SteamWorld Dig 2 from Image & Form Games: In the sequel to the award-winning original, you must dig deep, gain riches and explore an underworld riddled with danger. The game is scheduled to launch this summer.


Yooka Laylee from Team 17 and Playtonic Games: Explore huge, beautiful worlds, meet an unforgettable cast of characters and horde a vault-load of shiny collectibles as buddy-duo Yooka (the green one) and Laylee (the wisecracking bat with the big nose). The buddy-duo platformer is coming to Nintendo Switch soon, with multiplayer functionality perfect for the system.


Blaster Master Zero from Inti Creates: The same elements that made the original Blaster Master a hit are back, including side-scrolling vehicular combat, top-down adventuring and a huge sci-fi landscape, in addition to a host of new and improved gameplay systems. The game includes a two-player mode and will have numerous character cameos coming soon. Blaster Master Zero launches exclusively on both Nintendo Switch and the Nintendo 3DS family systems on March 9.


Pocket Rumble from Chucklefish Games and Cardboard Robot Games: This deep 2D fighter makes players want to throw down, anywhere, anytime. The battles get even more intense with the inclusion of HD rumble: When players get hit by a weak attack, itíll feel very different from getting rocked by a strong one. The game is scheduled to launch as a console exclusive for Nintendo Switch in March.


Flipping Death from Zoink Games: Welcome to Flatwood Peaks, a small whimsical town with a problem Ė Death is on vacation. Play as Penny and help the ghosts with their peculiar problems on The Otherside. This puzzling adventure game is scheduled to come to Nintendo Switch later this year.


Mr. Shifty from tinyBuild and Team Shifty: Shift through bullets, and master lightning-fast takedowns in a new kind of action game. Mr. Shifty follows a teleportation-fueled heist to break into the worldís most secure facility. Shift through walls, through bullets, cover huge distances and be everywhere at once. One shot kills. Survive on skills. HD rumble allows players to feel every punch, shot and crash. The game is scheduled to launch first on Nintendo Switch this April.


Wargroove from Chucklefish Games: This turn-based strategy game offers local and online matches for one to four players. The game is scheduled to launch later this year.


Stardew Valley from Chucklefish Games and ConcernedApe: Nintendo Switch will be the first console to support the gameís new multiplayer feature. The open-ended, country-life RPG is scheduled to launch this summer.


Shakedown Hawaii from vBlank: This 16-bit spiritual successor to Retro City Rampage aims to be twice as good with twice the bits. From the boardroom to the streets, Shakedown Hawaii parodies big business and the white collar crimes that go alongside. Build your empire, monopolize the markets and collaterally re-zone the islandís destructible sandbox. Itís scheduled to launch first on Nintendo Switch this April.


Graceful Explosion Machine from Vertex Pop: Skillfully pilot the advanced Graceful Explosion Machine (GEM) fighter while blasting swarms of crystalline enemies with your ludicrously overpowered quad-weapon array. This side-scrolling arcade shooter features HD rumble support, which means players will really be able to feel those machines explode. The game is scheduled to launch first on Nintendo Switch this April.


Tumbleseed from aeiowu: A small seed heads up a mountain to save his home in this physics-based game. More than 30 unique upgrades help the seed overcome challenges and enemies. HD rumble means players will feel seeds traversing across the screen. The game is scheduled to launch on Nintendo Switch this spring.


Overcooked: Special Edition from Team 17 and Ghost Town Games: In Overcooked, players must journey through a variety of cruel and unusual kitchens on their quest to become master chefs capable of conquering an ancient edible evil which plagues the land. Play solo or engage in classic, chaotic couch co-op for up to four players in both co-operative and competitive challenge modes. The special edition features the original game, plus all of the DLC. HD rumble integration means they can feel every chop through a tomato and the slosh of soup in a pot. Overcooked: Special Edition is coming later this year.


The Escapists 2 from Team 17 and Mouldy Toof: The sequel to the hugely popular prison escape series supports drop-in/drop-out co-op for up to four players (additional accessories are required for multiplayer modes, and are sold separately). Players can tie together knotted sheets and use them to climb down high windows in new multi-level prisons, and find other new ways to make a break for freedom. The Escapists 2 is coming later this year.


GoNNER from Raw Fury and Art in Heart: GoNNER is a tough-as-hell, score-based, procedurally generated platformer with roguelike elements. GoNNER is also a story about friendship between Ikk, Death and a space whale named Sally. You will die. A lot. The console version of the game launches first on Nintendo Switch with additional content tailor-made for the system later this year.


Kingdom: Two Crowns from Raw Fury and Noio: In Kingdom: Two Crowns, attend to your domain, border to border, or venture into the wild to discover its wonders and threats. First revealed today, two players can come together in co-op mode to rule a kingdom. Their choices bring hope or despair to their subjects. The game is scheduled to launch later this year.


Dandara from Raw Fury and Long Hat House: Dandara has awoken to reshape the world. In this strange world of quirky characters, nothing is at it seems. In this bizarre, gravity-bending world with hidden beauty, itís up to Dandara, jumping from surface to surface, to restore order and direct a directionless world. The game is scheduled to launch on Nintendo Switch this summer with exclusive features and functionality, including HD rumble support.
The list certainly isn't perfect, but it includes a number of PC indie titles that I've been meaning to play. Overcooked has been getting comfortable on my Steam wish list since shortly before its release, for instance, so now I know to pick it up for Switch. And a console version of Stardew Valley is okay with me, plus I was a Kickstarter backer for Yooka-Laylee and have a code owed me for that patronage. Then there is Wargroove, which looks like the Advance Wars follow-up I've been pining for, even though it doesn't come from a Nintendo studio and isn't actually part of that franchise at all. I've been looking forward to playing Blaster Master Zero, as well.
Looking over the list, do you see anything you're anxious to play? Nintendo has promised that more than 60 titles will launch on the platform by year's end, so we're only seeing the first of the lot. There's probably going to be plenty of chaff among the wheat, but today's reveal was almost all wheat and I'm definitely okay with that.